Electrifying ABB: MBA Team Consults for Swiss Innovator
Team travels to Zurich to present to executives on electric car charging tech
Late nights, long flights and a lot of video chats. The team of six Full-Time MBA students had meticulously prepared as they boarded a plane in route to Zurich, Switzerland, to present their interim findings to client ABB Group.
The diverse team from three countries—Sophia Armstrong, Rajat Bhuyan, Daisy Fang, Ayushman Mathur, Carolyn Morrice and Daniel Student—made the trek in November as part of the MBA Integrated Management Project capstone experience.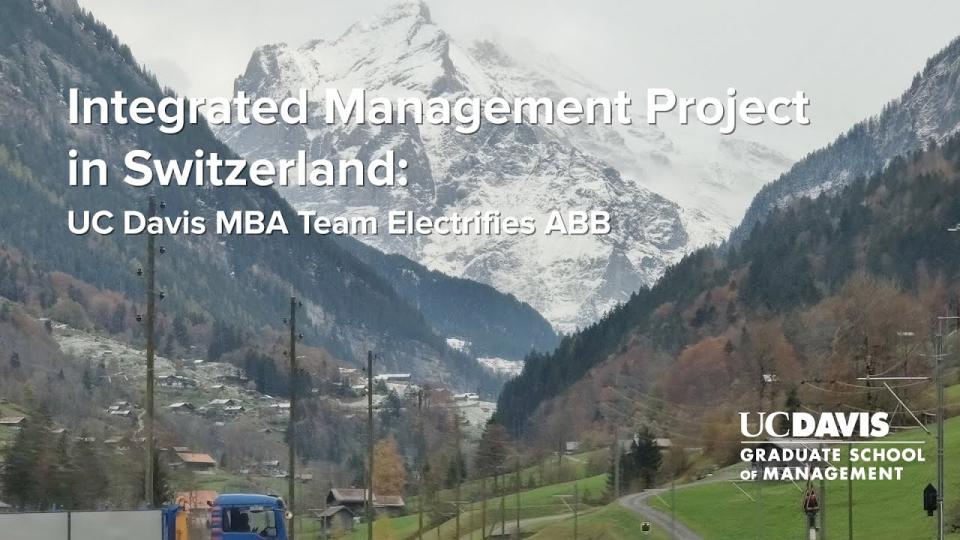 In Zurich, the team met with and presented their recommendations to executive leaders of ABB Group, the 130-year old global engineering company with more than 140,000 employees in more than 100 countries. 
ABB works closely with utilities, industry, transportation, and infrastructure customers to "write the future" of industrial digitalization and realize value.
Image
The students worked throughout the fall quarter to propose sustainable, profitable business models, including a go-to-market approach within the ABB Ability Marketplace™ ecosystem. Due to the long-distance separation, videoconferencing was key to scope the project with ABB. At the time, the team didn't realize those online collaboration skills would later come into play during the COVID-19 pandemic.
UC Davis MBA alumnus Keith Weissglass advised the team, providing industry perspective and mentoring students throughout their trip. He shared his experience in management consulting and helping tech startups to help the team negotiate the scope of the project.
"The client was super impressed, and [ABB Group] is a company that does $30 billion in revenue a year—it's a big company. And they gave us a substantive project that will dramatically affect one of their business units."
— Keith Weissglass, Faculty Advisor and MBA alumnus 
Taking breaks from practicing and honing their pitch, the team visited the Swiss urban and rural landscapes and enjoyed legendary Swiss food, art, and shopping.
We caught up with students Ayushman Mathur and Daniel Student, to ask them to share their experiences working on the project and on the trip.
ABB ABROAD
Daniel Student:  I have never traveled abroad to give a presentation before, and it certainly had a different feeling to it. Zurich is a truly international city, with about a third of its population non-Swiss-born. Still, working with ABB felt like stepping into a completely different world, with a global workforce speaking in English, and seemingly every meeting attended by people videoconferencing in from different locales.
Image
Despite jet lag, our team burned the midnight oil to get ready to present to ABB. The diverse units within ABB brought a plethora of questions about our work to the surface.
I noted to our hosts afterward that the experience not only allowed me to practice managing a diverse international team but also to witness the challenges and opportunities that a diverse international corporation offers to raise the level of everyone's work. The variety of perspectives was astounding.
Ayushman Mathur: Since we started the project in early September, one factor created an immense drive in all of us as a team, which was to work on a new-age digital transformation for a leading global business. The problem ABB presented to us was very relevant and current, and they were laser-focused on providing us with adequate conversations, information, and direction even before we boarded the plane to travel overseas.
The intensity of the deliverable was real and we didn't get a lot of sleep in the early portion of our trip. But it was calming to have met most of the ABB team before our presentation through video conferencing—something that's become much more popular during the pandemic.
It was exhilarating to present to a team of about 10 people dialing in from different parts of Europe, but we also had ABB's digital leaders present in the room. I was happy to get that in-person feedback. The slight chance that we might feel outside our element was offset by the wonderful hospitality of the ABB team and the warmth of the city.
EXPLORING SWITZERLAND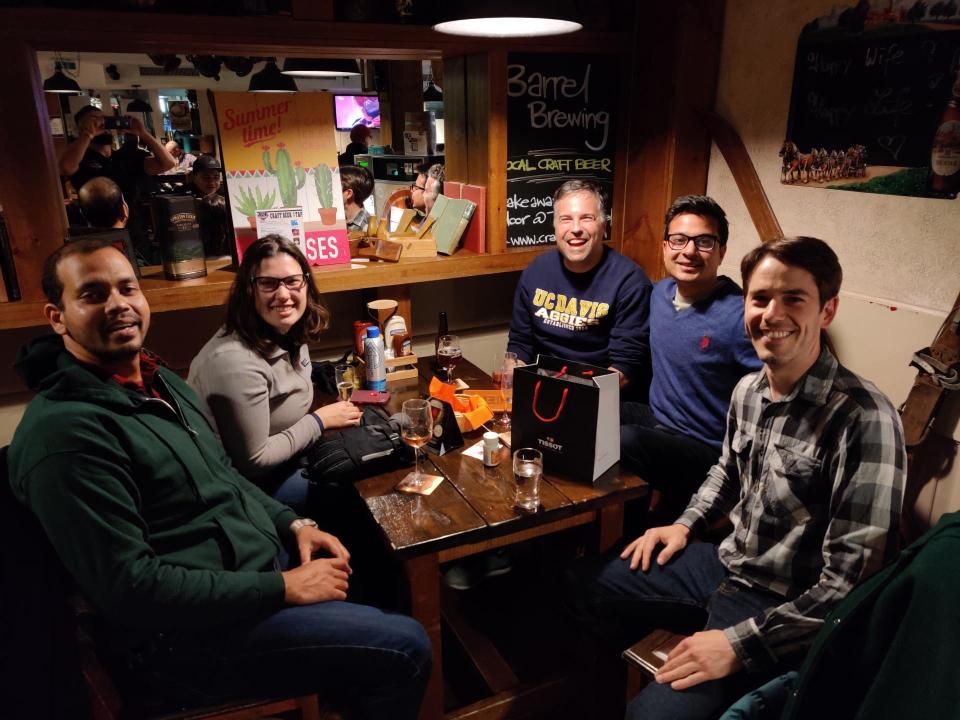 Daniel Student: Our hosts brought us to a classic Swiss restaurant after our presentation. We then enjoyed a walking tour of the city, where we saw the legendary Zurich public water fountains, and I was personally overwhelmed to see Cabaret Voltaire, where the artistic movement of Dadaism was born.
Before we left on our trip, as a get-to-know-you for the team, I had hosted our group at my apartment back in August and experimented with recipes for classic Swiss dishes of fondue and rösti (potato pancake). It was exciting to try the real things, and also a true honor to go to Hiltl, the oldest continuously open vegetarian restaurant in the world.
"The highlight of our exploration had to be the Alps town of Grindelwald, with its breathtaking views and covered with the kind of soft white snow we just don't get in Davis."
— Daniel Student MBA 20
Ayushman Mathur: Switzerland turned out to be better than I expected, and I had high expectations. The heritage, blend of modern with vintage, from uber-modern parts of Zurich on the backdrop of small and breathtaking village towns in the Alps turned out to be a comprehensively satisfying visit. As a lover of timepieces, it was fascinating to go through Bahnhofstrasse (the most expensive retail space in Europe), exploring the watch district and touring one of the oldest watch museums in the world.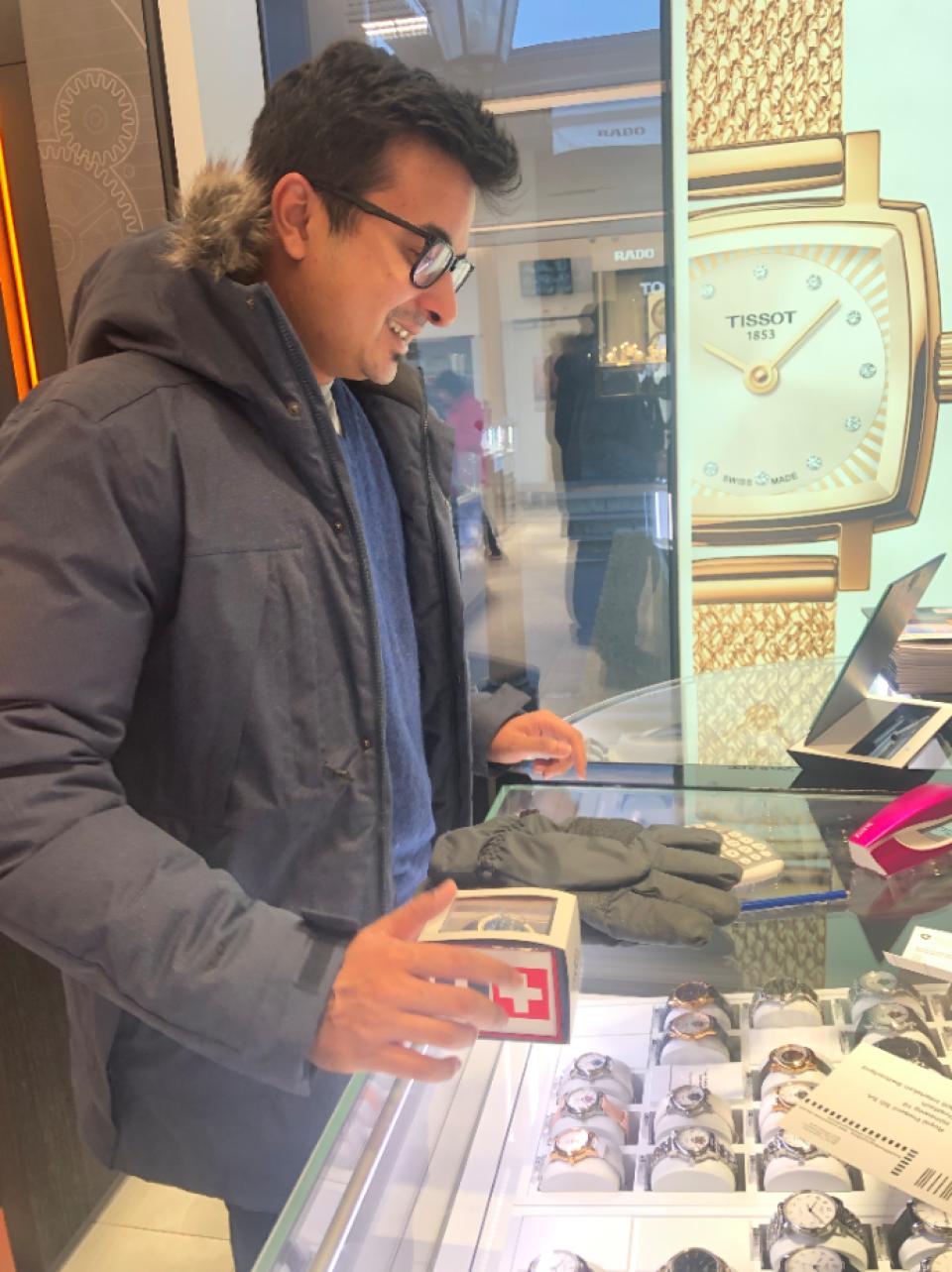 HEADING HOME
Daniel Student: I slept for 13 hours the night after our presentation. It will truly stand out amongst my MBA experiences. It was clear that our work was not just an academic exercise, but one of real concrete value for the electrification business within ABB. We took photos on the final day by the electric vehicle chargers that had been part of the focus of our work. I felt like I had made my small mark on, as ABB puts it, "writing the future."
Ayushman Mathur: After a few days on-site, meeting accomplished industry individuals, having great Swiss food, exploring a new country, and working with a diverse team at UC Davis and ABB, I headed back with a highly useful and educational experience.
The fact that this project will influence our lives directly and indirectly in the future supplemented the sense of accomplishment and value in undertaking this challenging and exciting problem statement.
LOOKING AHEAD
Daniel Student: As I go into interviews for post-graduate jobs, I find myself armed with key business insights and a foundational knowledge of global partnerships.
This project allowed me to think about my potential post-MBA employment on a worldwide scale.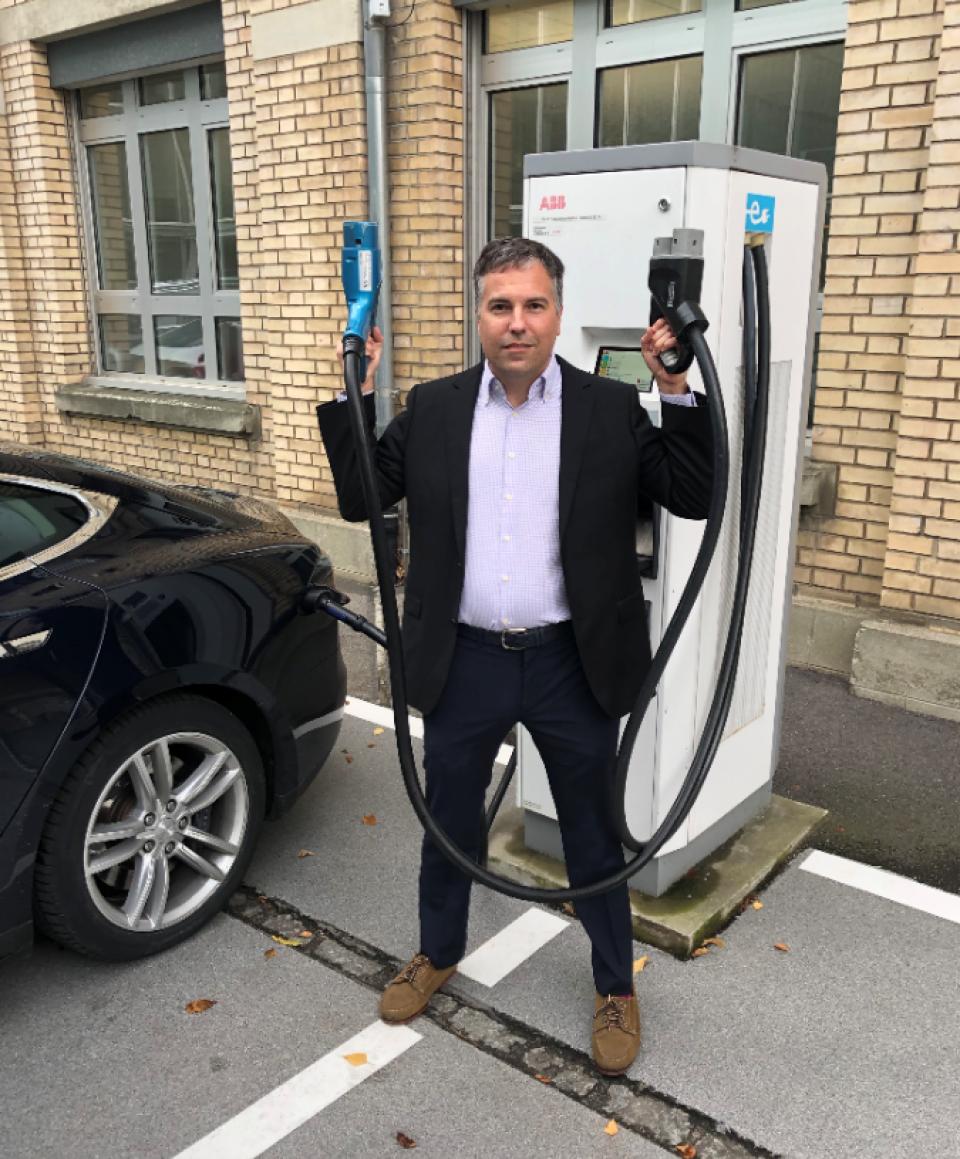 It provided crucial practice in working through small failures to ultimately lead our team to success. Leading an international Integrated Management Project for a global client presented logistical challenges playing out simultaneously with workflow and interpersonal challenges heightened by the intensity of travel.
Listening to each other, validating and building on each other's ideas, and being grateful and kind, were all tools that we used to resolve our challenges and grow as a team. I'm perhaps more proud of that than the presentation itself.
Ayushman Mathur: My guiding principle in life has been to always seek a steep learning curve in the areas that interest me. On this trip, I hoped to find myself within the cloud-based product and services space, and this project definitely equips me with a very nuanced and unique perspective on that industry.
This project will also play a subtle role in driving future conversations encompassing a global perspective, enabling better conversations within teams, and being patient under stressful conditions.
Finding a way to work through these situations productively helped everyone on our own team propel towards our goal, which was to deliver quality work and help ABB.