Instagram Takeovers: Full-Time MBA Summer Interns Share a Week-in-the-Life at Work
Posts from A(WS) to Z(S Associates)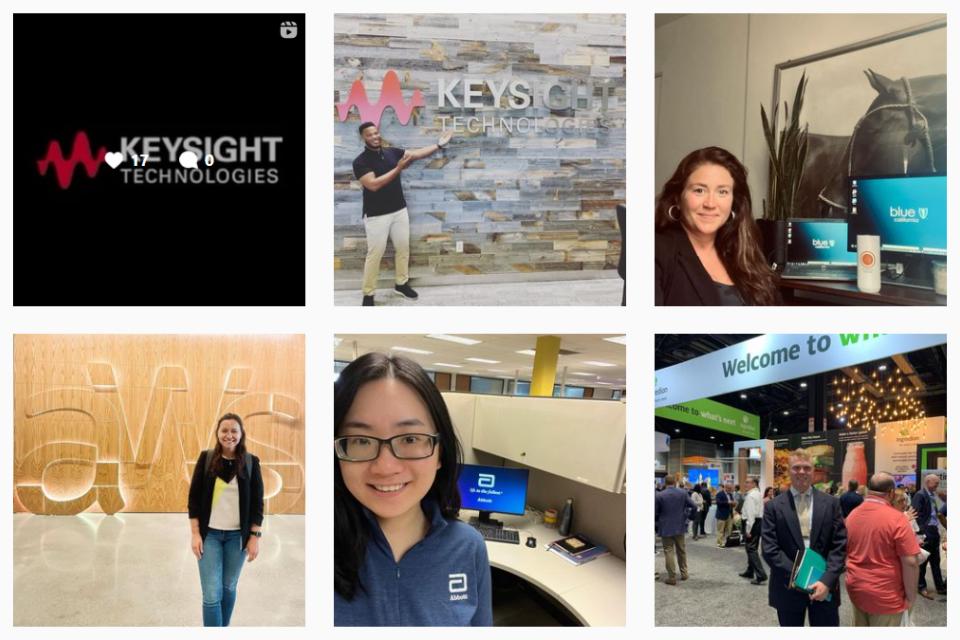 What's it like to intern at Intel, Gilead or Amazon Web Services?
Working virtually or at corporations across the country, each of nine Full-Time MBA students shared their insider views from their summer experience on our Instagram over the past eight weeks.
Their candid posts offered sights and sounds from corporate offices such as Keysight Technologies, lessons from executives at Blue Shield of California and ZS Associates, and project goals from our students Abbott.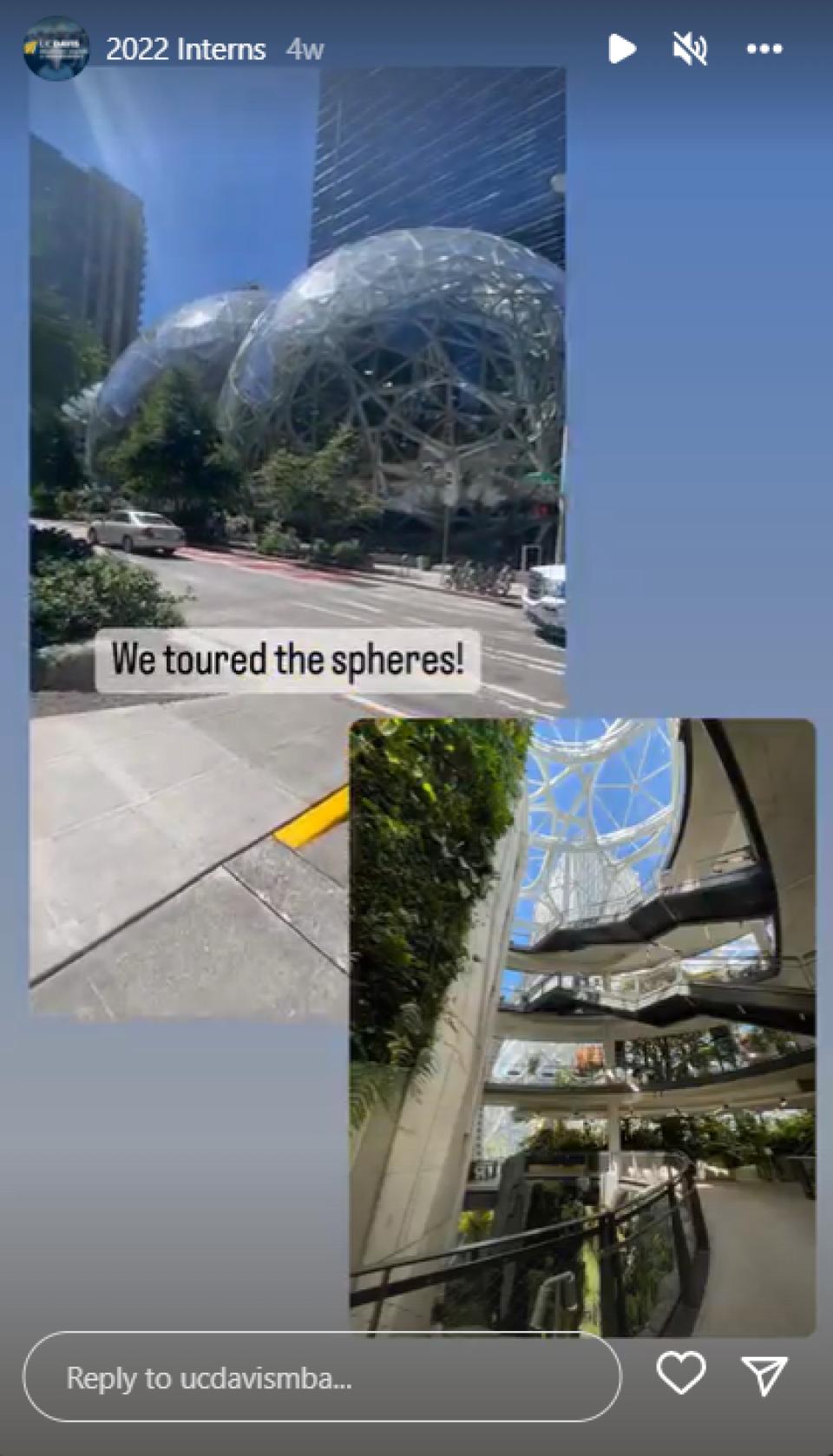 The takeovers included:
July Takeovers: Abbott, AWS, Intel, Ingredion
Mika Shang MBA 23 kicked off our IG takeover with insights from the finance department at Intel. Her hybrid work assignment allowed her to complete tasks from home for most of the week but meet the team at the office in Folsom every Thursday. Shang noted and she enjoyed a dedicated tea break with her managers in the company's cafeteria. 
Taking over our Instagram channel from Chicago, MBA student Lucas Haskins showed off a stack of business cards at the annual Institute of Food Technologists conference where he met with 40 companies.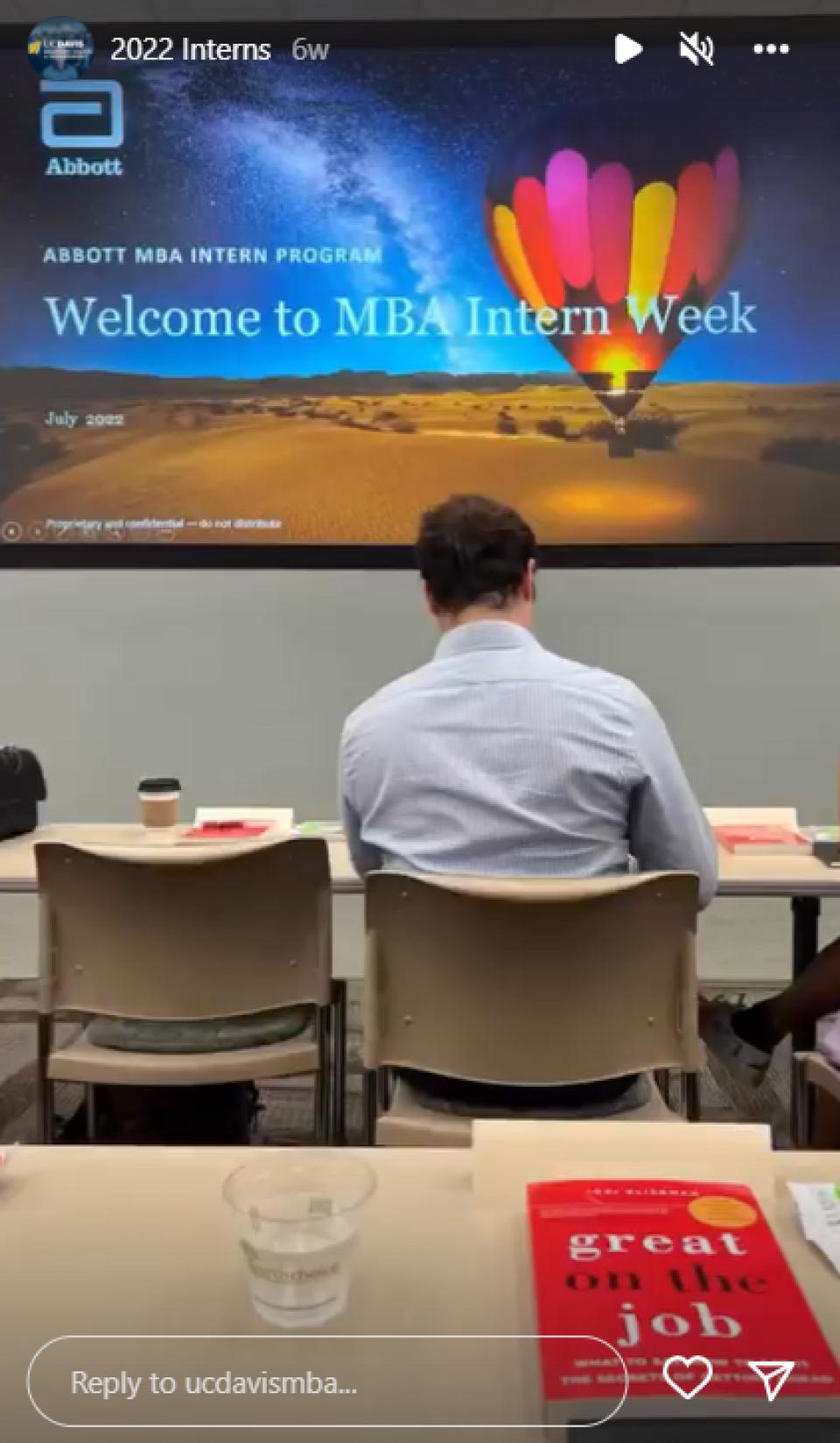 As part of her first day at Abbott Structural Heart in Chicago, Cindy Liu MBA 23 received the book, Great on the Job, and enjoyed an interactive Q&A with the author, Jodi Glickman.
Liu pointed out that Abbott introduced several executive speakers and an MBA leader panel, which shared insights about their internship experiences and how they worked their way up at the company.
Liu ended her internship week on the shores of Lake Michigan with a tour of Chicago's famous architecture paired with a peer networking session.
Next up, Mandy Leiter MBA 23 showcased her views of downtown San Francisco from Amazon's office space. She shared that Amazon Web Services (AWS) interns are responsible for delivering on a critical project during their time with the company and noted that she focused on sales strategy and operations. Leiter added that while working on sales strategy and operation she often referred back to lessons from her UC Davis MBA core courses.
August Takeovers: Blue Shield of California, Keysight, ZS, Gilead
Molly Spencer MBA 23 took over the reins of our Instagram for the first week of August and shared highlights from Blue Shield of California. She noted the company's commitment to creating a healthy work environment and their strict meeting policy. Quiet hours at the company occur before 9 a.m., between 12-1 p.m. and after 4 p.m.
Because Spencer's 10-week internship was remote, she was able to live in Oakland this summer and she pointed out all of the great activities she enjoyed while there: outdoor yoga, concerts in the park, hiking and biking in the Oakland hills and more.
During the second week of August, MBA student Jeffrey Criddell lifted the curtain at Keysight Technologies by sharing lessons about his two projects. Working with the finance team, Criddell helped develop a software financial model and create an automated TAM (total addressable market) model this summer.
He shared how Keysight Technologies was founded, the split from Hewelett-Packard in 1999, and their more recent split into two measurement companies. Criddell ended his takeover with takeaways from his intern showcase presentation.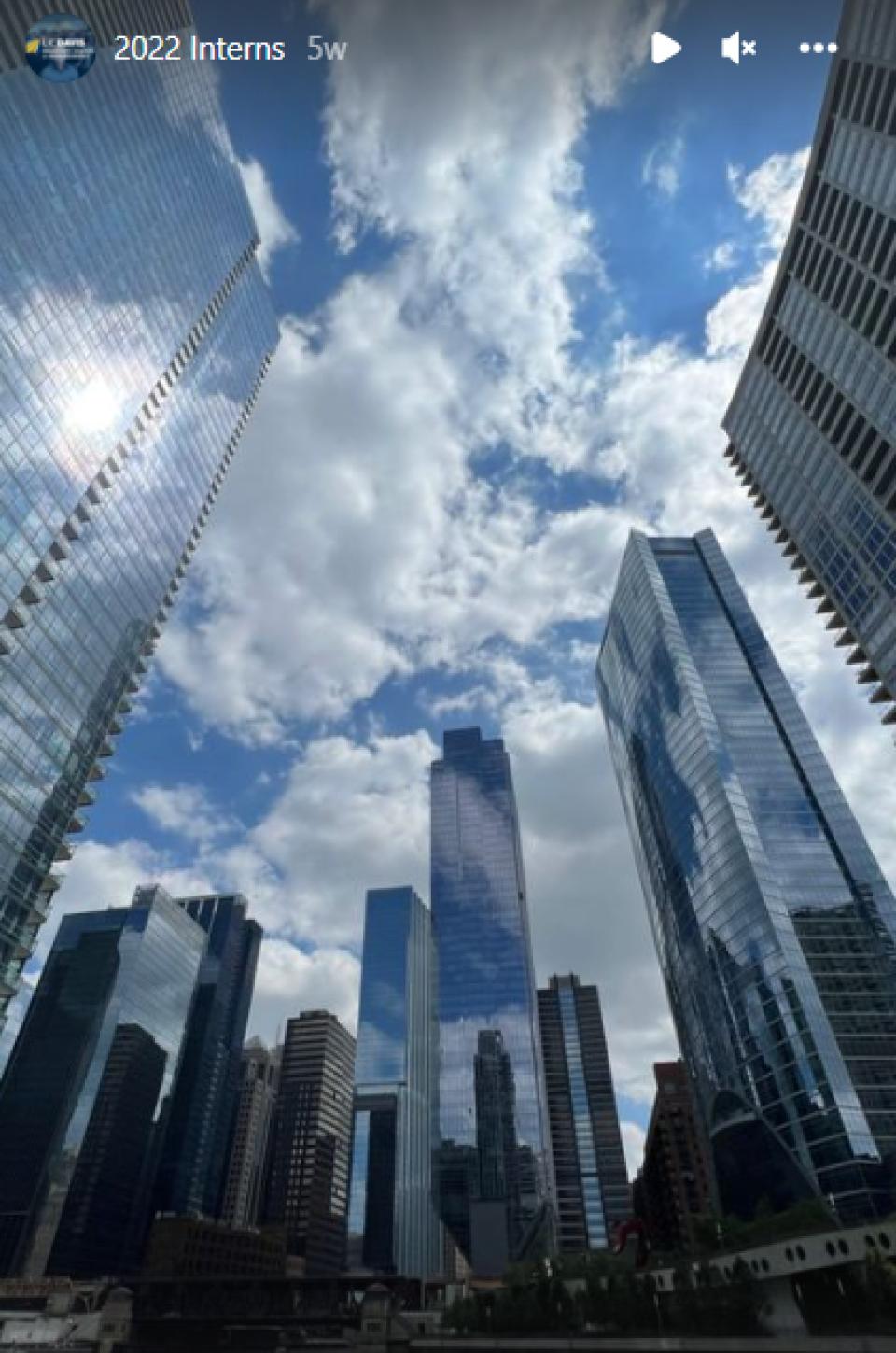 Our followers returned to Chicago for MBA student Ash Bagla's takeover at ZS Associates. Bagla shared sights from happy hour networking events, his own architecture cruise through the city and the company's local artist charity auction.
Rounding out the month, Shreyanshi Khanna MBA 23 and Satinder Bhatti MBA 23 highlighted their work at Gilead Sciences.
Bhatti joined Gilead's commercial analytics and forecasting team and was responsible for providing actionable business analytics and insights to the marketing and sales team utilizing an automated analysis tool.
Khanna was part of the Commercial HIV marketing team and her project included cross-functional work with the marketing and strategy teams at Gilead. She noted her project management course at the GSM helped her navigate the project timelines.
The duo also enjoyed food trucks on Tuesdays at Gilead's headquarters in Foster City, toured the company's wellness center and basketball courts, and enjoyed fitness classes during their time off.
For more highlights and internship stories, follow us on Instagram here.