Moo-ved into Action: Bridging Small Farmers and Big Food Companies
My MBA journey leading to the sustainability team at Blue Diamond Growers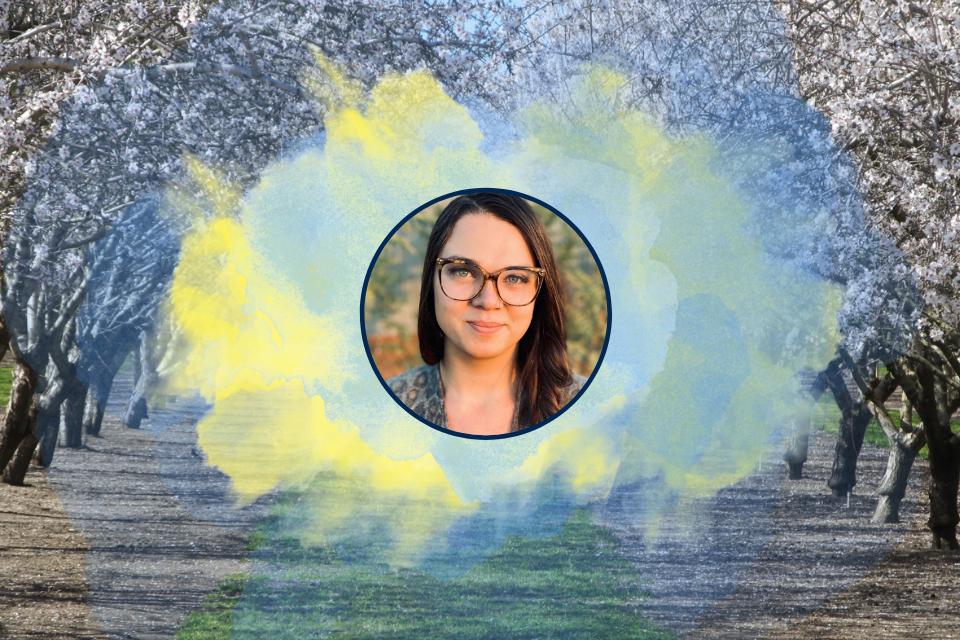 My first friend was a dairy cow named Jenny.
I was three years old, and I came up to her knees. This never deterred Jenny; she followed me around for years. She'd nudge me when she wanted my attention, lowering her head for pets and scratches. It is just one of several fond memories I have from the time I spent on a small, but diverse, working ranch in the Napa Valley where I was lucky enough to spend a portion of my life.
In addition to befriending Jenny the cow, I also became friends with the woman who has tended to this land since the 1970s. She works with the earth and the animals to ensure their persistence through periods of intense drought, flooding, and wildfires. Remembering her diligent care of the land and animals became a driving force in my decision to go back to school and get my master's degree.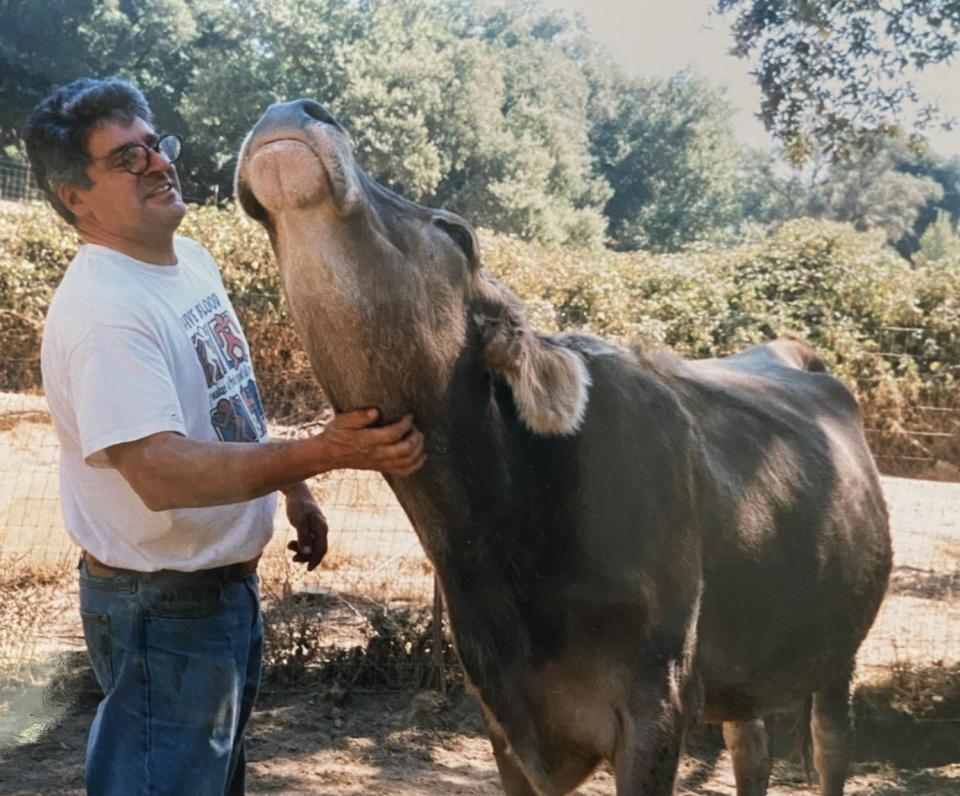 I knew I wanted to have an impact on the relationships between small agricultural producers like her and big food companies. I wanted them to be partners.
Immersed in Transition
I knew the future I imagined for myself would require a career shift. My background up until that point was in program development and management.
I was drawn to the UC Davis Graduate School of Management (GSM) for its deep roots in agriculture and strong business education. I knew I'd need to understand both elements to forge meaningful connections between them if I was to achieve my career goals.
As a UC Davis MBA student, the Food and Agriculture Industry Immersion served a key role in my professional growth. I met executives from companies across the food and ag spectrum: top household-name food and beverage companies, California agricultural producers, ag-tech startups, early-stage food brands, grocery retailers, and consultants.
With my MBA classmates, we discussed real challenges the companies were facing, teamed up to offer our own solutions, and discussed what the company was currently implementing. The Immersion experience took us up and down California, visiting these companies on-site to observe their operations in real-time. The Immersion provided an experiential deep dive that I wouldn't have access to anywhere else.
Pivotal Moment
When I joined the UC Davis community, I didn't know exactly how I was going to make a difference in the complex relationships between small farmers and big food brands. But, as I got more immersed in the MBA program, I began to recognize the right opportunities, and the idea of how I could make an impact at the intersection of these two aspects of the agriculture industry slowly started to take shape.
The capstone consulting project that I did in my second year served as a pivotal point for my career. I worked with Blue Diamond Growers on an innovation project, where I learned about the roots of the organization. We worked to identify new opportunities for almonds, understanding where the market is today and where it could go.
After graduation, I joined the company as an innovation intern. This internship gave me invaluable hands-on learning experiences and helped me get my foot in the door at the global agricultural cooperative company where I work to this day.
Right Where I Belong
Today, as a part of the sustainability team at Blue Diamond Growers, I'm doing exactly what I set out to do. As a cooperative, we represent small, multigenerational family farms. We also lead a significant portion of the California almond market and, as such, we have direct conversations with global CPG brands: our customers. These brands are offering to support our projects to grow almonds more sustainably.
Every day, I'm building bridges and facilitating conversations to impact both sides positively. We're transforming sales relationships into partnerships.
A true collaboration, in the Aggie spirit.
A Future that is Mooooving in the Right Direction
It's been 30 years since my friendship with Jenny began. While she's no longer here to nudge me, what I do have pushing me along is the experience I gained at UC Davis, its culture of seeking ways to build collaborations, and my personal drive to make a difference in the agriculture industry—for the globe and local farmers alike.
Instagram Takeover
Check out Kate's Instagram Takeover during her 2021 Blue Diamond Grower Internship.
Image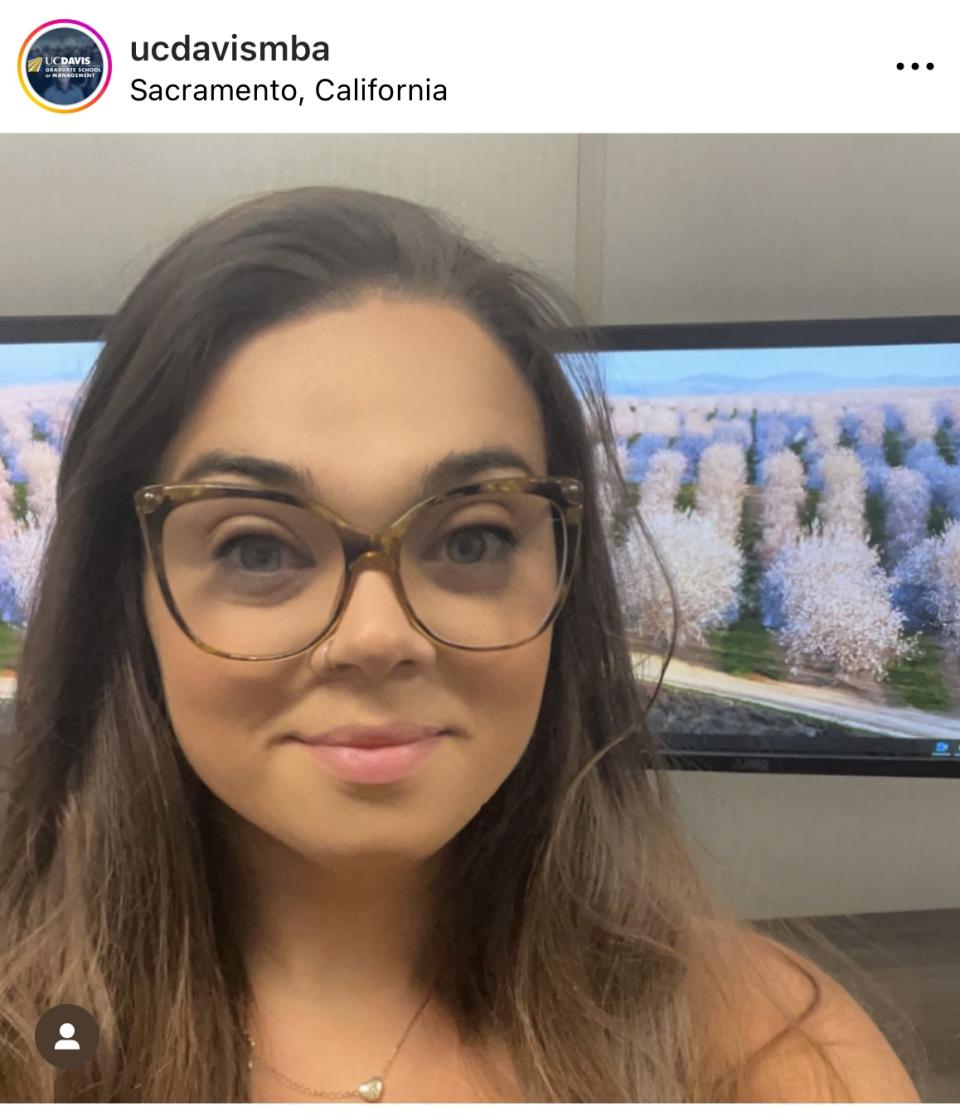 Image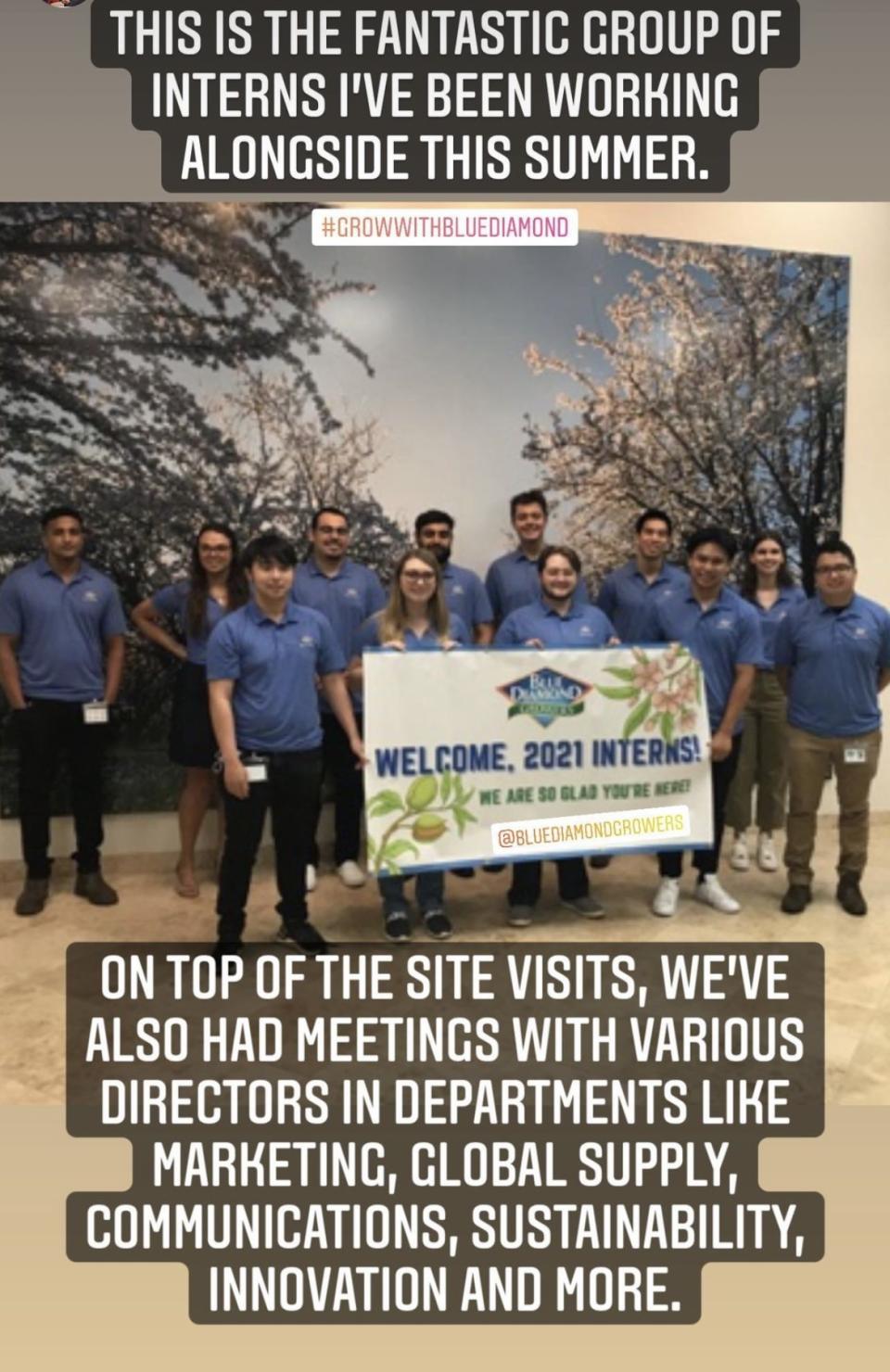 Image