Networking and Holistic Approach to Data Analytics
How the UC Davis MSBA program prepared me for success
Two roads diverged in a yellow wood, and I took the one less traveled. And that has made all the difference for me, both personally and professionally.
Before coming to the United States, I lived in India where I worked as a software engineer for an international biopharmaceutical company. There I helped provide technical solutions for complex supply chain challenges. So, venturing out on my own, to pursue a master's degree in business analytics was a big change.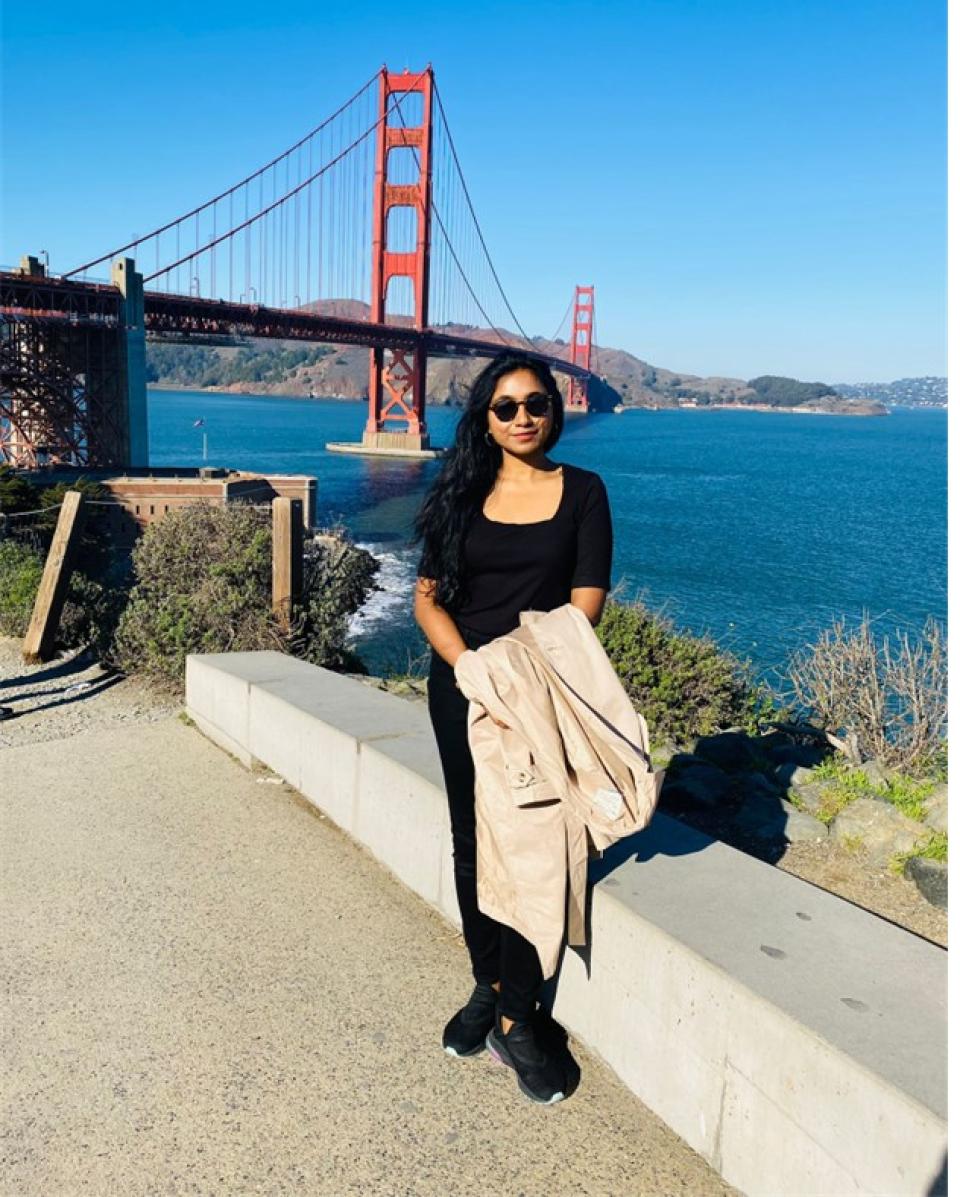 When choosing a master's program, I considered the location, reputation and how it aligned with my career goals. San Francisco's thriving technology industry offered networking opportunities and access to industry leaders that would be invaluable for my future career.
The strong reputation of the UC Davis Master of Science in Business Analytics program and its focus on data analytics, machine learning and business strategy would provide me with the skills and knowledge I need to achieve my long-term career goals.
Even with these all parameters and possibilities factored in, I couldn't help but feel a tinge of anxiety and excitement when starting my academic journey at UC Davis last year. It was a new place, a new set of people, and, most of all, a new beginning.
Learning More than Technical Skills
With a bachelor's degree in engineering and work experience as an engineer, I have always been naturally drawn to problem solving that involves factual data and figures. However, as I became immersed in the UC Davis MSBA program, I was astounded by the coordination between the various facets that the program offers. The well-designed curriculum and the practicum project, which spans throughout the length of the program, allows my classmates and I to apply the knowledge we acquired in the classroom into a real-world setting.
As I delved deeper into the program, I realized that it was not just about mastering technical skills, but also about developing my abilities in critical thinking, communication and teamwork.
Collaborating with classmates on group projects and presentations helped me appreciate diverse perspectives and approaches to problem solving, which has been invaluable in my professional career.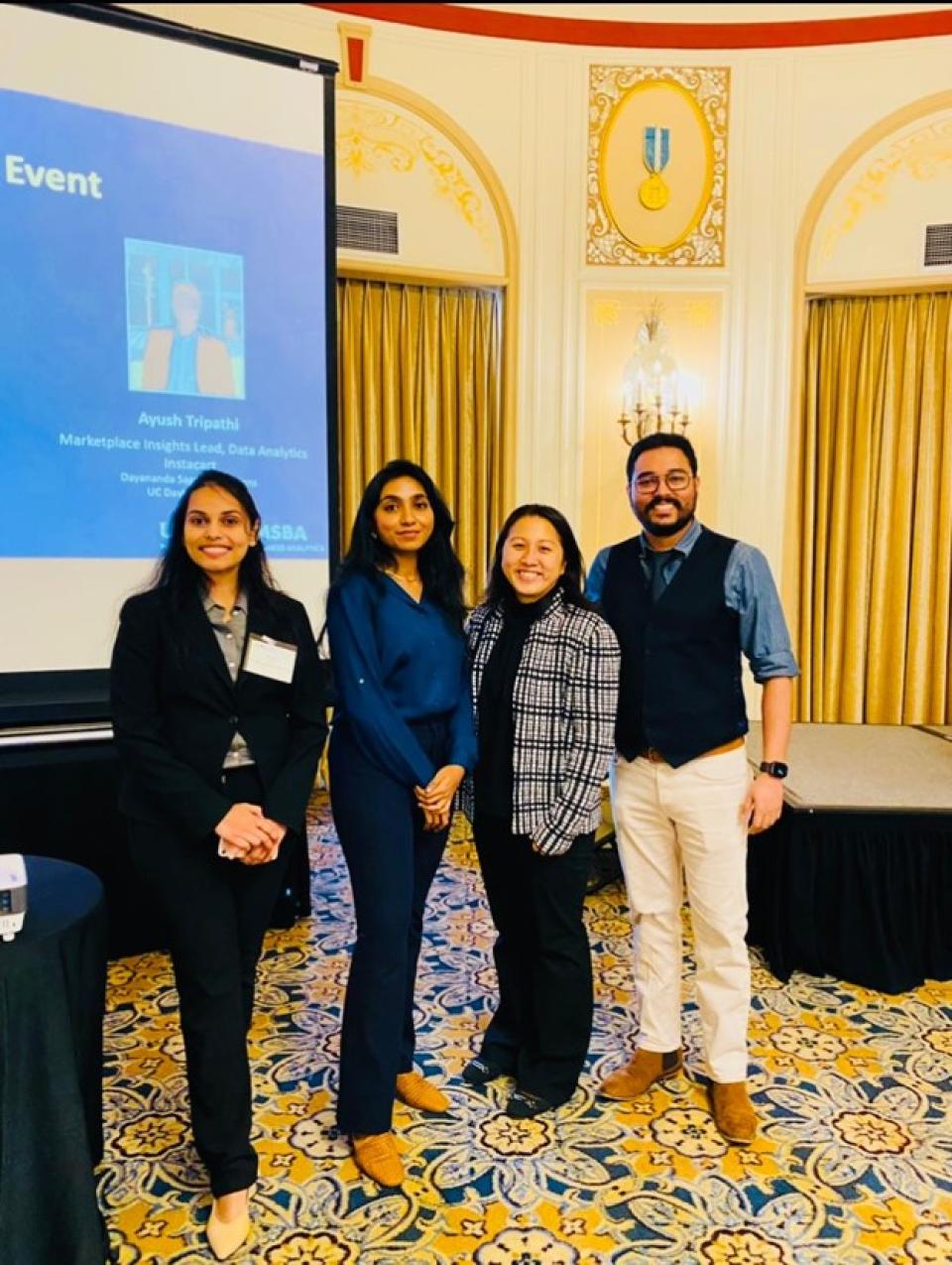 Value in Networking
During my time here I've also had an opportunity to be a part of many networking events, including guest lectures, workshops and career fairs where I have connected with students, industry experts and potential employers.
One of my favorite memories was attending the Peer-to-Pier event in San Francisco, where I had an opportunity to meet alumni from all the UC Davis Graduate School of Management programs. They are like family and are very supportive. Having walked the path already, they guide us with their insights and experiences. It was truly inspiring to hear about their journeys and how the program has helped them in their careers. I made some great connections that have continued beyond the event.
We also recently had MBA students from the Ingolstadt School of Management visit us during their Silicon Valley Immersion. Meeting fellow international students who had diverse backgrounds and interests was an enriching experience. It provided us with an opportunity for cross-cultural exchange, and to foster new friendships and collaborations. Overall, these networking opportunities have been invaluable in helping me develop my professional skills, broaden my knowledge and expand my network.
A Rewarding Challenge
The UC Davis MSBA program is an enriching and transformative experience for me, both personally and professionally. However, it was not without its challenges. When I first started the program, I felt a mix of excitement and anxiety. There were times when the coursework and projects were challenging, and I had to push myself to new heights. Ultimately, those challenges have helped me grow the most.
The program is designed to be rigorous and demanding, and it has pushed me to expand my limits and reach beyond my comfort zone. The curriculum is comprehensive and requires me to master technical skills in data analytics, machine learning and business strategy. But it also challenges me to develop critical thinking, communication and teamwork abilities. All these things have been invaluable in my professional career.
The UC Davis MSBA program is a life-changing experience that has taught me to embrace the unknown, take risks and challenge myself. It has helped me grow both personally and professionally.
I am grateful for the decision I made to take the road less traveled. I am excited to see where this experience will take me in the future.