Record-Breaking Career Placement for MSBA Class of 2022
Grads join Amazon, Apple, Google, Meta, Microsoft, AMEX, Boston Consulting Group, McKinsey and more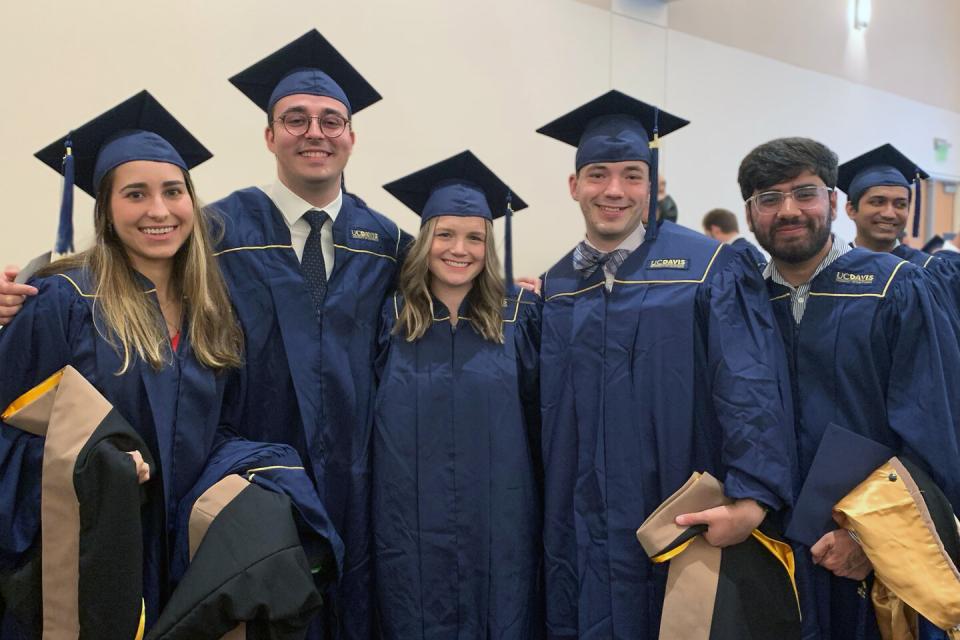 The UC Davis Master of Science in Business Analytics program is ranked by QS as No. 1 in the world for return on investment for the degree. QS also placed the UC Davis MSBA among the top 10 globally for "Value for the Money" for the fourth consecutive year in their latest rankings which looked at Class of 2021 data. These recognitions reflect the continued high demand for our MSBA graduates and their career success.
Our MSBA Class of 2022 has continued the strength of our placement success. They benefitted from our rigorous curriculum, distinctive year-long practicum where we develop solutions for client organizations, and our research-based career development programming to help students capitalize on market trends. 
The UC Davis MSBA final placement report, published in January 2023, six months after graduation, meets MBACSEA industry standards.
For the second consecutive year, our graduates have smashed compensation outcomes.  
Proven Return on Investment
2022 graduates, six months after graduation
The MSBA Class of 2022 placement outcomes have been outstanding: 
Together, they've reported an average salary of $131,583—the highest ever—and $22,000 more than last year's class.
Those reporting offers have an average signing bonus of $19,627, which is a 111% increase over last year's bonus.
95% of grads have secured offers of employment in the official window.
Let's look at the hiring companies where are grads have started their post-MSBA careers.
---
Amazon is Our No. 1 Employer
This tech giant is the number one employer of our MSBA graduates. Building on our strong alumni network already at Amazon, 14 members of this year's graduating class have secured offers, and 12 have already accepted:
Maria Ahumada, Amazon/Amazon Games, Business Analyst
Ravi Kiran Bachu, Business Intelligence Engineer
Prithvi Bisht, Senior Product Manager
Francesca Caruso, Product Manager
Mahendra Chagam, Business Intelligence Engineer
Kexin Fu, Business Intelligence Engineer
Zihan (Zoe) Guo, Business Intelligence Engineer
Joao Pedro Vieira Salomao, Business Intelligence Engineer
Minji Shim, Senior Program Manager
Wei (Kevin) Yu, Software Development Engineer*
"As a part of my program experience, every student had an opportunity to submit their materials to Amazon recruiters for review, with about a third of the class interviewing. I am grateful to the program's core team and alumni for formulating a unique approach to assisting students in landing a dream job." 

— Mahendra Chagam MSBA 22, Business Intelligence Engineer, Amazon
---
Big-Tech Placements
Our location in San Francisco and our deep connections in Silicon Valley open many opportunities at Bay Area tech firms and beyond. Google and Meta historically are top-five employers for us, and each picked up students in this year's class. Grads are also heading to Apple, Pinterest and Microsoft, just to name a few.
Google
Siva Arulkumar, Senior Risk Strategist
Andrew (Ying-Hsiang) Chao, Product Operations Business Analyst
Meta
Hanming (Ethan) Meng, Research Scientist
Yishu (Shirley) Peng, Material Program Manager
Apple
Naga (Yashas) Bhaskara Venkata, Financial Analyst
Microsoft
Swathi Bhat, Technical Program Manager II
Pinterest
Yuntong (Lily) Xiao, Data Scientist*
TikTok
Yutian Lei, Security Data Scientist
"I did not have full-time work experience when entering the MSBA program, but I loved how the program organized mock interviews for students in the spring. This helped me from both sides of the spectrum—as the interviewee and the interviewer. By taking on the interviewer role, it helped me understand how I would like a candidate to respond or behave, which helped me be a better interviewee."

—Yuntong (Lily) Xiao MSBA 22, Data Scientist, Pinterest
---
Consulting
Due to restrictions in sponsorship, consulting has traditionally been a more challenging field for international candidates to enter and secure offers. However, this year's class has benefitted from changes in immigration policy, and we've seen five placements at top consulting firms.
Boston Consulting Group
Rajprakash Bale, Data Scientist 3
McKinsey & Company
Thea Castañeda, Business Analyst
Yucheng (Joanna) Jiang, Data Engineering Analyst*
Mikhail (Misha) Pyankov, Senior Data Science Analyst
Ruihan (Allen) Zhou, Data Science Analyst*
"I enjoyed the program a lot. One of the biggest reasons I joined the UC Davis MSBA is because it is in San Francisco, the biggest tech-center of the world. I enjoyed life here and love the weather in California."

— Yucheng (Joanna) Jiang MSBA 22, Data Engineering Analyst
---
Finance
The finance industry continues to be a strong employer for our graduates, providing excellent internship opportunities and career roles for experienced candidates.
American Express
Waleed Irfan, Senior Analyst (Risk Management and Portfolio Analytics)*
Capital One
Yichao (Lucas) Liu, Senior Data Analyst*
Edward Jones
Anna Gaudette, Data Analyst II - Innovation Factory
Federal Reserve Bank
Anitha Babu, Senior Business Analyst, Data Analytics and Innovations at District Cash Support
Stripe
Shiyi (Cecilia) Li, Risk Strategist
"This MSBA program is curated in such a way that it benefits a wide audience. This program not only set a strong foundation for programming and analytics into a non-analytical background person like me but also helped me a lot in my overall development!"

— Anitha Babu MSBA 22, Senior Business Analyst, Data Analytics and Innovations at District Cash Support
---
Retail
From helping optimize supply chain logistics to driving insights on consumer behavior and more, the retail industry continues to seek UC Davis MSBA graduates for analytics expertise. Grads joined several notable retailers this year.
American Eagle Outfitters
Jeet Patel, Senior Analyst (Transportation Analytics)
Pranjal Srivastava, Senior Data Scientist
Walmart
Ujjawal Garg, Senior Data Analyst
Wayfair
Tushar Kotangale, Lead Business Analyst
"The program offers a well-designed robust curriculum, closest I found to the skills required in industry. It is available in the heart of the Silicon Valley which has an abundance of job opportunities post-graduation. In addition to coursework, there is a chance to apply theoretical knowledge in an industrial setting and work on actual business problems during a practicum. This program has successfully overcome challenges like COVID only because of the people, including the staff, students, alumni, etc."

— Tushar Kotangale, Lead Business Analyst, Wayfair
Email our team to learn more about the MSBA program and the support we provide for students. I thank UC Davis MSBA student Xu "Sam" Zhang for his contributions to this blog. 
---
* These candidates came to the UC Davis MSBA program directly from an undergraduate or with internship experience only. A common misconception that candidates have is students need to take an internship after graduation to land careers in the U.S. Still, given the rigor of the degree, distinctive practicum project experience and extensive career development support offered here, the vast majority of MSBA alumni enter directly into the industry with career roles.