Nurturing Your Network: Turning a Layoff into a Rewarding New Career
MSBA alum cranked up the volume on LinkedIn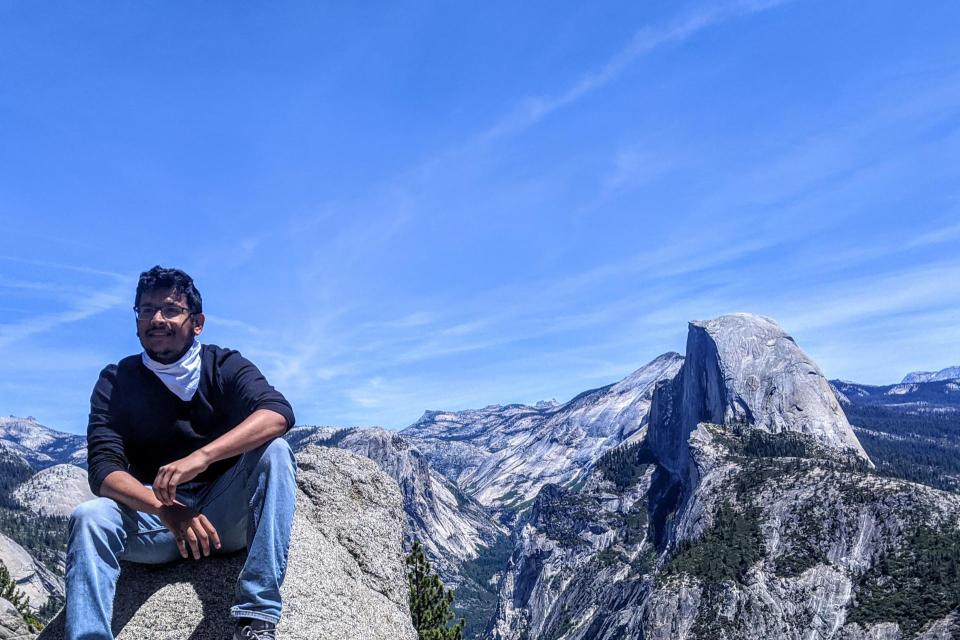 Double-digit unemployment, hiring freezes and layoffs triggered by the coronavirus pandemic have made for a chaotic and challenging market for  job seekers. Ashwin Suresh, a 2019 UC Davis M.S. in Business Analytics graduate, had to act fast after unexpectedly being laid off.
Suresh was among 30% of the staff cut by Bird, a unicorn electric scooter start-up based in Santa Monica, CA. The layoff notice in March came as a shock for Suresh, who had just received an outstanding performance review and was on a track for advancement.
As an MSBA student myself interested in his experience, I caught up with Suresh recently to ask about his job search and how he landed a great offer at Epic, one of the leading digital libraries for children.
'Don't Feel Sorry'
Instead of letting this stressful layoff overpower his judgement, Suresh remained calm. He assessed the situation, reached out to his network and kept the bigger picture in mind.
"Global digitization is happening at a faster rate than ever and most businesses are being pushed online. So, a lot of data is being generated on a daily basis. I was confident in my skills because of my degree. So if you find yourself in this situation, remain positive and don't feel sorry about what happened."
For recent international graduates, there is even greater urgency in a job search because Optional Practical Training (OPT) only allows a limited number of unemployment days. It is important to be aware of immigration and employment policies.
Knowing the stakes, Suresh immediately contacted his advisor at UC Davis' Services for International Students and Scholars to update him of his situation. His advisor helped him understand his abbreviated timeline as he began a new job search.
Divide And Conquer: Two Offers
Suresh divided his job search strategy into two equal parts—preparation and applications.
He updated his LinkedIn profile and resume, he studied companies he'd like to work for, and he prepared answers to routine interview questions. He also reached out to the MSBA team and asked his connections for help.
"Trust your strengths and work together with peers to practice interviewing," Suresh said.
Suresh then turned up the volume on his social network.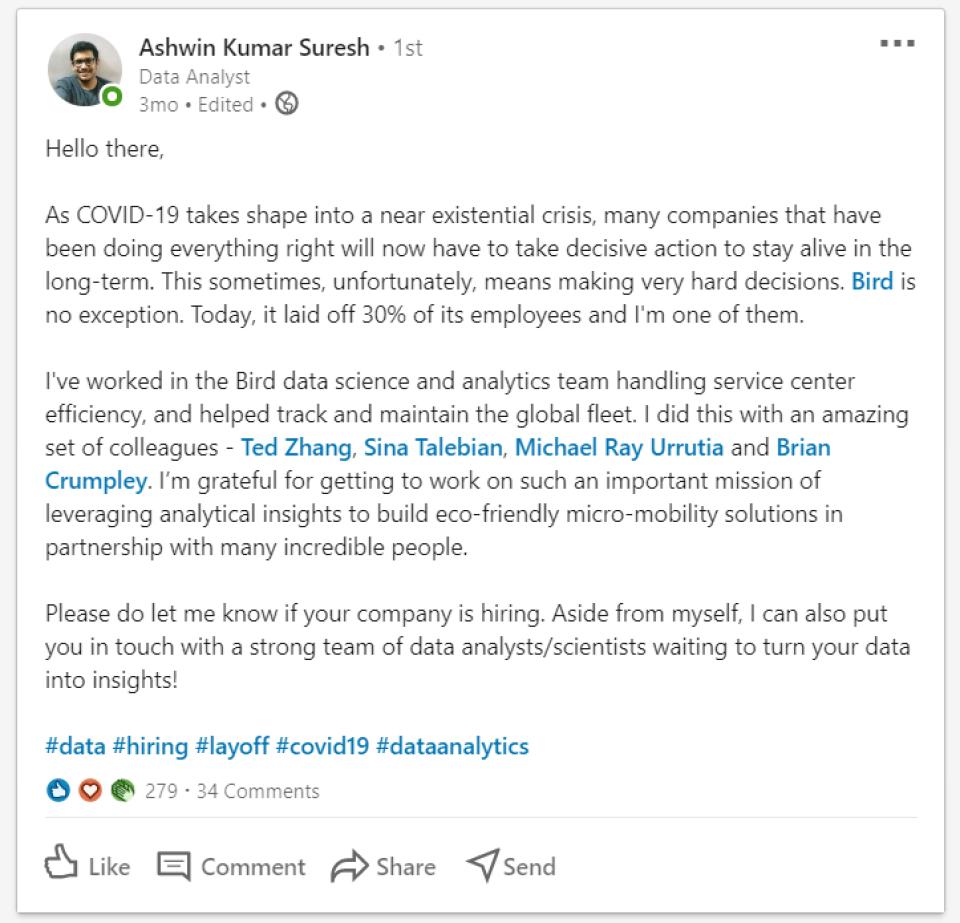 He asked his LinkedIn followers for guidance. He was careful to remain positive while sharing the news about his layoff. His post tallied more than 37,000 views in the first two days and was trending on LinkedIn under #data.
His former manager and classmates, as well as MSBA faculty and staff, shared the post to help Suresh find his next career opportunity. It was an inspiring display of the power of a strong professional network.
Suresh received 11 interview invitations in the next two weeks. Within two months, he landed two offers.
He's thankful for his followers who helped him get back on his feet. He also shared a few tips for fellow job seekers:
Take care of your network consistently and generously, and in moments like this allow your network to help you.
 
Thousands of people are applying for jobs, so speed is crucial. Apply as fast as you can to land first in the application pool, but ensure the accuracy of your information.
 
Dedicate time to review concepts in statistics and coding practice particularly in SQL in order to clear company's initial screening processes for data analyst and related roles.
 
Don't stress too much. It's important to give yourself a break to maintain positive mental health, which recruiters will recognize and appreciate.
 
Always research the company you are interviewing with to ensure your answers align with their mission.
Speak to your interviewer about your data science projects in terms of quantifiable impact.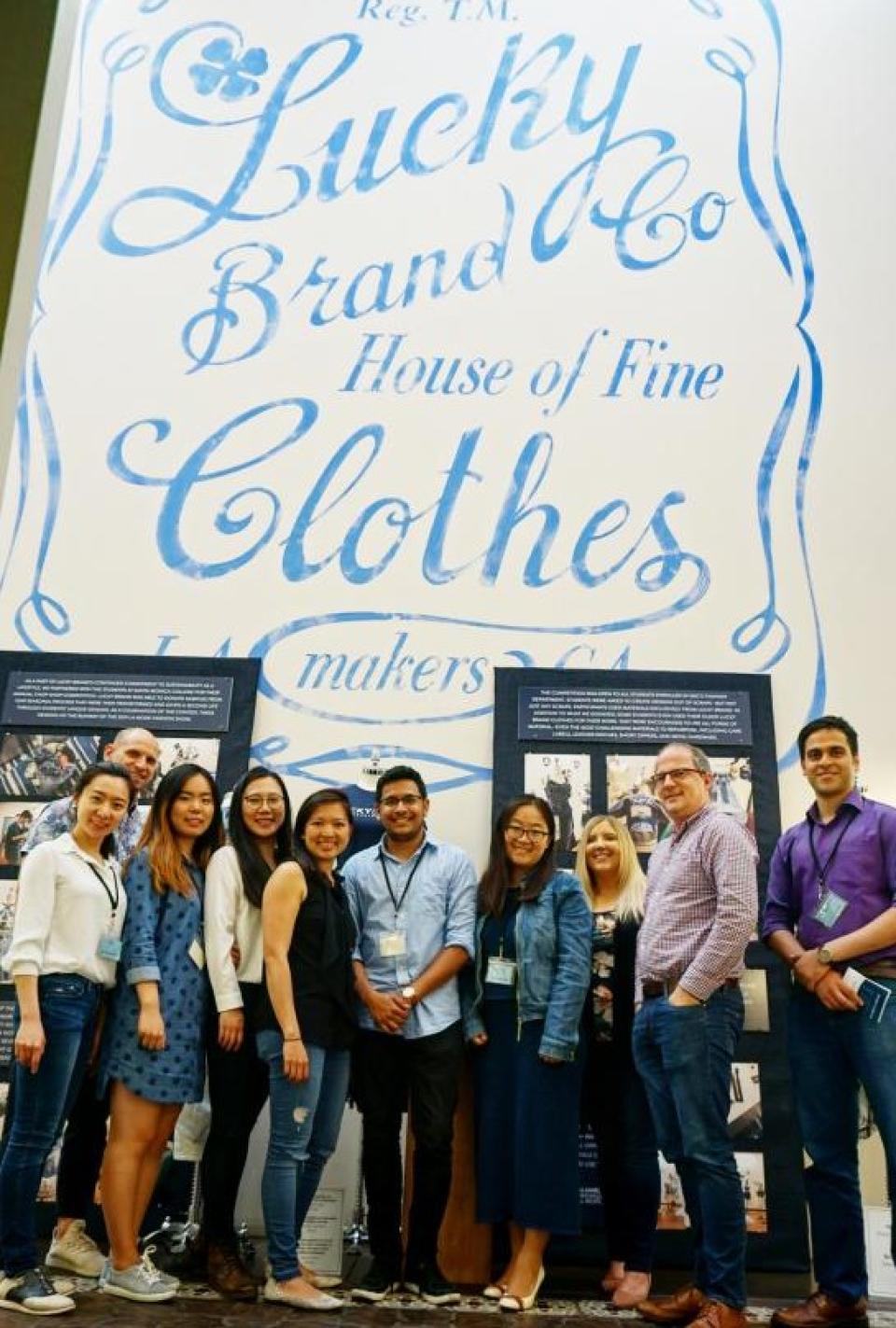 Following these mantras, Suresh ultimately decided to accept the offer to join Epic! as a data analyst. 
After accepting his offer, he made it a point to give back by helping current graduating MSBA students with their job searches.
His resilience underscored important leadership qualities that he helped build during his time at UC Davis, and his quick rebound highlights the benefits of a strong network.
Suresh wouldn't have reentered the job market so quickly had it not been for his professional relationships. They proved to be key to finding a rewarding new role during the pandemic.