UC Davis Helped Me Prevent Career Burnout and to Start Thinking Like a CEO
Before reaching the C-Suite, you have to think like an executive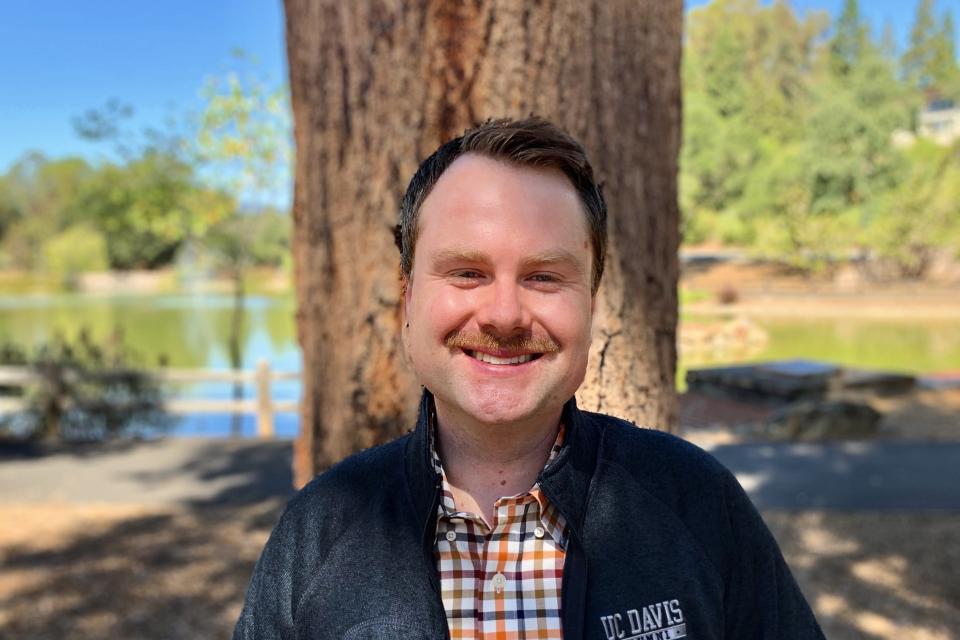 By Taylor Stanton, Bay Area MBA student
Have you ever felt burned out in your career? Have you lost track of why you are doing what you are doing in your Monday-through-Friday grind?
If you have, you're not alone, it's alright. U.S. survey data indicates that the vast majority of professionals—upwards of 77 percent—experience some form of burnout in their work. Many factors contribute to this feeling, and one of the catalysts is the perceived feeling of career stagnation. 
My Journey to UC Davis: From Undergraduate to MBA 
Everyone experiences stress, I certainly have. Thankfully, I've avoided burnout by embracing what I learned as an undergraduate at UC Davis.
I graduated cum laude from UC Davis' centennial class, and the key takeaway I received from those wonderful years was that the best way to grow beyond the lecture hall was to always look for ways to improve yourself through new skills. This mindset has become a mantra I have tried to live by. 
I harnessed Davis' values of curiosity, inquiry, discovery, creativity, and purposeful change to thrive leading marketing and communications teams at Silicon Valley's biggest organizations. Being able to build new skills on the job and think outside the box helped me place stories in national outlets—everything from CNBC to the Washington Post—but is that enough to be a well-rounded leader? No.
I realized that to rise to a chief marketing officer, I would need critical analytical and thinking skills. I had to learn how to think like someone in the C-suite. With these goals in mind, I returned to UC Davis and joined the Bay Area Part-Time MBA program. 
An MBA Helps You Think Like a CEO 
With a few years of the program under my belt, I have dropped nearsighted actions and embraced actional strategy. At work, instead of thinking about what stories we can promote this week, I now approach my work thinking about how the firm is positioned in our category and what kinds of actions will move the needle for our work.  
This has been a major "ah-ha" moment for me.
Being able to see the big picture has given me a greater awareness of how my contributions make an impact and how my firm is changing the market. That next-level thinking brings excitement to my day-to-day life. As anyone can imagine, this clarity does wonders in preventing burnout. 
The UC Davis MBA program teaches you to see the opportunities and pitfalls of multiple industries and markets. Such clarity is empowering, both personally and professionally.
Exploring each course I completed here, I quickly noticed that all of them contributed to my personal development. There were also a few standouts.
Here are a few "must-take" courses if you're looking to understand the "why":
In Marketing Management, Professor Prasad Naik taught me how to use statistical modeling and data to recognize which actions are having an impact and how that impact can open new markets.  
I learned analytical thinking and how to avoid decision-making errors in Articulation and Critical Thinking. This class was expertly led by Lecturer Brian Kennedy.
Strategic Branding has been a game changer in my life. Lecturer Vanessa Errecarte showed us how to use category design and brand strategy to create and dominate new categories and markets. 
Powerful, Supportive, Collaborative Culture
Image
One of my favorite parts about the design of the Bay Area Part-Time MBA is that the faculty and staff understand you're not just a number—you're an individual who's here to grow.
For many in their academic journey, burnout can come from feeling like you are just one of thousands getting a cookie-cutter experience. An educational experience that frankly has been irrelevant for the past few decades. As national education non-profits like Gradient Learning note, education must meet the distinct needs of every student. That is exactly what the instructors provide at UC Davis. 
In addition, the Bay Area location builds a powerful culture for students. Everyone from the faculty to fellow students help each other grow to achieve our goals and success. The program's "secret sauce" is its collaborative culture that invites students to be vulnerable and open about their personal goals.
I love how the community pushes you to succeed, and the team motivation comes from a desire for everyone in the class to truly master the content. They do not want you to stagnate. They want you to grow into a new role, develop your idea, and build new and crucial skills. 
If you are feeling stuck in your career or suffering from burnout, I highly suggest finding ways to develop analytical and leadership skills that are required for the next generation of work. These are the skills that will not be automated and will help center the "why" of your daily work. There are many ways to develop these skills, but I can think of few better than UC Davis' Bay Area Part-Time MBA program.