UC Davis Hosts Google Cloud Hero Competition
Are you cloud ready?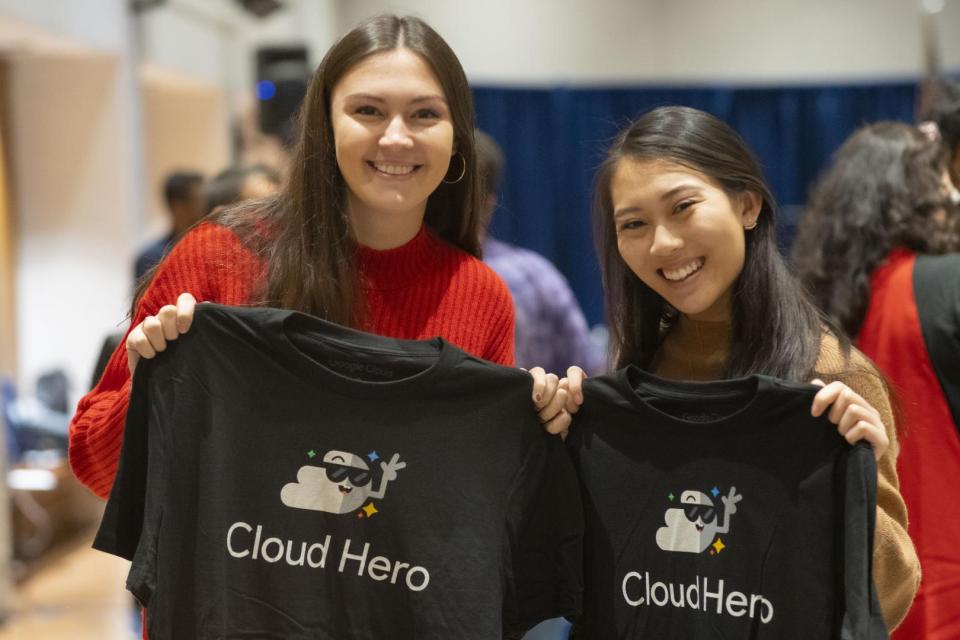 Cloud computing is the present and the future.
This already enormous data ecosystem continues to grow as more companies expand their cloud use to meet their exponential computing needs for apps and power. Hands-on events—such as the Google Cloud Hero, which was recently held in partnership with UC Davis' M.S. in Business Analytics program—are a great way for students to gain insights into cloud technology and sharpen our skills.
Cloud Hero is an interactive cloud, infrastructure and big data experience. Players become familiar with key Google Cloud Platform solutions, and gain cloud skills through a hands-on competition with prizes.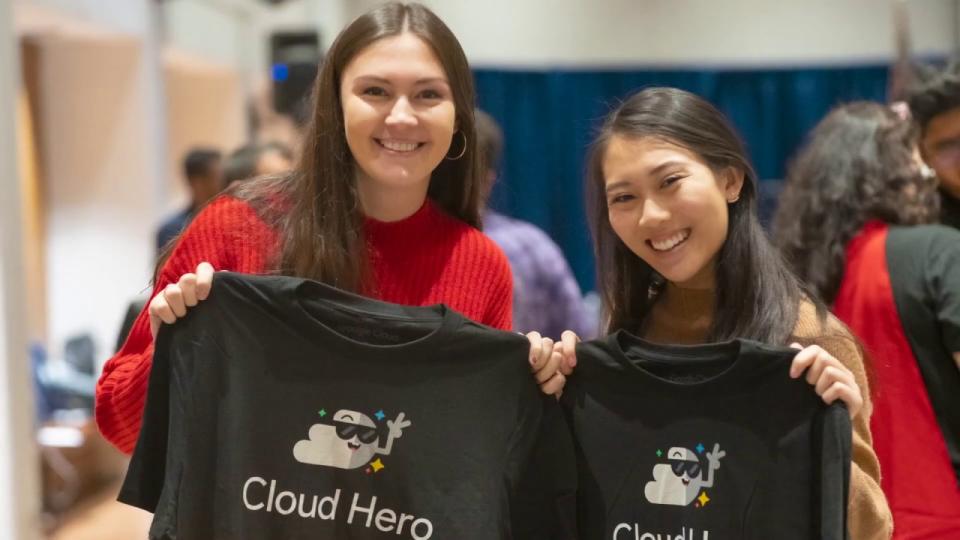 Google brought its Cloud Hero event to our UC Davis MSBA campus in San Francisco, the only visit to a University of California campus among the 11 U.S. universities on its 2019 tour.  Students from both the Full-Time and Part-Time MBA programs also competed.
Google's Leslie Redd, Global GTM Lead of Career Readiness, Higher Education and Gamified Learning, led the event efforts. She said the UC Davis MSBA program stood out as one of only a few co-hosting programs that combines technical and data science skills with managerial savvy.
"The MSBA program at UC Davis was one of the four schools that came to our attention as bringing together that ecosystem of the business analytics and business decision-making, along with the technical acumen that is needed." – Leslie Redd, Google Cloud
Google Cloud Hero is an event meant to empower people with the right tools to upscale their cloud skills and move to the next step both in their academic and professional journeys. Google uses an interactive lab environment named Qwiklabs to present a multitude of mini challenges for participants as they learn new systems and compete for the Cloud Hero title.
Our UC Davis MSBA Cloud Heroes
At the end of the three-hour event, three MSBA students emerged as winners: Prakriti Rastogi took first place, Nora Luo earned second place and John Elmer Loretizo finished third. Suzanne Howard finished highest among MBA students.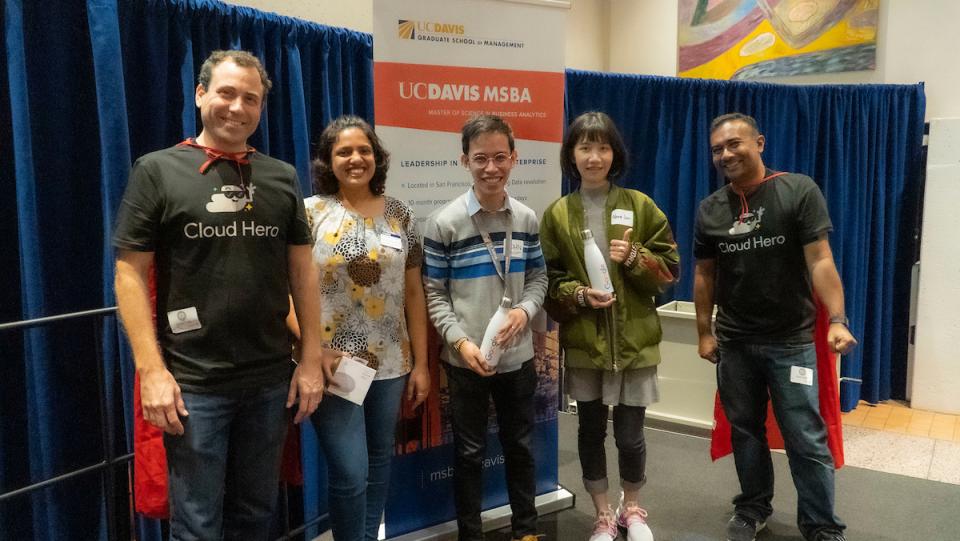 "It was a truly inspiring event that opened up so many gateways for more sophisticated use of the platform. The opportunities highlighted by Google will go a long way in helping us all build models for our respective practicums," said Rastogi.
"It was unbelievable to see the ease with which people from non-coding backgrounds could navigate the system. I hope to see more events like this from the Google Cloud team."
Luo said she's now looking forward to earning Google Cloud Platform certifications. "I learned hands-on big data processing and machine learning techniques by completing the tasks, which turned out to be a lot of fun," she said.
"It's a very nice way of learning something that might seem complex for someone at a glance," said Elmer. "But it was a good experience and a friendly competition that had everyone focused."
Next Steps
In addition to learning more about cloud computing, students also had the opportunity to hear how credentials make professionals stand out from other applicants—and they learned which Google Cloud Platform certifications are most valuable:
Business Transformation with Google: For anyone who wants to leverage the power of the cloud and Google's 10x transformative culture.
 
From Data to Insights with the Google Cloud Platform: For data analysts, business analysts and business intelligence professionals.
 
Data Engineering, Big Data & Machine Learning: This certificate course provides participants a rigorous hands-on introduction to designing and building data processing systems.
 
Associate Cloud Engineer: Achieve certification in a rapidly growing field.
Events like Google Cloud Hero provide us valuable perspective into data-driven business. It's a great complement to our MSBA curriculum, which includes a hands-on, year-long practicum project, and quarter-long courses in business analytics, machine learning, advanced statistics—and cloud computing.
By offering students cloud computing certifications like Amazon AWS and Google Cloud, the MSBA program gives us the opportunity to expand our toolkit and another leg-up in our career.