AACSB's "Innovations That Inspire" Initiative Recognizes UC Davis
Worldwide business school organization recognizes commitment to diversity, equity, inclusion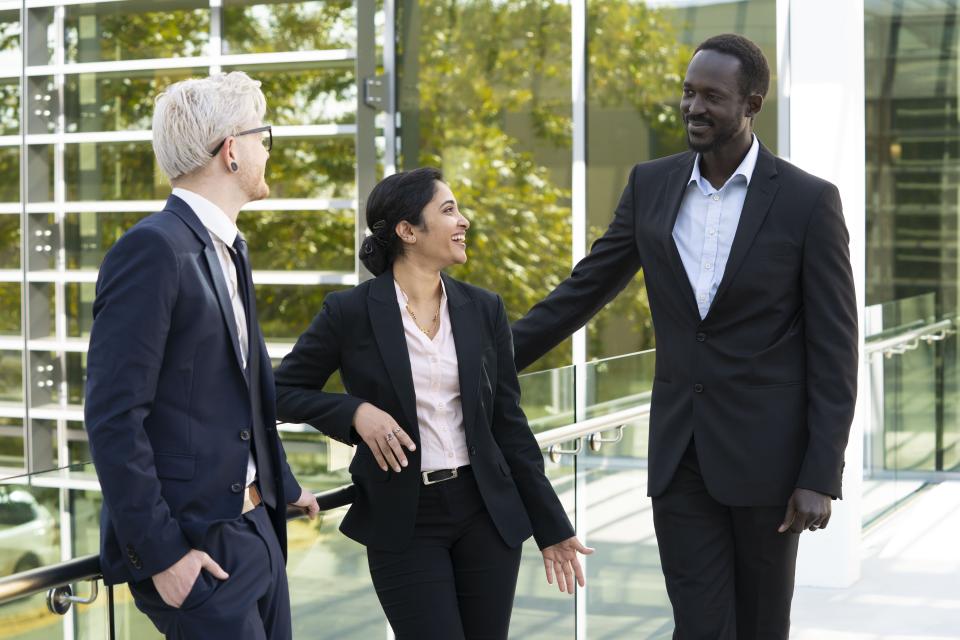 Davis, CA — The Graduate School of Management at the University of California, Davis, is among 24 business schools recognized by a worldwide business school organization.
The Association for the Advancement of Collegiate Schools of Business International (AACSB), through its annual program, Innovations That Inspire, recognizes institutions from around the world that serve as champions of change in the business education landscape. In 2022, the program highlights efforts by 24 business schools to elevate diversity, equity, inclusion and belonging, or DEIB.
Emphasis on DEIB is a key feature of AACSB's 2020 business accreditation standards and the focus of a recently released positioning paper. It illustrates AACSB's commitment to equitable access to high-quality business education globally and calls on the business education community to embed the tenets of DEIB into its strategies and cultures. 
The Graduate School of Management (GSM) is recognized for its 21-Week Anti-Racism Challenge, which compelled the School's community, individually and collectively, to explore the foundations of institutional racism and understand how to address and commit to honest and lasting structural change. It brought together students, alumni, faculty, staff and community leaders to discuss a curriculum of 21 activities including readings, videos, and recordings, grounded in a social justice framework that situates structures of power, position, privilege, perception and process.
Image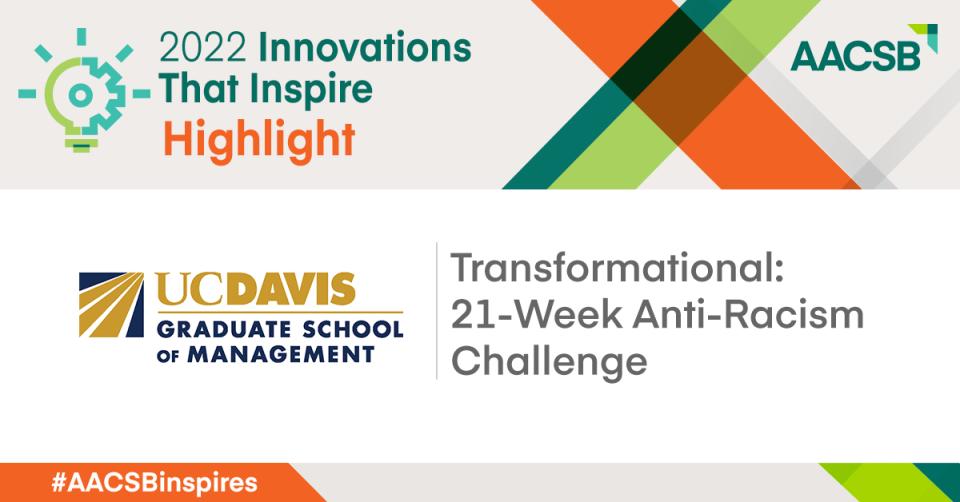 "The success of the 21-week Challenge, and its recognition as an inspirational innovation are gratifying," said Dean H. Rao Unnava. "Knowing my colleagues and students at the Graduate School of Management, I am not surprised because they have always made it a priority to live by our (UC Davis) Principles of Community—respecting one's freedom of expression, and rejecting violence and all forms of discrimination.
"It was immensely satisfying to come together regularly, as part of the 21-week Challenge, to reaffirm our belief in these principles and developing solid action steps for the future," Unnava said.
Elizabeth Moon, the GSM's chief diversity officer and associate director of career development, said the community came together to learn, unlearn and reflect on the impacts of anti-Blackness in the systems of our institutions, communities and as individuals.
"From these 21 weekly gatherings, we developed seven core actions based on our DEI Strategic Plan," Moon said. "Our hearts and minds are focused on how to build up learning for students, staff and faculty; make lasting impact in both non-profits and corporations and, most importantly, build out a bank of resources to push further growth. We continue to strive in creating a community of inclusion and belonging."
Moon will attend the upcoming AACSB International Conference and Annual Meeting on April 24-26 in New Orleans to share in-person about the 21-Week Anti-Racism Challenge.
"Progress toward more welcoming, inclusive spaces requires action, and the UC Davis Graduate School of Management demonstrates leadership in this important effort," said Caryn Beck-Dudley, AACSB president and CEO. "Through collaborations—among business schools, businesses, and communities—we will create a strong global society and equip leaders for positive impact."
Now in its seventh year, the AACSB's Innovations That Inspire initiative has highlighted nearly 200 business school efforts that exemplify forward-looking approaches to education, research, community engagement or outreach, entrepreneurship, and leadership. Support for the 2022 Innovations That Inspire member spotlight program is provided by the Graduate Management Admission Council (GMAC).
Media Contacts:
Timothy Akin, Graduate School of Management, (916) 402-9270, tmakin@ucdavis.edu
AACSB International, MediaRelations@aacsb.edu
More Information:
View all the AACSB Innovations That Inspire
AACSB Media Release