MSBA Ranked No. 4 Globally for Value for Money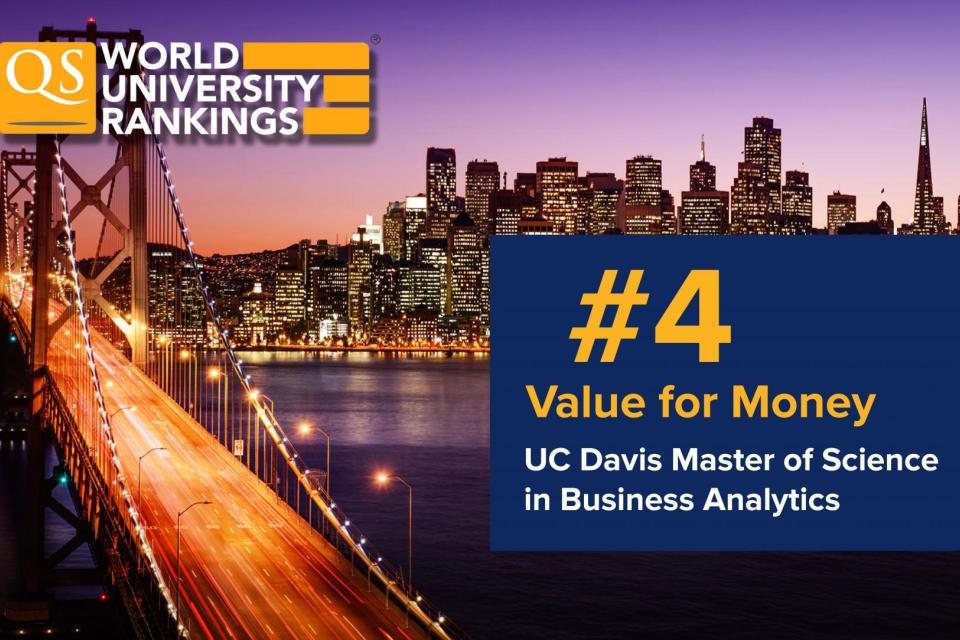 The UC Davis Master of Science of Business Analytics (MSBA) program continues to rank among the best in the world in the QS World University Rankings 2021, released on September 23, 2020.
The UC Davis M.S. in Business Analytics placed No. 4 worldwide for value for money, with an estimated 10-year return on investment of nearly $1 million for graduates.
The UC Davis MSBA program tallied 97.6 out of 100 possible points in this category. Other programs averaged 35 fewer points less.  
"We're thrilled to be recognized as a top-five program globally by QS for the value of our program," MSBA Executive Director Amy Russell said. "This ranking reflects the continued demand for our graduates and their tremendous career success."
QS ranked nearly 100 business analytics programs across 17 countries. For the Value for Money indicator, QS tracked the average return on investment and the time to pay it back.
MSBA Return on Investment
Based on factors including tuition, pre- and post-program salary estimates, and length of the program, QS estimated that the UC Davis MSBA program's return on investment is more than $938,000 over 10 years, with an estimated payback period of 16 months.
"I think of my MSBA journey as an investment, which has already paid off many times over in less than a year. It definitely helped me accelerate my career." —Abhinav Chatterji MSBA 19, Analyst, Amazon Web Services
Placement Success
Graduates of the 9-month, San Francisco-based UC Davis MSBA program continue to be in high demand. Many recent alumni have secured careers at Amazon, Facebook, Reef, Tesla, PayPal, McKinsey and many other top corporations and startups.
"The MSBA program's curriculum consisted of all the necessary elements—subjects, industry exposure, practical applications—which currently, the majority of the employers are seeking," Chatterji said. "Being exposed to things like cloud certifications helped me get the edge in the job search process and landed me an offer from Amazon Web Services."
QS Methodology
The QS Business Masters Rankings 2021 methodology rates graduate master's programs worldwide. Data was collected in early 2020, using three surveys; the QS Global Employer Survey, the QS Global Academic Survey and a survey completed by each business school.
ROI Calculation
QS utilized numerous data points to determine the return on investment, including an approximate 10-year return on investment.
QS mapped average post-graduation returns, taking into account forgone salary as well as tuition and cost of living (using Mercer Quality of City Living Ranking). QS also takes into account the percentage of graduates accepting employment within six months of finishing their studies. No loans or scholarships were included in this methodology.
Payback Month
This metric is determined by the time it takes to pay back the cost of the degree. The shorter the payback month, the better score. The average time to pay back a degree this year was roughly 3.5 years. The UC Davis MSBA payback was one-third of the average at only 1.3 years.
Learn More
QS M.S. in Business Analytics Overall Rankings