Double-Aggie Alumna: Why I Joined the MSBA Class of 2021
Making virtual connections with my new cohort
I didn't know what to expect when I logged on to Zoom for the M.S. in Business Analytics (MSBA) student orientation in early August. I was a little anxious, but quickly settled in as I met my classmates from around the world for the first time. As the first MSBA cohort to begin instruction in a remote learning environment, we've found innovative ways to adapt to our virtual classroom together.
As a cohort, we all started our journeys from different starting points, both geographically and professionally. For some of us, joining UC Davis is a step toward breaking into a new industry. For others, it's an opportunity to hone or develop new data and presentation skills.
For me, the MSBA program is a chance to develop an entirely new set of skills. I'm joining straight from my undergraduate experience at UC Davis, so this year-long program will complement my background in business.
I'm looking to develop the hard skills—those used to investigate the story data tells about a business. Specifically, I'm interested in the year-long practicum project, which will give me hands-on experience as I look to launch my career.
Here are a few interesting aspects of our class.
Fun Facts
For the 4th year in a row, the cohort has a majority of female students.
Our class brings together students from seven different UC campuses.
Students come from previous employers including Accenture, Amazon Web Services, Deloitte, EY, KPMG, Mu Sigma, Snowflake, Tesla, Unilever among others.
Career Maneuvers 
During our student orientation, I met others who were also making a jump to analytics. Niaoniao Ma MSBA 21 told me joining the UC Davis MSBA represents another step towards her goal to join a venture capital firm.
"Venture capital has been my long-term career goal and I think business analytics is one of the necessary steps to help me get there," Ma said.
Ma, who graduated from Penn State, previously worked for JD.com, where she explored how to use big data and artificial intelligence to build products as she experienced what it takes to deliver a product to market. The MSBA program is a great way to make a career pivot due to the versatility of analytics across industries.
I also heard from Michael Harris MSBA 21, who comes from UC San Diego, and he shared: "One of the benefits about working in the analytics field is that pretty much every sector of the job market is open to you. Analytics is present throughout all sectors and companies, it's a field that's expanding rapidly."
Developing Lasting Bonds
A few weeks into the program, it's difficult to imagine a time when I wasn't yet immersed in the MSBA community. While getting to know classmates has taken more time, mostly due to the remote setting, we've all formed a shared bond through interactive workshops, bonding activities and team meetings. 
During our first virtual happy hour, I met Devanshi Tiwari MSBA 21 while playing a game of charades. Tiwari comes into the program with a retail and management background. After taking time off to start a family, the MSBA program is a gateway for Tiwari to re-enter the workforce while expanding on her interest of analytics.
Tiwari's curiosity for analytics has been contagious. I teamed up with her and Chetna Bhardwaj MSBA 21 to put our skills to the test in an analytics competition. Building off of each other's ideas greatly improved our final deliverable. Collaborating with classmates on group projects has helped me get to know others in the virtual environment.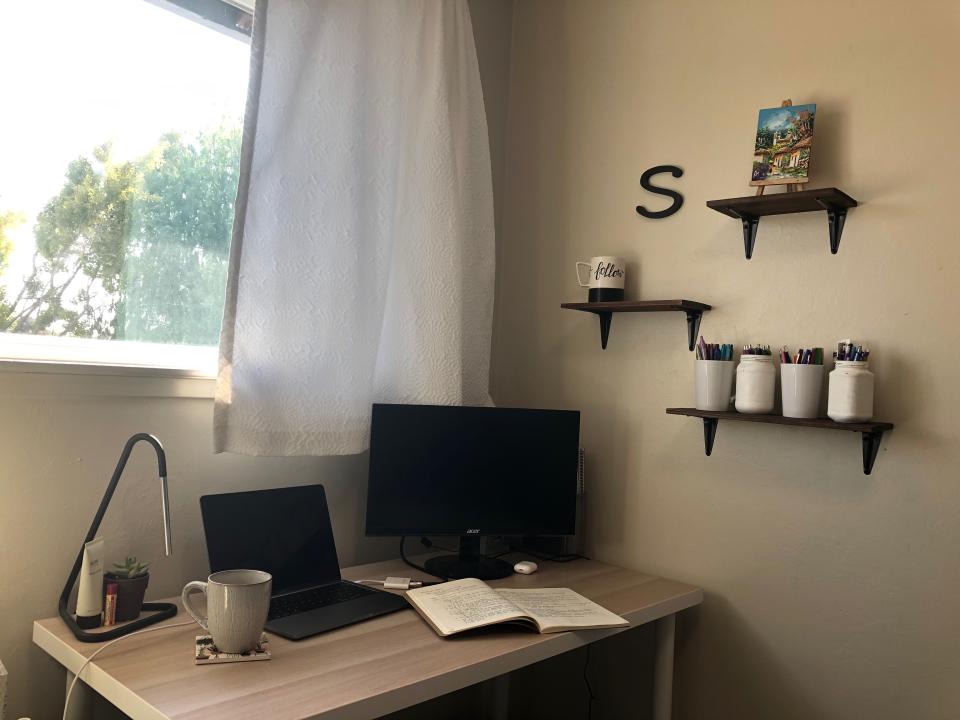 Logging in Around the World
As is the case for many programs, the COVID-19 pandemic forced a shift to mostly virtual programming. I've been lucky to be here in California for the start of the program, but many students started classes abroad.
This year has been extraordinary, but we know we can rely on one another as we begin this journey together. With the rising importance of virtual connections and collaboration, the MSBA program is preparing our class to succeed well beyond our time in the program together.
As we all adapt to the changing post-COVID-19 world, I'm excited to work with my new classmates as we learn to harness the power of analytics