Celebrating Our 10th Anniversary: Q&A with Quincy Huang from Inaugural Class
Alumnus at Big 4 firm EY specializes in healthcare clients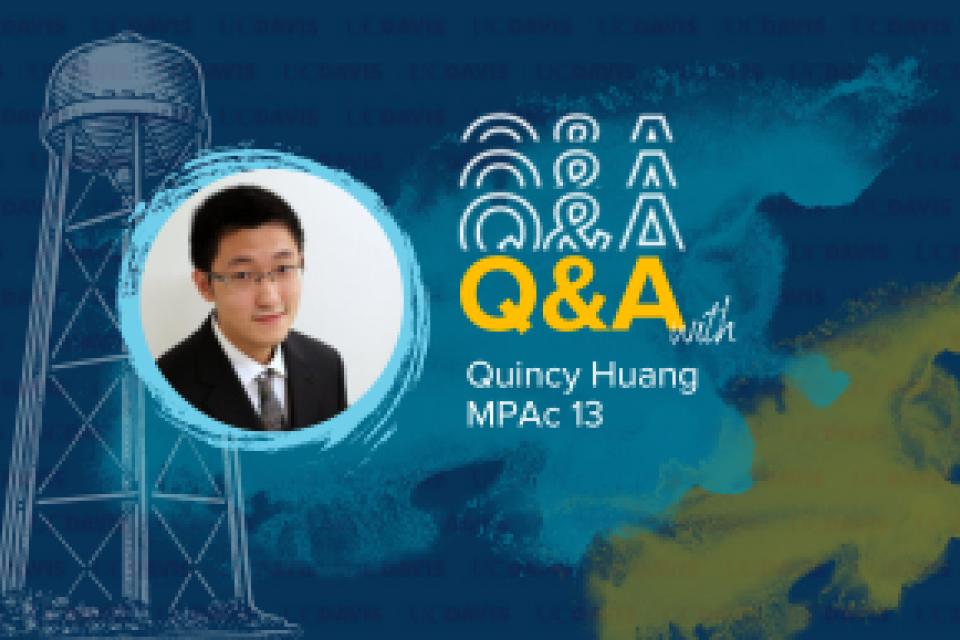 This year marks the 10-year anniversary of the UC Davis Master of Professional Accountancy (MPAc) program; in a true testament to the program, accounting professionals have continued to be in high demand due to the need to navigate new regulations and technology in the field.
I had the opportunity to talk to one of the members of our inaugural class, Yuanming Huang (Quincy) MPAc 2013, who shared about his UC Davis experience, the importance of collaboration and how the MPAc program prepared him for working at a Big 4 firm over the last decade.
Can share about your background before coming to UC Davis?
Unlike most of my friends from the inaugural class who had prior working experience (whether accounting related or not), I took a somewhat unconventional path. I entered the MPAc program right after receiving my bachelor's degree in accounting from Michigan State University to better prepare myself for a career in public accounting. 
What are some highlights of your student experience?
The memorable moments from my student experience at MPAc has everything to do with the people that I met in the program. From the connections made with fellow classmates, some of whom are still in the field of accounting after almost 10 years, to the amazing faculty that create educational experience with real-world relevance.
What motivated you to pursue accounting?
I enjoy the challenge of keeping myself up to date on the ever-evolving rules and regulations in accounting and the fact that the work matters to companies and their stakeholders keeps me motivated. 
Tell us about your career journey and collaborating with clients at EY?
After graduating from the program, I started with EY's Sacramento assurance practice in 2014 and grew within the firm. Last summer I was promoted to assurance senior manager. I enjoy that EY has clients across all industries--such as banking, media and entertainment, technology, and life sciences—to name a few. In my role I focus on clients in the healthcare industry and specialize in not-for-profit health systems. 
How did MPAc prepare you for your career?
Learning from faculty with industry experience who share real-world examples is a big positive. The MPAc career services are excellent in understanding the students' needs, collaborating with employers through events and providing many opportunities to students. 
Can you share the importance of collaboration in the accounting field.
Collaboration and communication are key in public accounting, both with colleagues and clients. Being a service provider, our relationship with clients are built through great collaboration between the parties. This is even more important now with COVID-19 and the growing norm of completing audits remotely. 
What advice would you offer current and incoming MPAc students?
Stay engaged throughout and take advantage of the resources the program offers.
What are significant accounting trends/issues that client companies are facing now?
Some of the challenges my clients are facing includes staffing shortage, rising labor/supply costs, transition to virtual care, and navigating regulatory and legislative reforms.
Where do you see yourself in five years?
Still taking it day by day and enjoying the process, but I do see myself still in accounting over the long term.