From the Himalayas to San Francisco: Why I Joined the MSBA Program
"It's the perfect recipe for creating a real impact."
Flashback to 2020, when it felt like I'd never leave my house. I was working from home as a wave of COVID-19 jolted India and hit our quaint little town located in the foothills of the Himalayas. I was working as a senior consultant for GEP Worldwide, helping select Fortune 500 clients formulate cost optimization business strategies.
I enjoyed the work, but I was ready to take my career to the next level.
Fast forward a year, and a delayed start due to circumstances beyond my control, I was more than ready to embark on an educational journey to the opposite corner of the world. There was only one problem: there were no U.S. visa slots up for grabs until the middle of June. By sheer luck, my request for an emergency appointment was accepted and I was approved two weeks later.
Like many before me, I was headed to a place often referred to as the global hub of technological innovation—the San Francisco Bay Area.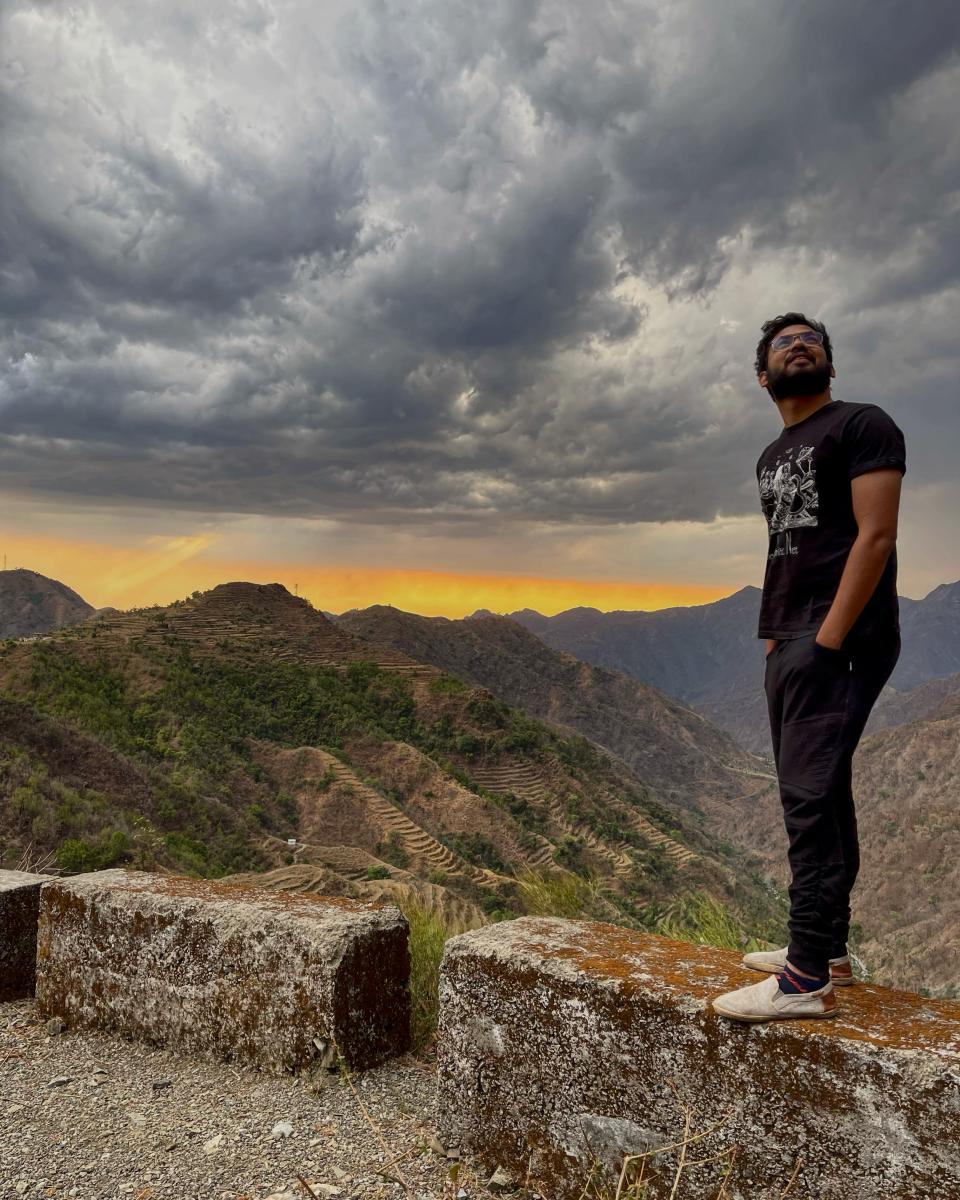 I booked my flight and on the second-to-last day of June I got on a plane to fly from Delhi to San Francisco—crossing the Bering Strait, over the ice sheets in Siberia and Alaska, landing just in time to explore the city where I'll spend my next 12 months.
Being a music and cultural aficionado, I instantly fell in love. I had a few days set aside to explore the city and I'm happy I had the chance to experience everything that makes San Francisco so unique.
Learning the Language of Data
The thought of an MSBA degree had always been in the back of my mind ever since I started my professional career. With diverse work experiences across different domains and industries, I quickly realized that no matter what role I end up in, I would invariably have to learn to converse in the language of data.
Hence, four years into the professional world—countless data visualizations and analytics-driven optimizations later—I finally decided to further hone my intellect and gain an edge in this era of data deluge.
With its extensive curriculum, illustrious faculty, practicum experience, and Bay Area affinity, the choice to attend UC Davis' MSBA program amongst all my other admits, was an easy one.
And I haven't been disappointed with my decision. From the very start of MSBA orientation last month, which was my first non-virtual opportunity to meet with faculty and fellow classmates, it's been fantastic.
Onboarding with My New Cohort
After almost a year of virtual life, everybody from my cohort was excited to  be together on premise for our program. The academic team, led by Amy Russell, Shachi Govil, and Professor Ashwin Aravindakshan, immediately made all of us comfortable, and I could tell the professors were excited to start the new academic year.
"In the first few days, my classmates and I had the chance to network—it was a great chance to meet my peers, many of which came to the program from different countries. I have never been in such a multi-cultural and diverse crowd. I was surrounded by different ethnicities and professional backgrounds, and the whole vibe from my new classmates was warm and friendly."
Now that I am three months into the program, I've heard some interesting stories from a few of my new classmates. One such friend, Mikhail "Misha" Pyanov told me about his background in economics. Misha hails from a city in Russia, where temperatures of minus-45 degrees Fahrenheit is quite commonplace. Mikhail shared with me about his experience:
"Coming to San Francisco all the way from Russia was quite an adventure. No U.S. embassy was issuing visas at the time, so I needed to secure an appointment in another country and then find a way to travel there despite all of the pandemic-related obstacles. After trying my luck with several offices, I was very fortunate to get approval for an emergency visa request in Kazakhstan. When it was complete, that trip led me throughout Central Asia, but I finally received the final prized piece of paper needed to join the MSBA program in San Francisco."
Another new friend, Yuchen Zeng, came to the program from Shenzhen in China. She told me:
"Before I came to the U.S., I confronted many difficulties due to the global pandemic. Luckily and thanks to the UC Davis MSBA administration, I successfully arrived in San Francisco after a 13-hour trip. The whole admissions team and faculty members constantly kept track of our student visas and our progress as international students, which ultimately helped me overcome numerous barriers, and they helped me successfully start the program on time."
The Start of Making 'A Real Impact'
The learning curve I have had in the past few months in the program is without a doubt greater than anything I have experienced before. A big chunk of it stems from the opportunities the MSBA program provides students. It's evident that the curriculum aligns well with the needs of the industry, and will prepare me for success. Here are other few highlights:
We have already learned the application of advanced analytical techniques in real-world business scenarios.
We have networked with alums from Facebook, Google, Tesla, Amazon, Blackrock and other top firms.
I have come across different cultural perspectives thanks to my classmates from more than 20 countries.
I have also learned to manage my time judiciously and juggle between tasks efficiently, ensuring that I set time aside for leisure activities in the city.
It's been an impressive start to our new program, and I feel that we are entering the market at the perfect time—at the cusp of human technological revolution.
Many of us—mostly millennials and Generation Z—have often philosophized about our lasting impact on the world. Despite all our educational and professional endeavors, we have yet to create real change. Yet I have a feeling that where I am at now is the closest you can get to change that:
"Earning a graduate STEM degree in a field driving the next generation of technological innovation, at a top five public research university, and based in the heart of innovation in Silicon Valley. That is the perfect recipe for creating a real impact."
A combination of hard work and luck has got me here, and I, like all my new peers, am motivated as we strive to leave our mark and contribute, in however minuscule a manner, towards the advancement of the human race through technology—it's going to be an exciting ride.
Feel free to connect with me on LinkedIn.