Jenny Hebets Pursues Career in Supply Chain Sustainability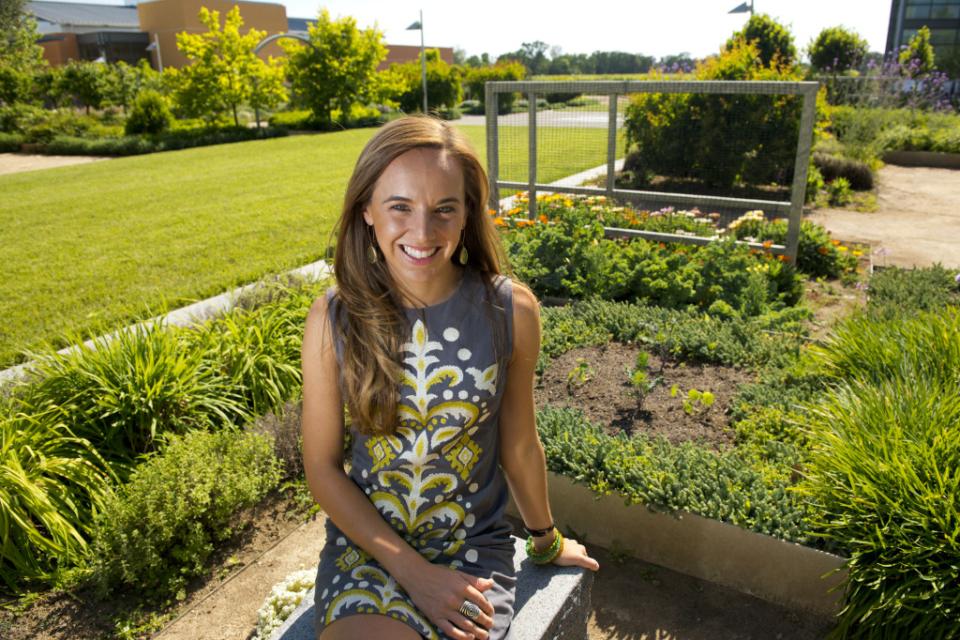 Jenny Hebets MBA 16 discovered international development as a teenager, but didn't know it yet. Hebets' high school required her to volunteer. So for four years, she would truck down to the same community in Tijuana from her Southern California home. She saw houses built on trash dumps, fashioned from discarded garage doors and plastic tarps.
"It was shocking that kind of poverty could exist in such close proximity to where I grew up," Hebets says.
In her first college development class, she found her calling: "That's what I was doing in Tijuana,'" she remembers thinking. "I thought, 'This is it. This is what I want to do.'"
After earning her undergraduate degree from The George Washington University, Hebets completed a master's degree as a Rotary Ambassadorial Scholar in development at a university in Ecuador.
She then spent eight years working for international development corporations, being dispatched throughout Latin America. She helped jump-start economic growth in impoverished communities of small-scale farmers, fishermen and other small- and medium-sized enterprises, often in isolated rural areas.
Frequently, the farmers she worked with faced complex challenges such as minimal access to credit, lack of technology and education to grow sustainable, high-value crops and getting them to markets. She would research industries such as coffee, fisheries or horticulture and work with the private sector to develop solutions designed to reduce poverty and stimulate business growth.
Hebets brought her energy and expertise and plugged it right into the world-leading agricultural research at UC Davis, participating in many food and agriculture-related activities at the Graduate School of Management, across campus and beyond. She also blogged about her experiences, including attending the Sustainable Foods Summit in San Francisco, an exclusive lunch at the School with the CEO of HM.CLAUSE, one of the world's leading seed companies; and attending a symposium hosted by Mars, Inc. marking the launch of the UC Davis Innovation Institute for Food and Health. And she helped start a new student club, the Food and Wine Leadership Association.
Hebets also interned for Mars, Inc. The chocolate and pet food conglomerate, in partnership with UC Davis, had developed a framework for measuring sustainability in sourcing raw agricultural materials. The tool included more than 2,000 indicators for measuring sustainability in the agricultural supply chain. Hebets worked on campus with UC Davis and Mars' sourcing and London-based global sustainability teams to help pilot the application across several commodity supply chains.
After graduating, Hebets was hired as an economics and technology manager at Mars. She now manages a portfolio of innovation programs across various agricultural and manufacturing initiatives for the Mars Advanced Research Institute, an innovation incubator for the global food, confection and petcare company. 
What led you to the UC Davis MBA program?
For eight years, I worked primarily in Latin America for consulting firms that implemented U.S. foreign assistance. Our main client was USAID, the U.S. Agency for International Development. In that work, I did extensive collaboration with the private sector. I was then in Peru for two years working on a project in the cocoa industry. This project was a $142 million joint venture between USAID and the private sector.
Our partners included some of the largest commodity brokers in the cocoa industry and several local and international financial institutions. Through joint partnerships between donors and companies, I quickly realized that the donors were making a lot of change in these developing countries, but they weren't doing enough. The solutions donors brought were not long-term solutions. They were just contracts for a couple of years and then they were gone.
It was the companies that were buying cocoa from Peru and sourcing bananas, potatoes and other products, who had a real, vested economic interest in robust supply chains in these emerging economies. Those were the actors who had the ability to cause catalytic change. That's what inspired me to strengthen my business acumen and make the shift to the private sector.
Tell us about your role now at Mars and your future goals?
At Mars, we have a much better chance at making a difference with global challenges like food insecurity and climate change if we pool our resources and expertise into uncommon collaborations with other researchers, companies, NGOs, governments and the public. This is why we joined forces with the likes of IBM and UC Davis to sequence the genome of the cacao tree and with Google and BGI to create the African Orphan Crops Consortium.
Ideally, I've wanted to be working for a company that has sourcing operations in emerging economies: a food or agricultural company, and working to improve the sustainability of their supply chain.
There's a whole other side of me interested in impact investing. The world of impact investing is growing and exciting.
There are a lot of organizations that are raising capital and are interested in investing it in sectors that are going to have both an economic return as well as a social return.
They struggle now with identifying the right investment opportunities. I feel I have the right combination of skills to help them do that.
What kind of change are you talking about?
Economic growth. Helping people improve their livelihood. When business flourishes, poor communities have access to a dynamic economy and it creates jobs; it creates wealth. More people can send their children to school. Mothers can feed their families better. It generates tax revenue and allows governments to invest in the well-being of their citizens. It's broad, systemic, positive change.
How did your work in international economic development in Latin America shape you?
It made me a person who has a global perspective. I'll never be able to look at any social issues or business issues from a purely American standpoint. I will always look at things in terms of how they are affecting the planet as a whole.
What I learned in that time was that the private sector has all the right motivations to implement long-term sustainable change.
How do you see yourself as a game-changer in your industry?
I feel like I have a vision for taking social responsibility in business to the next level and helping these organizations that have made a commitment to being socially responsible, to have a real, positive impact. Not just on the surface, but finding ways to intertwine the models of social responsibility with profitable business. I see myself as someone who's going to further the model of socially responsible business in a way that drives profit as much as it drives positive social change.
What did you learn about yourself during your time at UC Davis?
The Graduate School of Management helped me to realize areas where I could unlock further potential and catapult myself forward. As a development person, I was stuck in that one bubble. I came to UC Davis and the world was my oyster. It exposed me to so many new companies and industries. And soaking up the whole innovation-driven mindset was an amazing breath of fresh air.
What was your most rewarding extracurricular experience?
I ran marathons and got into triathlons. I completed my first Olympic distance triathlon and did a half Ironman. It was important to me to push myself both inside and outside of the classroom and it was a wonderful way to explore beautiful Northern California.
What was your most rewarding experience in the program?
The most rewarding part was my classmates. I got to know a group of 43 amazing individuals. I was in awe of the skill, talent, intelligence and experiences that every single one of my classmates brought to the table. They made the experience so much more enriching. We became a family and it was great to have that support network to be able to lean on.
Who has been the most influential in your life?
My parents and my sister. They're a family that has always valued personal achievement but never compromised being a good person and having a positive influence on the world. That's been the central ethos of our family from the beginning. That's how my perspective today got instilled in me.