New Board of Fellows Deepens Our UC Davis Collaborations
Teaming up on business and management-related research and teaching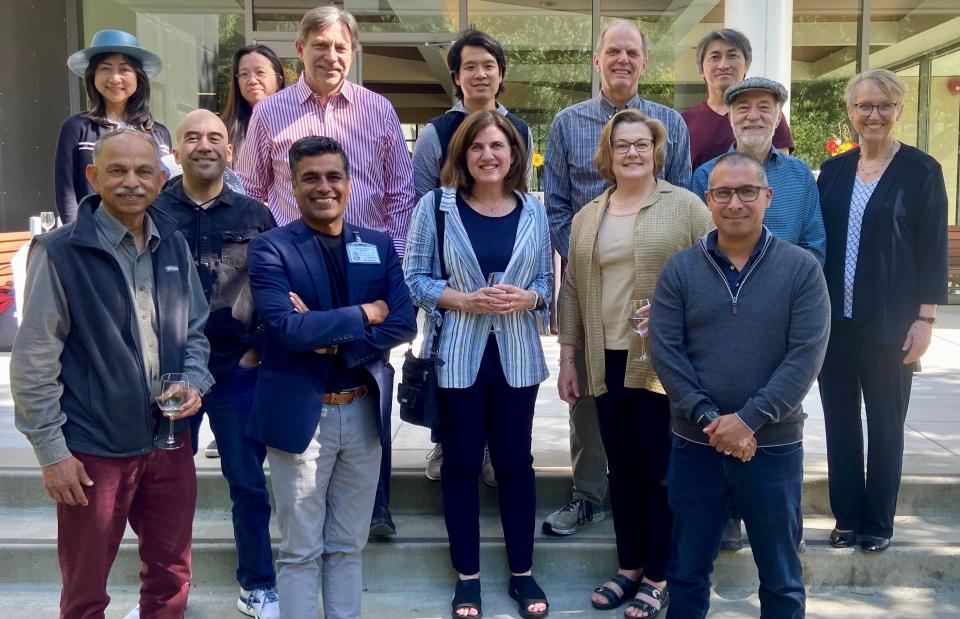 As the chair of the Faculty Research Committee, I'm thrilled to announce four selections to the newly-created Graduate School of Management (GSM) Board of Fellows.
The new Board of Fellows, organized by the GSM Faculty Research Committee, is intended to be a boundary-spanning group that connects the GSM to the university and promotes awareness of faculty research in the broader community of scholars.
We expect that the board will facilitate innovative research collaborations by bringing our faculty together with UC Davis senate faculty members whose research has strong links and complements with management studies.
In this inaugural year, the GSM faculty elected four senate faculty as Fellows: Dr. Ashish Atreja, Alison Ledgerwood, Heather Rose and Dan Sperling.
The Faculty Research Committee will issue an open call to GSM faculty for nominations at the start of each of the three main academic quarters, and we look forward to growing the board over time.
The four inaugural members bring unique research expertise that has significant overlap with the research expertise of the GSM faculty:
Dr. Ashish Atreja
As UC Davis Health's chief information and digital health officer, Dr. Ashish Atreja, M.D., M.P.H., F.A.C.P., A.G.A.F. oversees the expansion of the health system's digital relationships with patients and with other hospitals, bridging the gap between IT, academia, research and innovation.
Dr. Atreja, a gastroenterologist, previously served as the chief innovation officer for the Department of Medicine at Mount Sinai Hospital where he established one of the first innovation hubs within an academic medical center to build and test disruptive digital health technologies.
Dr. Atreja is credited with coining the term "Evidence-based Digital Medicine (EBDM)," and is often referred to as "the app doctor" for his work in pioneering digital therapeutics and prescribing mobile health apps for patients..
He has held key positions in many professional organizations, including in the American Gastroenterological Association and American College of Cardiology. He supported large-scale patient outreach programs during the COVID-19 pandemic through national and international coalitions and was recently nominated among the Top 40 HealthCare Transformers. In addition to a medical degree, Dr. Atreja holds a master's in public health and is a fellow of the American College of Physicians.
Alison Ledgerwood
In addition to her academic appointment as an associate professor in the UC Davis Department of Psychology, Alison Ledgerwood is the principal investigator for the Attitudes and Group Identity Lab. She is also a UC Davis Chancellor's Fellow, recognizing her outstanding work in academia. 
Her research centers on the contextual factors that shape people's likes and dislikes, while her methodological and meta-scientific interests focus on developing and promoting research methods and practices that increase what we learn from scientific research.
Her research has been funded by the National Science Foundation and the Hellman Family Foundation. She serves on the board of the Society for Personality and Social Psychology and has served as an associate editor at the Journal of Personality and Social Psychology and Perspectives on Psychological Science.
Heather Rose
An expert in California school financing and education policy research, Heather Rose serves as an associate professor at the UC Davis School of Education and as an adjunct fellow for the Public Policy Institute of California.
She studies the effects of school finance systems, accountability programs, and governance structures on the distribution of school resources, student outcomes and achievement gaps. Her current work spans operational issues in education related to budgeting, staffing, and employee compensation, including examining K-12 school districts in California and their response to volatile state funding.
Dan Sperling
Recognized as a leading international expert on transportation technology assessment, energy and environmental aspects of transportation, and transportation policy, Dan Sperling serves as UC Davis' Distinguished Blue Planet Prize Professor of Civil Engineering and Environmental Science and Policy, founding director of the Institute of Transportation Studies (ITS), and founding chair of the Policy Institute for Energy, Environment, and Economy.
Sperling has led ITS-Davis to international prominence by building strong partnerships with industry, government, and the environmental community, integrating interdisciplinary research and education programs, and connecting research with public outreach and education.