MSBA project team developing metrics dashboard
It's rare to have the opportunity to work with a great company on a project with a significant impact and managers who care deeply about your growth and career.
Over the past three months, my teammates and I have been collaborating closely on our practicum project for the UC Davis Master of Science in Business Analytics
(MSBA) program. Headquartered in San Francisco, Charles Schwab is a leading investment services firm with more than $3 trillion in assets under management.  
We've learned a great deal about finance, project management, data visualization, design, expectation management, business partner relationships, presentations...the list goes on.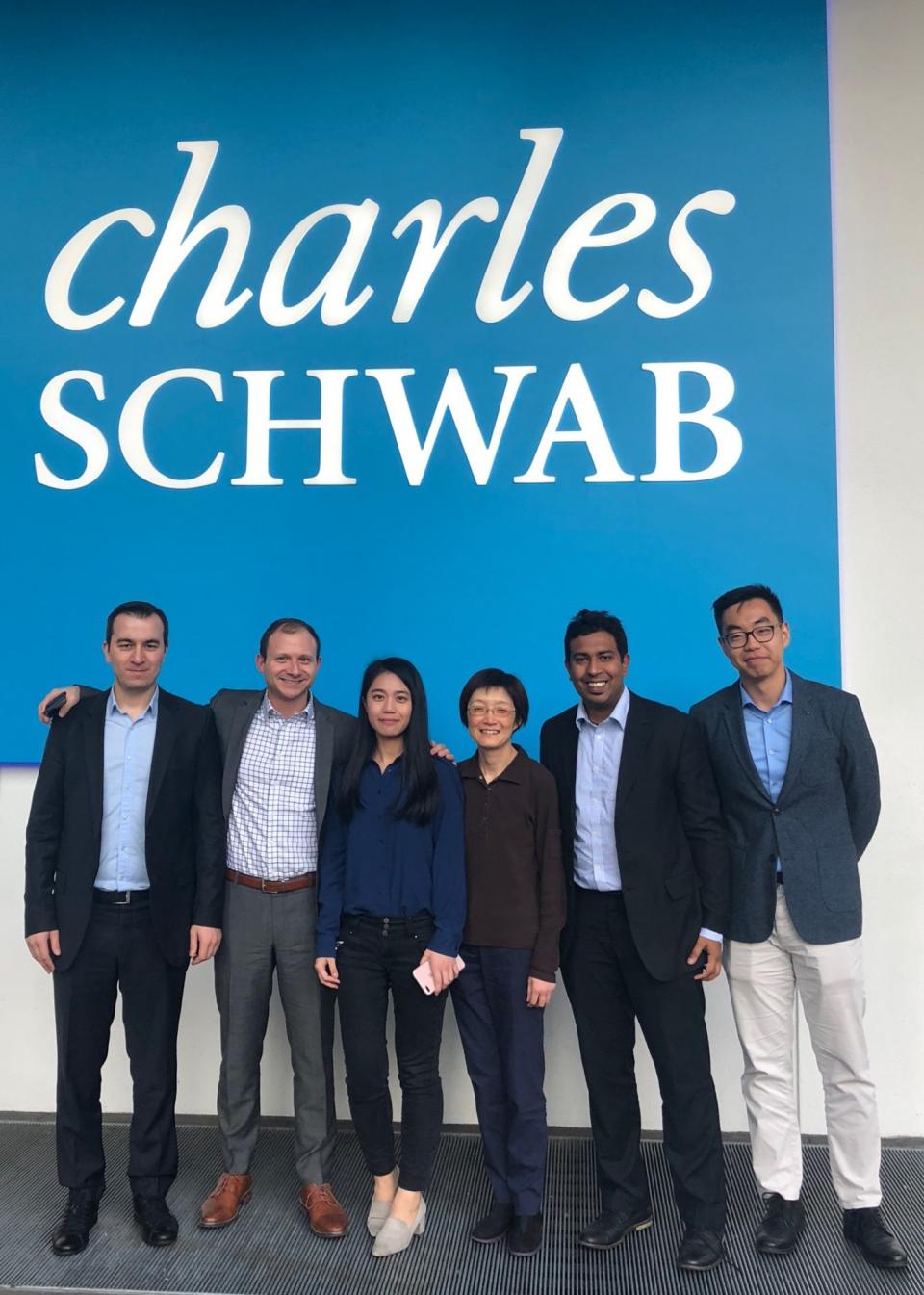 Our goal has been to build an interactive, self-service dashboard that provides a state-of-the-business view of key metrics for Schwab's internal business partners and C-suite leadership.
Returning from our California road trip over New Year's break, I couldn't stop thinking about the amazing five days we spent on the road. On the other hand, I couldn't wait to get back to work the next morning at Charles Schwab, which has become an integral part of my journey in San Francisco in the UC Davis MSBA program. 
Building Your Data Team
The first month of the UC Davis program was very interesting.
When you arrive in San Francisco for orientation, you're introduced to your team and get to work. Your team becomes your family for the next 10 months for the practicum project. My teammates are  Yanan Liu, Kemal Yilmaz, Jiayin Ma and Stone Shi. We're team "Cox." I could not have asked for more in a team, peer group and family.
Once you're teamed up, you are thrown head-first into solving a real-world analytics problem. We competed in a Bookstore Analytics Tournament that challenged our team and the entire class cohort.
The financial understanding required to build relationships between various metrics for a dashboard is very complex, but Melody and David made it seem like a breeze.
The first month is designed to overwhelm you. So small issues like groceries, weather, jet lag, etc., do not have much effect on you. It's a surreal experience. 
Near the end of the first month, your team is put to the test. You must first bid for a practicum project. The trick here is that together as a team you need to provide the top four preferences of companies/ projects. After an hour together over dinner debating on the best fit and discussing strategy, we decided that our top choice would be Charles Schwab.
The night before our final presentation of the Bookstore Analytics Tournament, we found out that we'd landed the Schwab project. We all gave each other high-fives and felt collectively that it's alright now if we don't win the tournament tomorrow. We have already won.
Image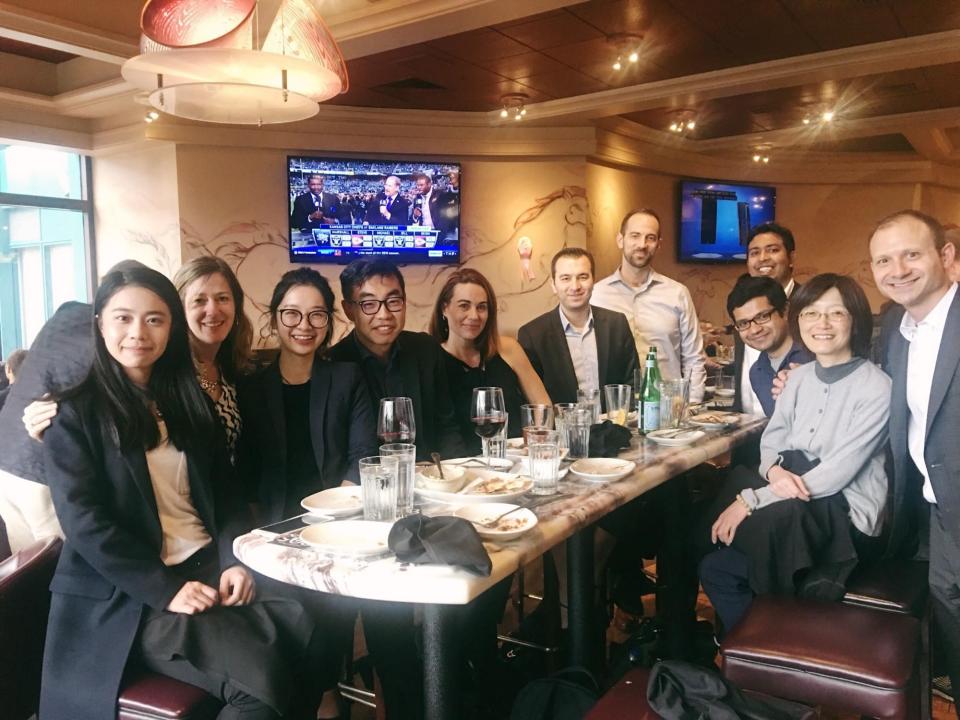 Discovering Charles Schwab
We're supporting Charles Schwab's Retail Analytics team in providing business intelligence and deep analyses to Schwab's Retail Business.
At our kickoff meeting in September, we were pleasantly surprised to know that we would be working on a high-profile project under the leadership of David Girouard, who is Schwab's managing director of business strategy, and Melody Wang, a senior manager. We also met the sponsors of the project: John Carter, the senior vice president of analytics and business insights, and Jacqueline Chin, the vice president of retail analytics.  
Our team's goal over the next 11 months was to build an interactive, self-service dashboard that would provide a state-of-the-business view of key metrics for various business partners and executives at the company.
I could not have asked for a better company and project to work on.
The weeks that followed the kickoff were focused on giving us a holistic understanding of Schwab, their business and the financial industry as a whole.
If someone told us three months back that we could have successfully built a working version of our dashboard in three months, I would not have believed them. The financial understanding required to build relationships between various metrics for a dashboard is very complex, but Melody and David made it seem like a breeze.
As a team, we put in a great deal of effort to get up to speed as fast as possible, and Schwab has always provided us with the resources that were needed to bridge the gap. More importantly, every time one of us asked a fundamental question, which I would be ashamed to ask, they would smile and take us through it until we understood the logic.
What made the first few days easy for us were both the goodies that Melody would bring for us and that we had our own key cards to make it to work—not to mention the stunning views from the conference rooms we've been working in. But we don't consider it work. Rather, it's an extension of our world of academics, where we could finally get our hands dirty.
Knocking on the Door of the Financial World
As with any project, the first few days are spent building the foundations. The practicum class led by Sanjay Saigal helps put the projects into perspective with respect to managing expectations and working through problems that the teams face while working with their MSBA Industry Partner.
A lot of what we've done in class has translated into what we do on the project and vice versa. All of our classroom resources have bridged the gap for us, from an opportunity assessment report to a project overview report, project plans and project status reports.
Discovering Charles Schwab
The UC Davis MSBA curriculum is carefully crafted to take students through a clear understanding of the business scenario. We've had an especially diverse class, with various backgrounds and a broad range of industry experience. For incorporating the documentation for the project at Schwab, we were lucky to be guided by David Girouard in refining our language, design and presentations.
We have successfully gone from being five outsiders knocking on the door of the financial world to collating the business requirements from multiple business partners and stakeholders, while building a project plan and wire-framings. Now that we have finished part of the dashboard, we hope to showcase our work to business partners in a few days. For our team, it's been an amazing professional experience that would be hard to top.
There were two reasons why I chose the UC Davis MSBA.
First, San Francisco is a global hub where I could learn so much more about the technology industry, startup culture and creative innovators. 
Second was the 11-month practicum project. And I could not have asked for a better company and project to work on than the one at Charles Schwab.