Sacramento Campus - Education Building
Sacramento Part-Time MBA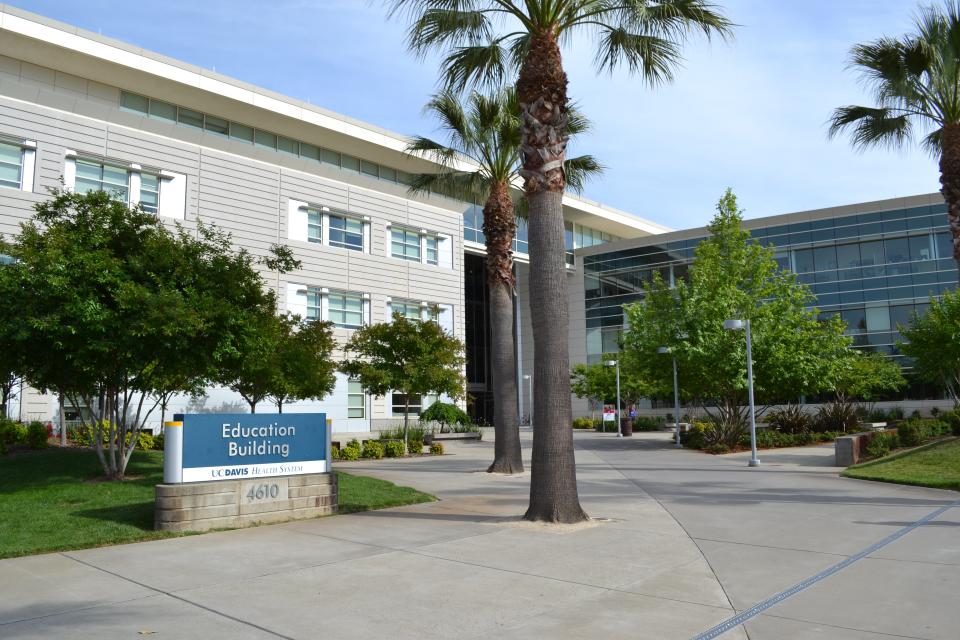 The UC Davis Graduate School of Management Sacramento Part-Time MBA program has exclusive access to the north wing of the second floor of the Education Building on the UC Davis Sacramento campus. The Education Building is a $46.2 million, 122,700-square-foot facility that serves as a beautiful, modern gateway to the 140-acre Sacramento campus.
Parking
Parking is managed by UC Davis Health System Parking and Transportation Services. Visitor parking is available in Lot 14, located at 2nd Ave. and 45th St. Daily parking passes, available at the kiosk in lot 14, are $6.00 all day on weekdays and weekends. Click here for a parking map.
Building Hours & Access
The Education Building entrances are locked after 6:30 p.m. on weekdays, and all day on weekends. The classrooms and meeting rooms are not locked. You may obtain a key to access the building in Room 2203.
Sacramento ID Badge/Cardkey
The Education Building and the CHT Building require a unique name badge and access card for entry to the building and the GSM Office* after hours. These access cards function as your required ID badge for security purposes, as a part of the UC Davis Health System. If you experience issues or need a replacement card, please contact Dedan Sims.
*To open the GSM Office door with your ID badge, hold the card up to the card reader to the right of the door sign; then simply push the door open.
Program Hours
The GSM has exclusive use of the North Wing of the 2nd Floor from 12:00 – 9:30 p.m., Fridays, and 8:30 a.m.- 4:30 p.m. on Saturdays. Classrooms may be reserved in advance, however, any open classroom during this time is available to GSM students exclusively on a first-come, first-served basis.
Staff & Faculty
Academic and Student Services
For student issues/concerns, please call (916) 734-3938.
Project & Instructional Resources
For faculty issues/concerns, please call (916) 734-3937.
To place faculty work requests, email Project & Instructional Resources.