UC Davis Main Campus - Maurice J. Gallagher, Jr. Hall
Full-Time MBA, Master of Professional Accountancy & Executive Education
Image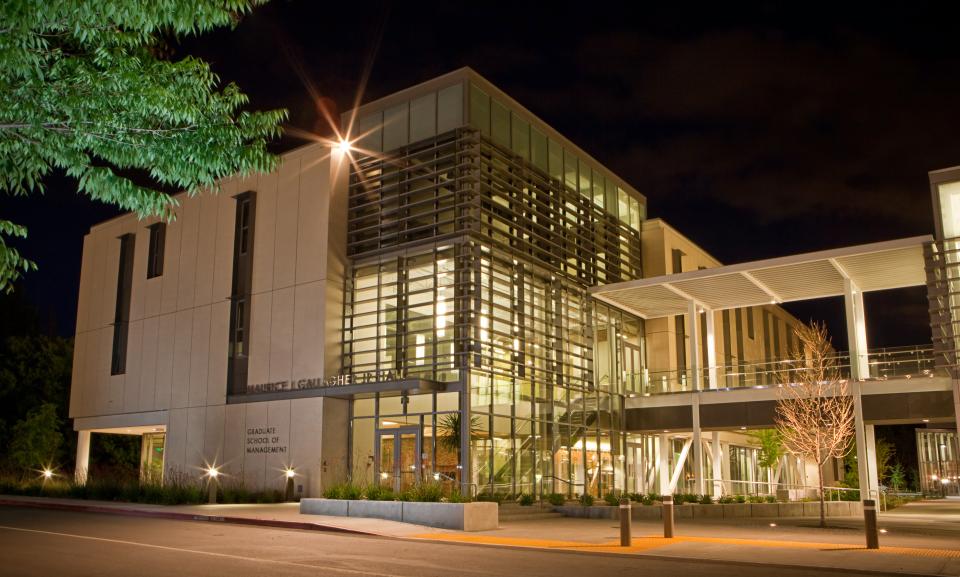 Located in the beautiful Gateway District of the UC Davis campus, Maurice J. Gallagher, Jr. Hall was the first business school building in California to earn LEED-Platinum certification for its eco-friendly construction. Home to our Full-Time MBA, MPAc and Executive Education programs, it features a striking glass-and-tile facade, state-of-the-art technology, a beautiful open lobby with a fire place, and numerous inspiring spaces that are sure to spur innovative thinking and teamwork.
Parking
To park at UC Davis, a permit is required during the week (7am-10pm) and costs $10. Weekend parking is free. There are several parking lots near Gallagher Hall. The Gateway Parking Structure and Visitor parking Lots 1 and 2. For more information on parking, call (530) 754-8940 or visit the UC Davis TAPS website. 
Fast Facts
Opened September 2009
40,000-square-foot new campus home for the School
Bold architecture and open, vibrant spaces inspire creativity, collaboration and community.
Physical statement of UC Davis' leadership role in business education
High-tech facilities designed for:
Interactive learning experiences.
Integrated student and career services center for students to develop skills needed to advance their careers.
LEED Platinum certification, the first public business school in California to achieve the U.S. Green Building Council's top standard. Eco-friendly design reflects School's ethos of sustainability.
Amenities
Copier: located in the mailroom, Room 2409 for faculty/staff use only (access card required for entry).
Refrigerator and microwave located in the Room 2409 for faculty/staff use, student refrigerator and microwave are located in Room 1308 (access card required for entry).
Printers: located in Room 2309 and in Room 1308 (access card required for entry).
Classroom Audio/Visual Equipment: All classrooms are equipped with a computer, projector and screen. Wireless networks are available via eduroam. It is always a good idea to check your laptop connection prior to usage to ensure proper connectivity.
Filtered water dispensers are located on the all floors. Gallagher Hall is an eco-friendly building; please provide your own cup.
Places to Eat
Coffee House
The Coho pledges to provide guests with a unique and inviting dining experience, focused on fresh, delicious, made-from-scratch menu options prepared and served by students for UC Davis and the community at large.

Silo/Mondavi Food Trucks
Located at the Silo Union and also outside of the Mondavi Center. Food trucks vary per week. Check out the calendar.
 
Staff & Faculty
Academic and Student Services
For student issues/concerns, staff are available Mondays-Fridays from 8:00 a.m. - 5:00 p.m. in Room 2415.
Project & Instructional Resources
For faculty issues/concerns, staff are available Mondays-Fridays from 8:00 a.m. - 5:00 p.m. in Room 2209, Otero Faculty Resource Center. On graduate teaching nights, staff is usually available until 7:00 p.m.
To place faculty work requests, email Project & Instructional Resources
Mailboxes
Staff, faculty and visiting faculty/lecturers have a mailbox in Room 2409. Visiting faculty will only have a mailbox during the quarter they are teaching. The mailroom is accessible via access card and is only accessible by faculty/staff. See Room 2209 to drop something off for a professor.
Full-Time MBA and MPAc student mailboxes are located in the student lounge, Room 1308. Please note: Cross-registration students only have mailboxes at their home campus.
Facility Maintenance Issues
If you encounter a facility issue in Gallagher Hall, please contact us to request facility maintenance. For immediate issues during normal business hours contact gsm-facilities@ucdavis.edu.
For after-hours facility emergencies, please call (530) 752-1655.