Adobe Analytics Challenge: Sweat, Tears, Perseverance and Joy
UC Davis MSBA team Guns n Roses bests 4,000+ worldwide to win $6,000 third prize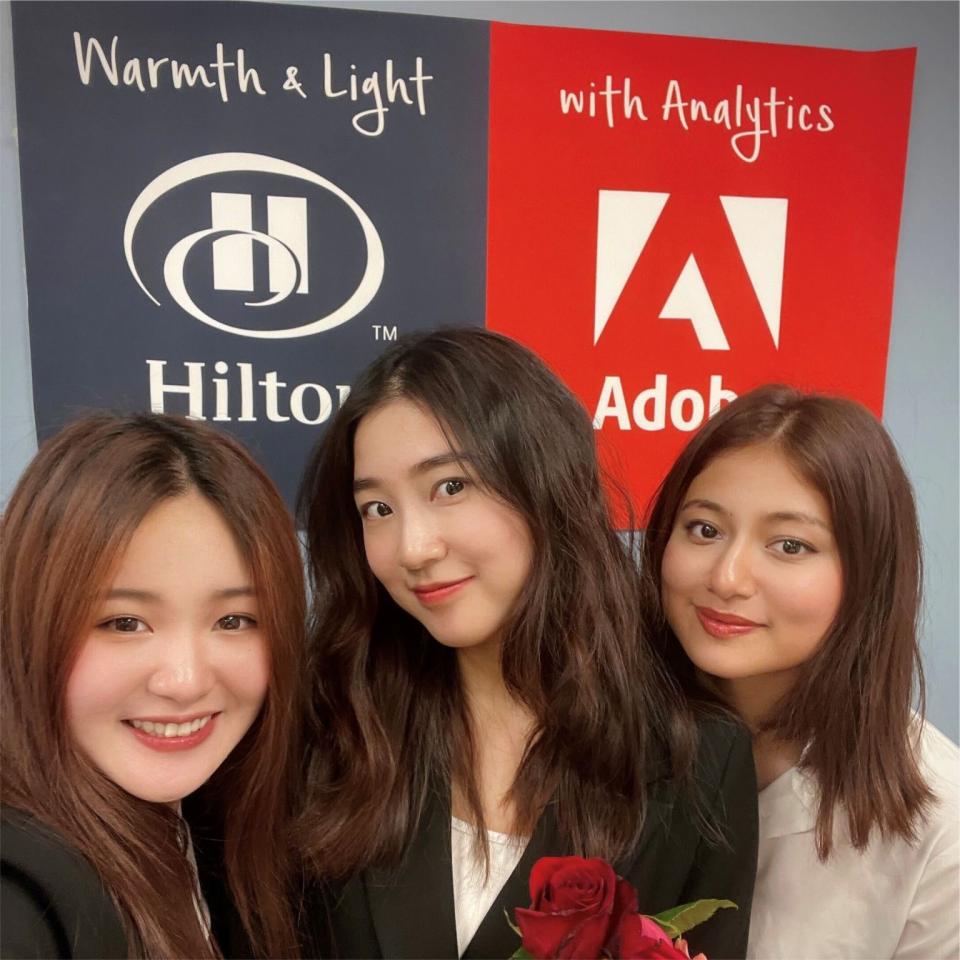 (Editor's note: Over the past five years of the annual Adobe Analytics Challenge, UC Davis MSBA student teams placed among the top three in four of those years.)
Competing alongside more than 4,000 teams worldwide in the prestigious Adobe Analytics Challenge 2022 is a clear highlight of my first few months as a student in the UC Davis Master of Science in Business Analytics program.  
The competition gives student teams the hands-on opportunity to practice developing and communicating insights with data while honing our skills on the powerful Adobe Analytics platform.  
Before joining the UC Davis MSBA program, I was a product manager at Procter & Gamble. I brought that experience with me as I teamed up with two classmates who quickly became friends: Priya Iddalgi, who had worked as a senior business analyst at Goldman Sachs, and Xinyi "Alice" Shen, a UCLA alumna who previously had two internship experiences. We entered the competition as Team Guns n Roses. 
The last two months of the challenge were a journey of sweat, tears, perseverance and joy that I will never forget. Of course, I'll value the analytic skills and industry knowledge I've learned. I'll also hold dear the warmth and caring from our mentor, classmates and the MSBA program staff—this made such a difference. I'm proud to have been part of this adventure and am deeply grateful to everyone who helped us. 
Hilton Stands for Hospitality 
Hilton was the Adobe Challenge client this year. One of the top brands in the hotel and hospitality industry, Hilton wants to develop cutting-edge digital customer experiences and strengthen its brand image. Our task is to use Adobe's customer journey analysis workspace to develop solutions to Hilton's business questions. 
There are mainly three key topics. First, discern any digital activity differences among device types and guest types. Second, differentiate the business, leisure, and 'bleisure' travels—and decide where to make digital interventions. Last, analyze different booking behaviors and recommend encouraging more direct bookings within Hilton-owned digital channels. 
It Looks Overwhelming to Start 
Hilton and Adobe provided competitors with a rich dataset. However, Team Guns n Roses had zero experience or only basic knowledge about the hotel industry, and we had no clue where to cut in and how to find the answers. Luckily, Professor Prasad Naik served as our incredible coach and mentor. He helped us through each question, analyzed its logic, and provided beneficial guidance. Every meeting with him made our direction clearer. We searched many online articles to understand Hilton's digital strategy, listed related matrices and started pulling out the data. 
A Race Against Time 
We only had ten days to dig out insights, pull all the pieces together and make a polished presentation. Although we dedicated ourselves entirely to the challenge, we still found it hard to link all the dots logically and develop a beautiful and convincing story. Professor Naik listened to our concerns patiently, helped us reframe the structure step by step, and pointed us in the right direction. 
"Less is more. Don't try to teach them. Put yourself in their shoes to understand what they value the most." This was one of the biggest 'Aha' moments for us and we quickly adjusted our direction. We knew we were on the right track and were building steam. 
After a Rocky Start, We Gained Awesome Momentum 
Practice, review, improve and practice again—this became our daily routine for a month. Finally, we made it to the semi-finals, excited to have come so far—and now it's our show time. Everything is calibrated and polished. Our standing positions, props, gestures, facial expressions, transitions, intonation and speed of each sentence. I can't recall how many times we practiced, but I know we would never miss an opportunity to improve it. We ate, slept, dreamed, walked, thought and breathed with Adobe anywhere, anytime, during the breaks, at the bus stations, or even when we took Uber home. This journey may be exhausting, but it is inspiring and fulfilling.  
We Are Team Guns n Roses 
In the end, we placed third in the competition. We hugged each other tightly in that small huddle room, telling ourselves: "Good job, girls!" We immediately called MSBA Executive Director Amy Russell and Professor Naik to share our news. We feel deeply grateful for all the help we got along the way. Big thanks to the MSBA staff—Amy, Shachi, Rachel, Camille and John—all offered tremendous support and the best facilities to practice in.
Thanks to Lecturers Daniel Kennedy and Doy Charnsupharindr for sharing their incredible expertise in making solid presentations.
And most profound gratitude to Professor Naik. We could not be here today without him. He is our strongest comrade-in-arms, closest partner and respectful mentor. 
Lastly, Priya and Alice, my dearest, craziest and most trusted friends. So many times, when I felt exhausted and nearly lost my faith in this game, these two told me that there was nothing to worry about and that they would always be here by my side. They taught me what trust and teamwork truly mean.  
The Adobe Analytics Challenge 2022 is over, but our journey has just started. We've all become better versions of ourselves. We are proud to represent the UC Davis MSBA 2023 cohort, and we wish all the best to next year's Adobe challengers!