Destination Davis: Onboarding Our Full-Time MBA Class of 2023
10-day orientation introduces our collaborative culture, UC Davis MBA experience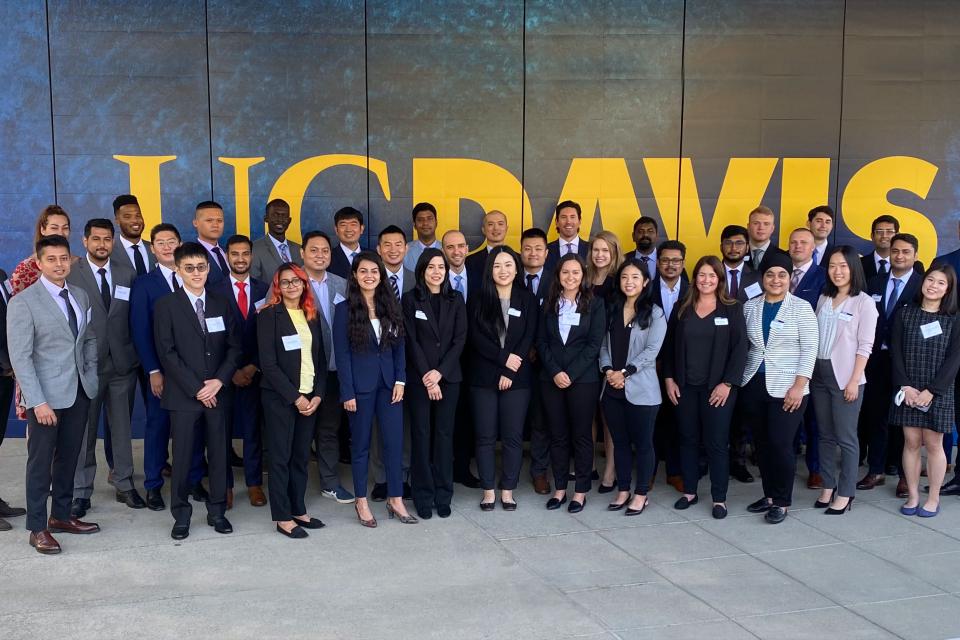 Bringing together 44 energetic, talented and diverse Full-Time MBA students from around the world to the Graduate School of Management is not unlike casting a Broadway play. When the cast first arrives, it's time for rehearsals.
Our incoming Full-Time MBA cohort began their UC Davis journey with a 10-day, in-person onboarding where they became immersed in our collaborative culture, networked with each other and our community, and learned more about the transformational experience that lies ahead the next two years.
The packed onboarding schedule included presentations, Q&As and workshops featuring faculty, second-year students, alumni and staff. Students heard advice on soaking in all that campus has to offer, briefings on our only-at-UC Davis Industry Immersions, an introduction to our Collaborative Leadership Programs, and an overview of our Action for Diversity initiatives.
Carrying on a long tradition, they signed a student-initiated Ethics Pledge. They later formed teams to compete in a deadline-driven, Amazon-sponsored case competition. Not to mention traveling to the Sonoma wine country to challenge their teamwork skills on a ropes course amongst the Redwoods.  
At the onboarding welcome reception, Dean H. Rao Unnava greeted students and shared advice for the year ahead, advising students to not "take each course as a single, standalone course. Link them together in your mind."
He also noted UC Davis' unique approach to collaboration, as a way for students to work together in teams to achieve goals not possible on an individual level. He pointed to the MBA IMPACT Strategic Projects, Industry Immersions, and many class collaborations as examples.
Collaboration in Action: On the Ropes
Midway through their first week, the new Full-Time MBA cohort had the chance to bond, literally tied together, at the Challenge Sonoma Adventure Ropes Course, a beautiful ropes course in set in the stunning redwoods of Northern California.
Getting out in nature amid the trees on the course breaks down boundaries and establishes new levels of respect, communication and effective teamwork. It's a perfect setting for team building, personal development and group growth.
Student-Driven Ethics Pledge
At the end of the first week, the new MBA students heard from Michael Coffey, a retired senior vice president at AT&T. He shared about best ethical practices and business insights to enhance integrity in the workplace.  
The students then recited together and signed the GSM Ethics Pledge, originally drafted by students in 2008, which highlights academic integrity and personal accountability, two core concepts of the culture of the UC Davis Graduate School of Management.
The Pledge reads:
"I promise to complete my degree with honesty and integrity, and will continue to hold myself and my classmates to the highest standards of honor from this day forward."
The GSM Ethics Pledge reflects our students' commitment to ethical behavior both during their time at UC Davis and throughout their careers.
Insights into Industry Immersions
At the start of the second week, students took a deeper dive into our Industry Immersions. These experiences are focused in four areas: food and agriculture, biotech, sustainable energy and tech finance.
In each Immersion, students can take a series of experiential courses, interact with top executives and alumni in the field, team up on corporate consulting projects, land summer internships in the industry, and ultimately groom themselves for a new career, with the help of our Career Development team.
Julie Morris, academic director for the Food and Agriculture Industry Immersion, and MBA alumnus Ben Finkelor, executive director of the UC Davis Energy Efficiency Center, who leads the Sustainable Energy Industry Immersion, shared more details and the many opportunities and advantages of the Immersion experience.
"I constantly hear from executives that they find a lot of value from their conversations and projects with students, and it leads to rewarding career opportunities for our students."
—Julie Morris, Academic Direct for the Food and Agriculture Industry Immersion
Amazon Web Services Case Competition
Students ended the week with a fun and challenging case competition, sponsored by Amazon Web Services (AWS), then closed out the week by joining faculty, staff, alumni and new Part-Time and MPAc students at an outdoor networking reception across the quad at the Robert Mondavi Institute for Wine and Food Science.