Gearing Up: Lessons Learned during Part-Time MBA Orientation
Finding the right fit based on your criteria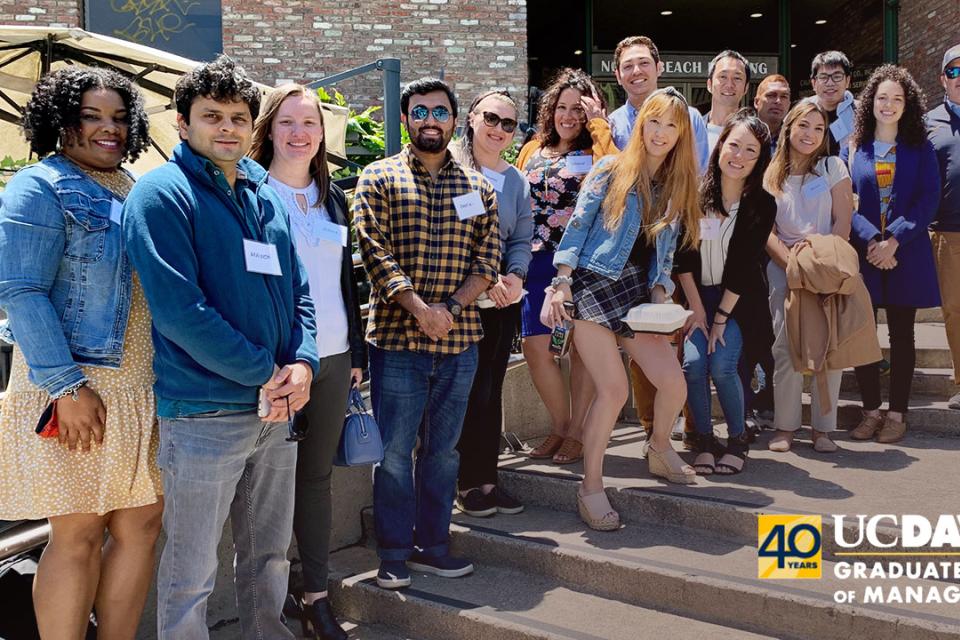 When you think about MBA programs, what's the first thing you think about? Is it the faculty? Maybe the courses offered? Or possibly the location?
For me, I had done my research—my criteria included:
A part-time program, so I could concurrently continue my career and apply all of my newly learned skills in real-time;
A program that offered in-person classes with appropriate safety precautions in place, because I tend to learn the best by being around classmates;
And a highly reputable, and nationally ranked school that would offer a great education and network.
That significantly narrowed my search. What undoubtedly made UC Davis stand out as the only contender was the "pick your own adventure" structure of the STEM-designated Bay Area Part-Time MBA program.
While other programs made me commit to a concentration track— which made me feel as if I was pigeonholing my education into one small concentration—UC Davis allows me the ability to diversify my units based on my personal interests. This will help me on the job as well: I can put new theories that I learn in the classroom in practice right away at my workplace. It's a win-win.
Discover, Apply, Join and Connect
If the last 18 months have taught me anything, it's how to pivot.
Plans change, doubts can creep in, and when I began my application for the MBA program, I nearly hit my first roadblock. Yet, whenever I had questions about the application, I was greeted by a welcoming admissions team member who was very quick to answer my questions and calm my fears. I felt good about my decision and I hit submit. I thought, "If it's meant to be, it's meant to be."
Soon after, I found out I was accepted and within the same 24 hours, I was invited to a new cohort lunch hosted by the admissions team, along with the program manager. In fact, UC Davis held multiple events before the quarter even started, and made it a priority to give the students a safe and fun way to meet before classes started.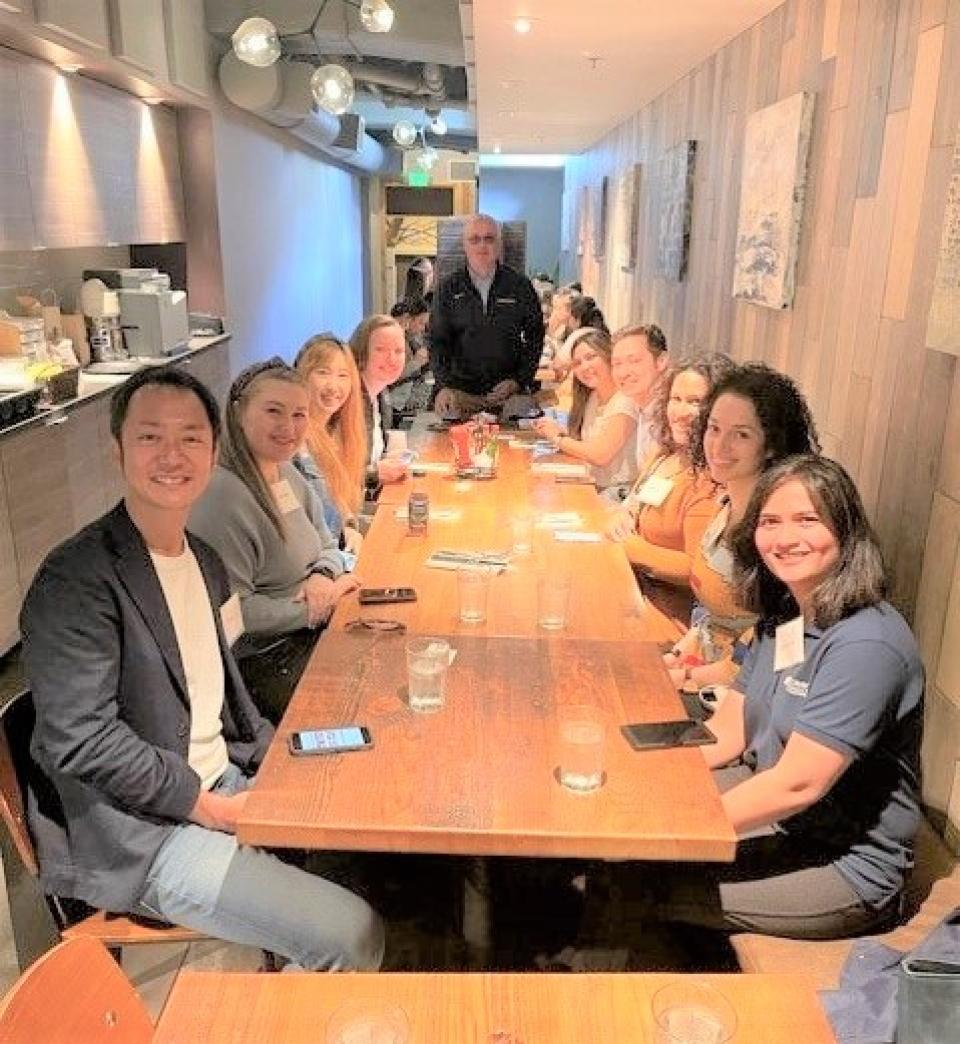 They offered math refresh days, two days of onboarding—one at the UC Davis campus paired with the Sacramento Part-Time MBA cohort—and finally, a post-onboarding happy hour.
Lessons from Onboarding
Meeting my new cohort has been incredible. The group of students is diverse and everyone is welcoming and seems genuinely excited to be there. The first day of onboarding was held in the Bay Area for our group, and in Sacramento for our peers up north.  
The program had a solid mixture of activities, including:
An introduction to all of the key resources that are in place to help us succeed while attending this program;
Ice breakers to help us get to know each other better;
Alumni panels that featured transparent interviews and helpful tips;
A Student Ethics Pledge signing period;
And an introduction to some of the unique aspects of our program like the various Industry Immersions and the School's BizBridge Mentor Collective.  
Every step of the way, the School proved to be progressive in all aspects—it felt human and real. Staff didn't ignore the fact that for the last year and a half we have been in a global pandemic and that mental health matters for students. You could see the respect they have for students and how that plays into their quality education.
Diversity, Equity and Inclusion
One highlight I enjoyed was a segment dedicated to the School's diversity and inclusion initiatives that had real engagement across programs. It was not a public relations stunt; rather they eloquently talked about the devastating murder of George Floyd and how they offered a space for the community to ignite change.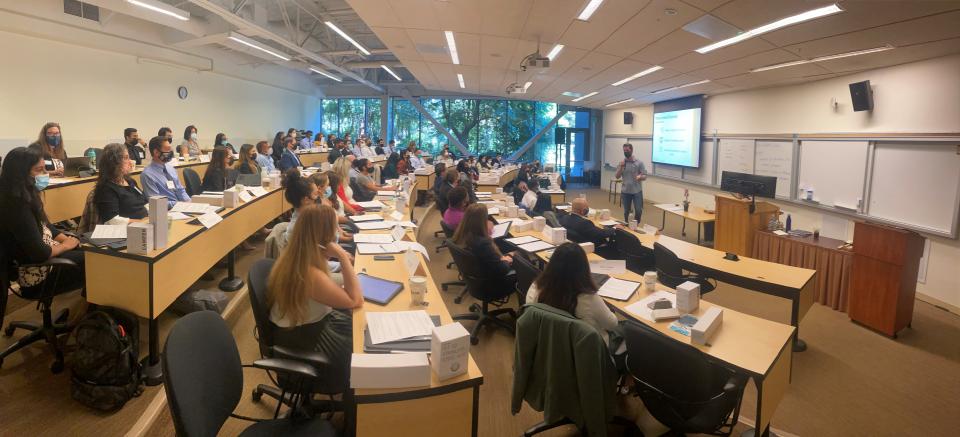 They discussed how they created the 21-Week Anti-Racism Challenge for students, faculty and staff, and why it was important to do so. They reinforced the culture that we are all in turn expected to uphold by our own actions. It began to feel like home—everyone has a place here, and respectful, active listening dialogs are encouraged.
Wrap-Up Reception
I am the first to admit that I don't always enjoy networking and attending social events. I usually worry because I don't know very many people, and that becomes nerve racking. But I knew participating in this MBA program was about getting out of my comfort zone and immersing myself in what the program has to offer.
As we closed out our onboarding events, we had the chance to enjoy a closing reception with cohorts from each of the Graduate School of Management's new programs at the at the Robert Mondavi Institute for Food and Wine Science in Davis. We heard from Dean H. Rao Unnava, chatted with each other, and enjoyed drinks and appetizers.
When I arrived home that night, I skeptically joked to my husband, "Everyone is so … nice?" I didn't know what to expect, but it was so refreshing and enjoyable. My new classmates are unique and welcoming—it's almost like UC Davis knows what kind of candidates it wants to attract.
I know the next few years will take a lot of hard work, but it's comforting to know that UC Davis is creating an environment where all students can come to the table, contribute and succeed.
They have committed to us, and created a support system so we can do what we are here to do—focus on growing and learning in order to have a positive influence later in life. This experience has energized me, and I'm ready to take on this journey with my new classmates.