Serving on a Board: How Women in Leadership Opened My Eyes
Finding female mentorship with the PUENTES board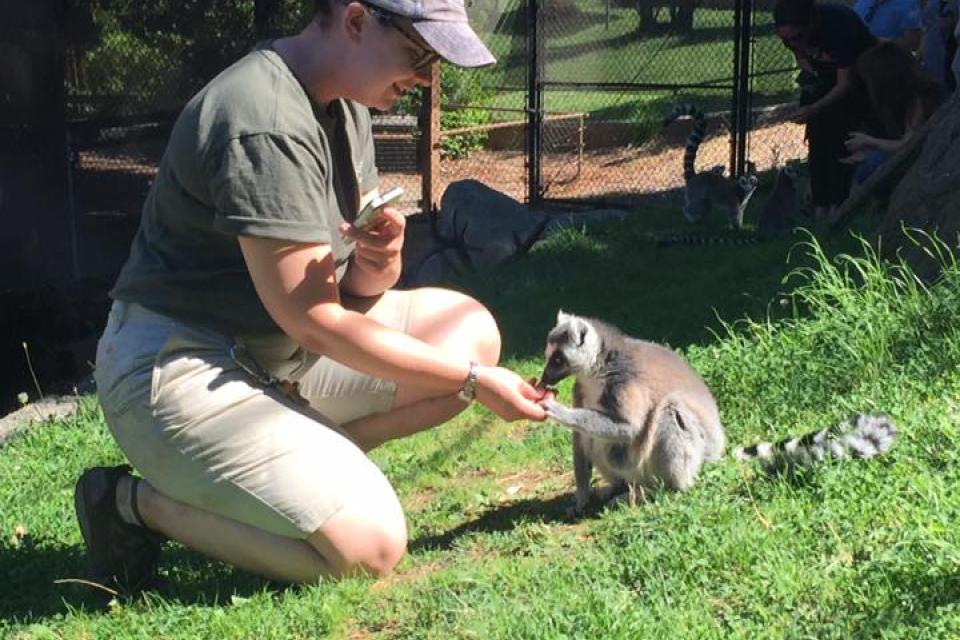 When I told my friends I was going to get my MBA, they thought it may not be suited for my background. I've spent my career in the wildlife conservation industry and pursuing a master's in biology or ecology seemed like the more logical path to them. But I knew I was going to find the skills I needed to be a non-profit manager at the UC Davis Graduate School of Management (GSM).
As I enter my third and final year of the Bay Area Part-Time MBA program, I can honestly say I've made the right decision. I have already learned so much that will serve me as I move up in the conservation world. I've gained skills beyond just business acumen. I've learned to become a collaborator, a leader, and, hopefully, one day, a mentor to others.
The Chance to Serve
I've also had a chance to see behind the scenes of a local non-profit and build my skills outside of the classroom.
The GSM's Women in Leadership (WiL) Board Fellows Program offers seats on multiple nonprofit boards in the Greater Sacramento region. When I learned about the program and viewed the options, I knew I'd fit best with the Stockton-based non-profit, Promotores Unidas Para La Educación Nacional Tecnologías Sostenibles or "PUENTES."
After applying, I interviewed with the board president and board treasurer about my interest and discussed how I could help. Not long after, I was accepted and I joined the PUENTES board with two other GSM MBA students.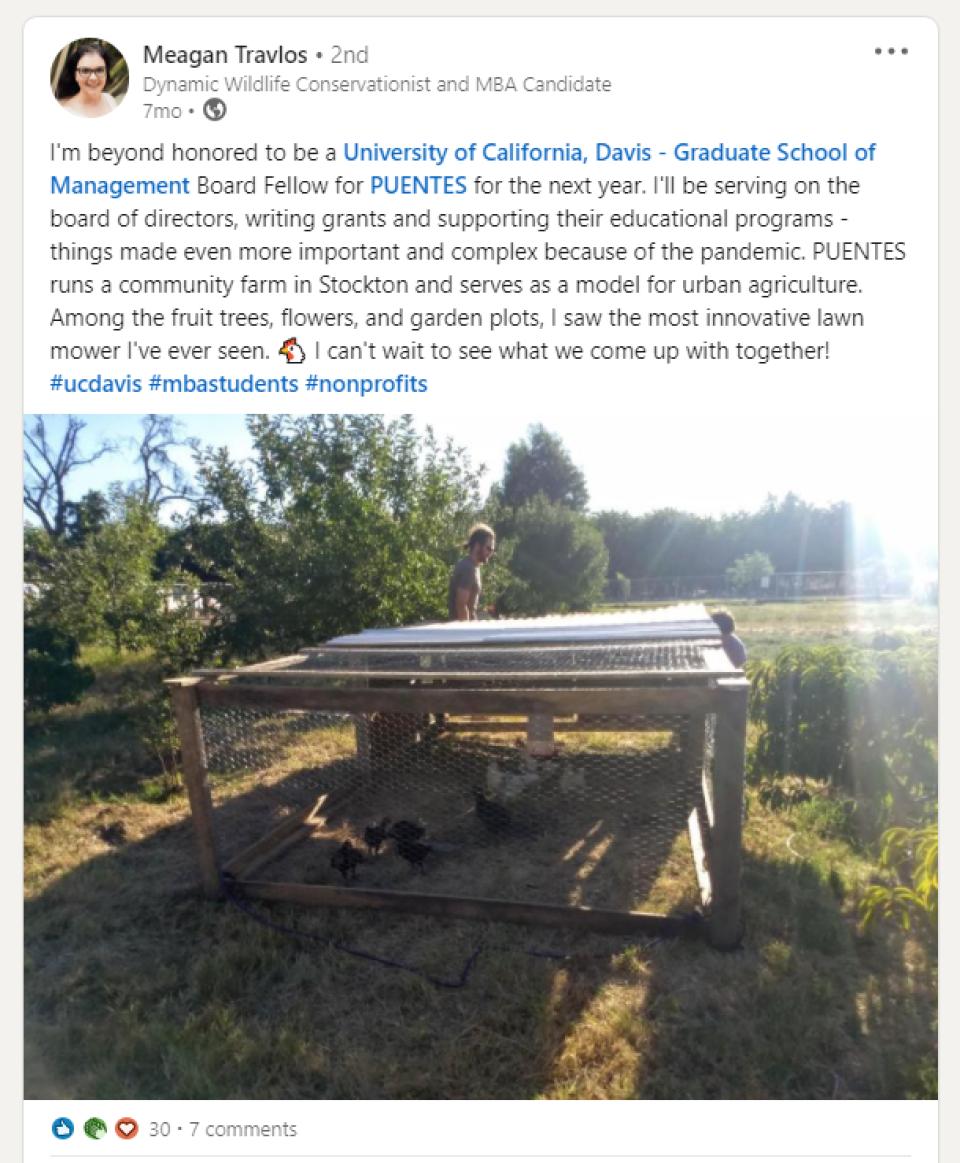 PUENTES works to build equity through sustainable technology that fosters social entrepreneurship, education and motivation of at-risk communities in the Americas. Our goal is to break cycles of food insecurity and injustice surrounding inadequate access to healthy whole foods. We educate locals of all ages about our foods' origins throughout Stockton—a city that is considered a food desert, or one that lacks food accessibility.
MBA Lessons Transfer to Board Involvement
It's been an honor to serve as a board fellow. Although the three of us are adjunct, non-voting members, the rest of the board and the executive director treat us as equal members. We attend the monthly board meetings and our opinions are solicited and welcomed on all topics. It's encouraging to see our ideas put into action, and our thoughts respected so much.
In fact, when the board treasurer wanted to create a fundraising subcommittee, I was eager to join because it was an all-female subcommittee, and I thought it would be a good learning environment.
I am very happy with that decision as it has been a unique learning experience, and matched up quite well with my MBA schedule.
Here are three ways they overlap:
We discuss the budget, and my current accounting class has helped me in that area.
We keep track of our grants, and lessons from my finance class come into play.
We write donation letters, and again, my articulation class has proven to make a difference here. I took the lead on our end-of-year donation email campaign and was so grateful to be trusted by PUENTES with such an assignment.
Learning from Female Leadership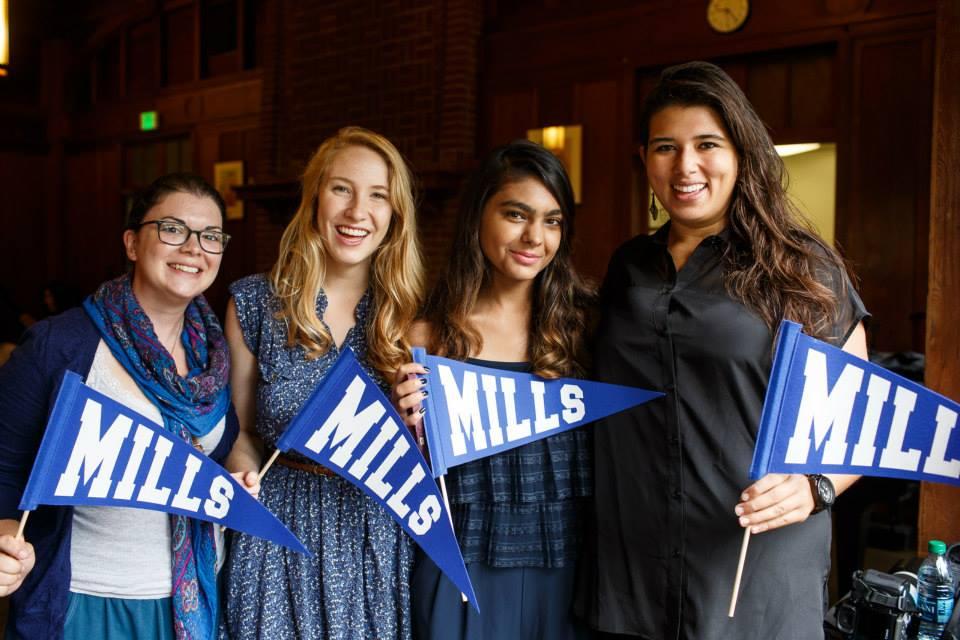 Women are well-represented on the PUENTES board, and the executive director of the organization is a woman. They have been and will continue to be, an inspiration to me.
Female mentorship has actually been a trend throughout my journey. I have been lucky to have many female mentors throughout my lifelong membership in Girl Scouts, and during my time at Oakland's college for women, Mills College. Continuing to find executive-level women in business school has been an unexpected joy.
Having mentors who reflect parts of me is empowering and has helped me to overcome so much, including an early cancer diagnosis when I was a freshman in college.
The only way that I was able to readjust and finish my degree after I was done with chemotherapy treatment was to transfer to Mills College, where I found a supportive, yet challenging community. The professors that mentored me gave me structure and room to grow in a way that I needed desperately at the time.
Finding "The Guts" to Apply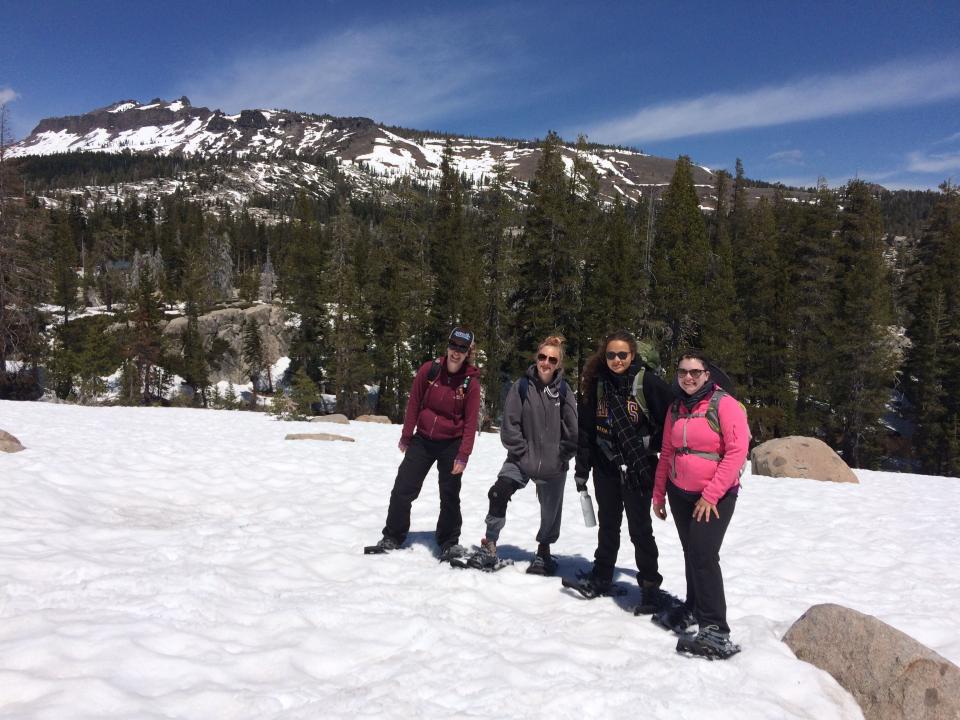 I have been surrounded by strong women my whole life. They have helped me grow and taught me to stand up and be a leader. Whether it was selling Girl Scout cookies or earning the highest award (Gold Award), I took on leadership roles and learned how to direct a Girl Scout group while respecting every member of the team.
As a member of the PUENTES board, I see this again, but with more formality. Our executive director leads a diverse group of staff and volunteers to make farming and education possible despite difficult circumstances, and she does it with grace. I have been taught lessons by her that will last the rest of my career.
As I think back on the female mentors who have made me the woman I am today, I believe they gave me the guts to apply to the GSM.
For me, I was just someone who taught kids about wolves and the food web all day, but I know I was ready to take that next step. I am so grateful for the female leaders who came before me and excited about the ones following suit. I've had the chance to meet prospective students as the Bay Area Ambassador Program Vice President, and they've made me excited about what's in store at UC Davis. Here's to becoming their mentor one day.