How My Team Made it to the Finals of Our Annual Hackathon with Google Cloud
Project explored technological disparities of California's public education system
Living through the past two years of a global pandemic has highlighted, more than ever, the immense magnitude of inequality that exists in many social, economic and political systems.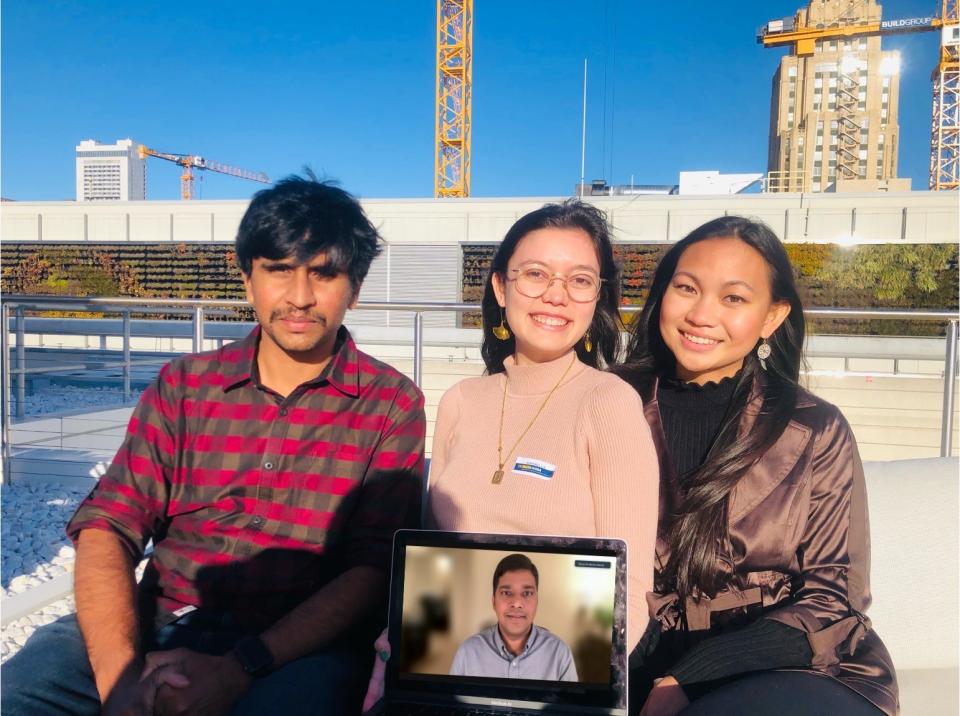 The complexity of these issues can feel impossible for individuals to change. Collective and purpose-driven action is needed. I've had internships and volunteer experience with several nonprofit organizations, and my career goal is to be able to contribute to the social good.
I am pursuing a UC Davis MSBA degree to pull the levers of data and analytics to generate insights that can make significant advancements in social efforts. When I heard about the 2022 AggieHacks x Google Cloud Hackathon, I knew I needed to participate.
Dismantling Disparity with Data
This is the third hackathon that Google Cloud had partnered to host with the UC Davis MSBA program. Google is a great partner that is revolutionizing ways that computer power is accessed everywhere for everyone.
This year's hackathon theme was dismantling disparity with data. Our challenge was to find datasets to tackle an example of systemic disparity, highlight and analyze the problem, and provide data-driven recommendations.
The hackathon included topics ranging from mental health factors for the LGBTQ community and pay inequality in tech to anti-Asian hate during the COVID-19 pandemic. Our student leadership team worked hard to put together this opportunity for students.
My team, Aggielytics, included Jodi Go MSBA 22, Naga "Yashas" Bhaskara Venkata MSBA 22 and Abhinav Kishore MBA 23. We focused on technological disparity in the California K-12 public education system.
This Project Got Personal
Many of my team members and I are first-generation college students who had experienced limited access to technology during our K-12 education.
With remote learning policies and increased technology-reliant learning environments, the COVID-19 pandemic has only accelerated the trend of technological access determining whether students receive a quality and fulfilling education.
"Having a personal connection to the social topic helped me not only craft the story with my team, but also brought that passion into my storytelling during the final round of the hackathon." —Jodi Go MSBA 22
"With the insights we generated from our research and data analysis, I am excited to continue to help close the gap with my strategy work at the Bridging Tech Charitable Fund, a nonprofit that works to bridge the digital divide in K-12 education," added Go.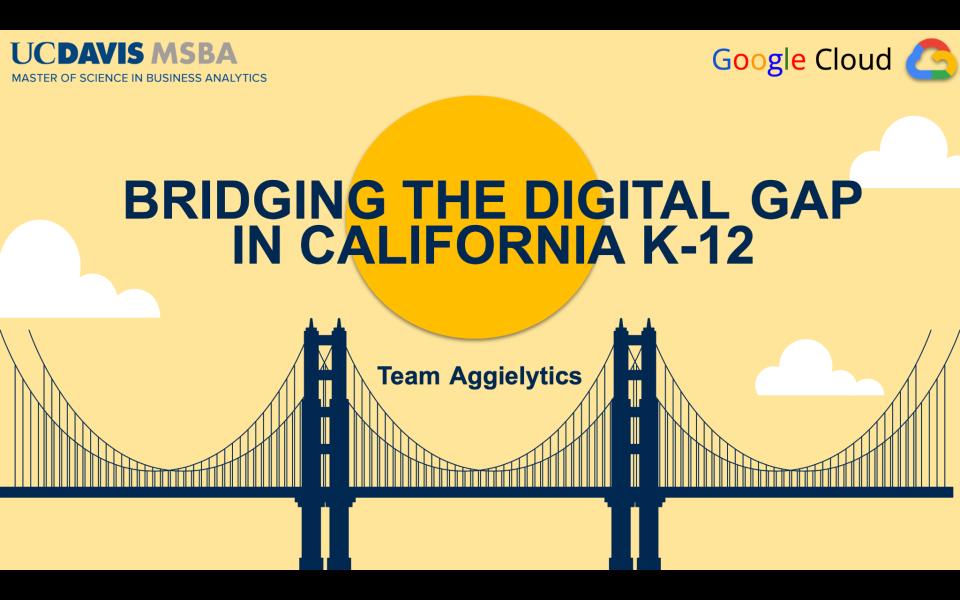 Deep Dives into Datasets
Because it is a complex issue that can be analyzed from many different perspectives and layers, our team was challenged to narrow down our project scope to a level that was manageable and precise during the two-day hackathon. After much discussion and deep dives for datasets, we chose to analyze the digital divide in urban vs non-urban and rural areas in California.
Our team included MSBA and MBA students. With this, we brought together a diverse range of skill sets. Our MBA teammate Abhinav, has seven years of managerial experience and came from the largest pure-play analytics firm—Mu Sigma. He helped our team remain focused on the big picture and task at hand—not only generating data-derived insights but also creating a story that was palatable for anyone to understand.
Using New Google Tools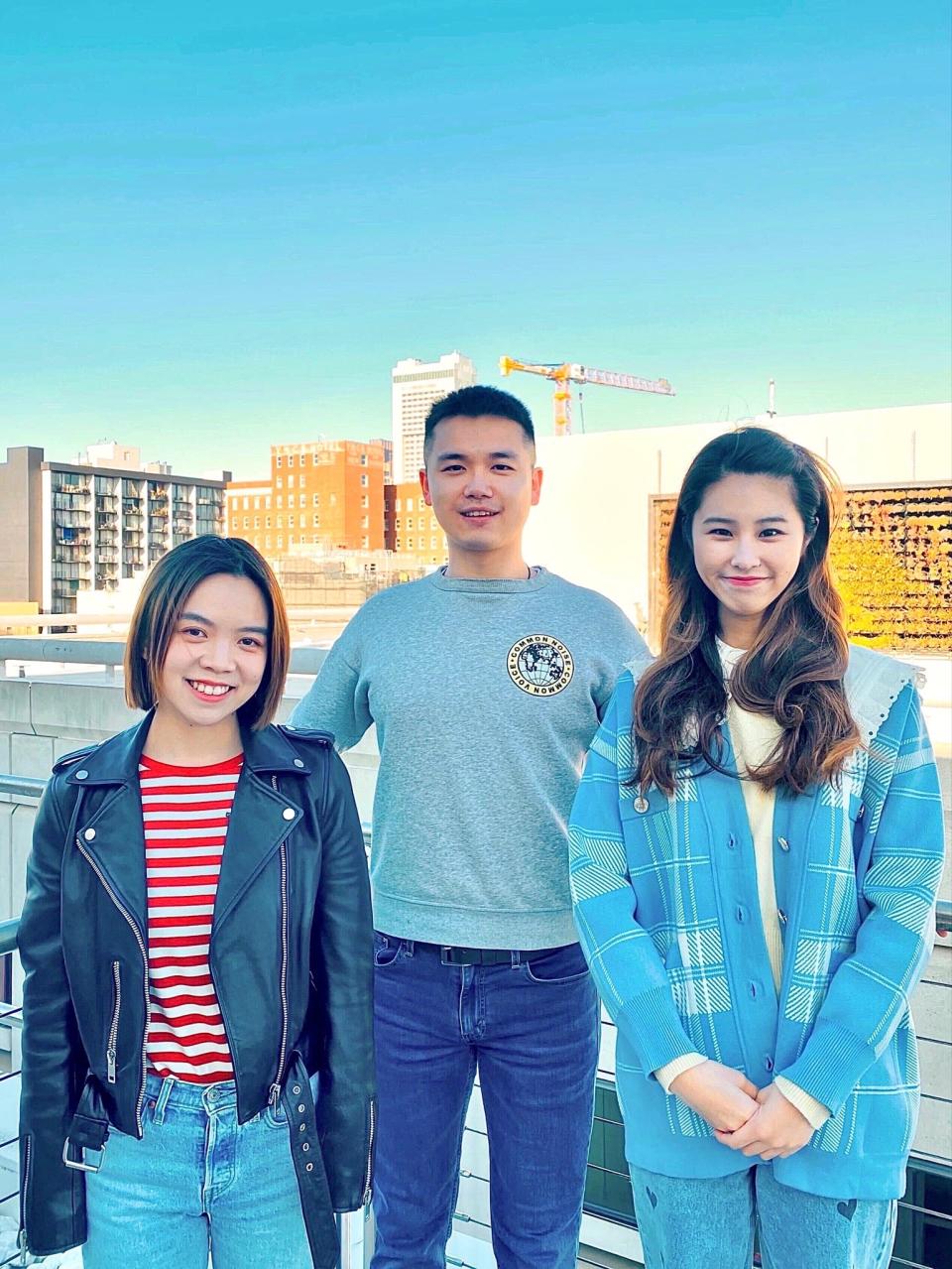 Once we narrowed down our topic, our next challenge was tackling the steep learning curve of working in Google Studio.
While we all have experience operating in Tableau and other business intelligence tools, Google Studio was brand new to us. We accepted this challenge head-on and created almost every data visualization using this platform to maintain the Google spirit of the hackathon.
Pushing Through
Over the two days of the hackathon, our team ran into several roadblocks. We discovered that the data sets we were using were not quite feasible for our analysis, and we had not chosen the ideal metrics.
At 11 p.m. the night before our presentations were due, we decided to start from scratch. At this point, I felt defeated. Having a passion for social impact, I wanted my team to create a project that was truly meaningful and insightful. Although we were tempted to give up, MSBA Executive Director Amy Russell reminded us that previous hackathon winners were discouraged just hours before the deadline. This motivated us to push through.
The submission deadline approached and my team felt immense relief that the challenge was complete. Now everything was in the judges' hands. We were thrilled to be chosen as one of seven finalist teams! Next, we were to present our findings to an esteemed panel of judges.
While our team was not chosen as winners, we were awarded as the Best Mixed MSBA and MBA team. We are beyond proud of our accomplishments in dismantling disparity with data. 
I'd like to give a shout out to all my classmates who tackled disparity with data, and congratulations to all the winners:
Best in Class:
First Place: Tripod - Shiyi "Cecilia" Li, Yishu "Shirley" Peng and Xu "Sam" Zhang
Second Place: Gravity – Ying-Hsiang "Andrew" Chao, Yi Huang, Yutian Lei and Ran Zhang
Third Place - Tie:
Aggie Girls – Gijeong Go, Minji Shim and Weishan He
Bootstrap Blues – Arjun Asok, Kumar Sindhu, Lexman Kumar and Anna Gaudette
Best Use of Data Studio:
Gravity – Ying-Hsiang "Andrew" Chao, Yi Huang, Yutian Lei and Ran Zhang
Best Presenter: