Keeping CPUs Cool, Intel Turns to UC Davis MBA Team
Partnering with tech giant on virtual consulting project
Ironically, the same high-tech networking solutions powered by computer-based web platforms made it possible for our MBA team to overcome the physical distancing restrictions of the coronavirus pandemic. Presented with these new challenges, we successfully presented our client, Intel, with a compelling solution to a hot topic—a strategy on resources to keep CPUs cool.
Our goal for the 10-week capstone consulting course, known as the Integrated Management Project, was to provide a recommendation to Intel to determine when to partner, acquire or invest in a thermal solution vendor providing the global chip giant with CPU coolers.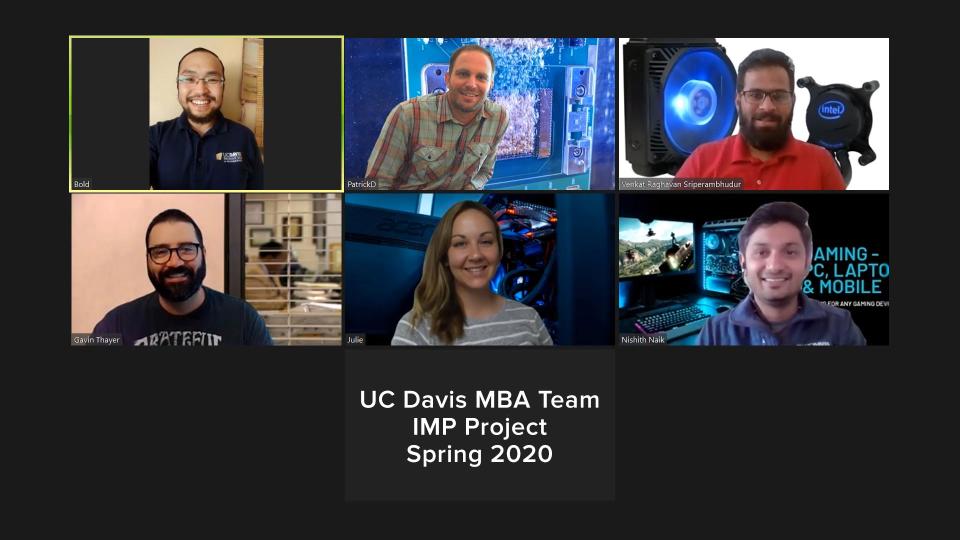 The power of diversity proved critical to our teamwork and recommendations. Our team—Venkat Raghavan Sriperambhudur (our team lead), Nishith Naik, Bold Jones, Gavin Thayer, Patrick Dosier, and me—combined varying industry experience, backgrounds and perspectives to the project.
The wide-ranging ethnic, industry and cultural experiences mirror what one will likely encounter as a collaborative leader in today's workplace. That's by design in the UC Davis MBA curriculum which is anchored by IMPACT—the Integrated Management Project and Articulation and Critical Thinking courses.
Once you are assigned team, you have to quickly learn to communicate effectively to share opinions and work together to achieve your goal. We had a dedicated team that worked well together and made the best out of the unusual circumstances.
Virtual Benefits and Limits
Typically, during an IMPACT project, teams would want to immerse themselves into the partner company as much as possible. That usually means engaging with other stakeholders at the company, conducting on-site visits, and receiving project feedback in person. The all-virtual environment meant we had to adapt and create a sense of immersion via video conferencing.
Using Zoom did allow our team increased flexibility. We could meet from anywhere and more frequently since we didn't have to factor in travel time.
Even though we couldn't collaborate in person, we were still able to have productive meetings and follow-up on our assigned tasks.
What's Cool About Thermal Solutions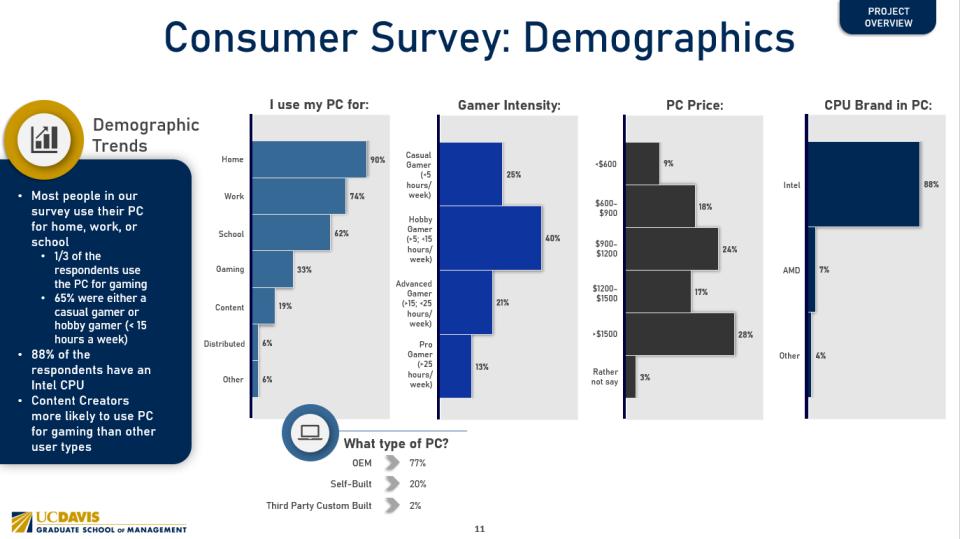 Our recommendations on the best approach for thermal CPU solutions would allow Intel to make informed growth decisions from external investment or create new internal investment opportunities.
Our team had three major milestones for our project, including the kickoff meeting, interim presentation and final presentation. Typically, these meetings would all occur at the client site with the program sponsor, our advisor and any other stakeholders. For us, it was virtual.
Intel allowed us to gain greater insight into the anticipated outcomes, and provided valuable, timely feedback on our team's progress on the project.
We used the following methods to create our pitch:
We conducted market research to provide Intel with a market landscape. We gathered product and company data, surveyed consumers and analyzed consumer reviews.
 
We developed a framework, based on an existing academic framework by Ronald Coase, with the help of Professor Shannon Anderson. Intel can use this framework in the future to determine when to partner, acquire, invest or enter the open market. Our project focused specifically on gaming computers, but we could apply it to other markets as well.
 
We applied many lessons from our MBA classes to this project, including data analytics, process frameworks, strategic thinking and teamwork. Not to mention consulting experience with one of the world's top tech companies, with a large operational footprint in our backyard.
Although we would have benefitted from an on-site visit to meet with Intel's team in person, our online visits were effective and conducive to the current business climate.
Additionally, two of our teammates, Nishith and Venkat, are Intel employees with significant industry experience. They both helped our team by providing additional background on the impact this project could have at Intel.
Image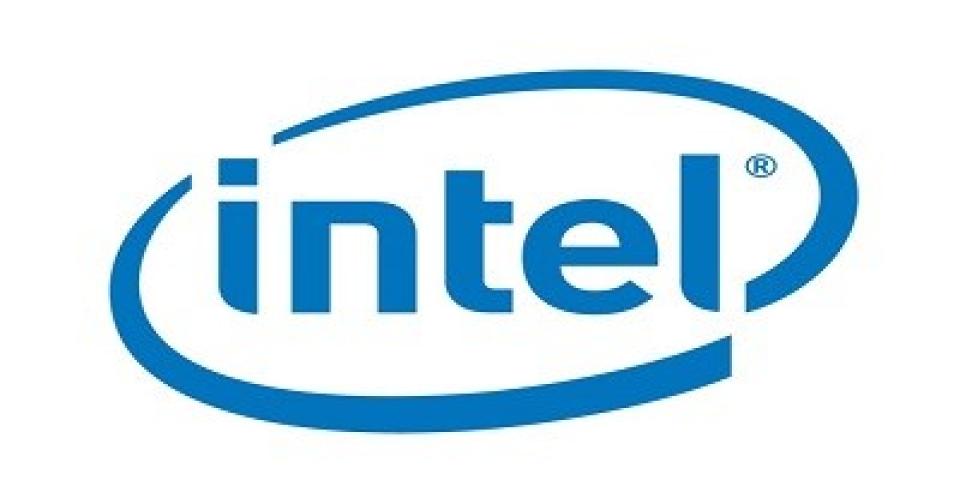 "Impact" On Intel
While our final quarter as UC Davis MBA students was certainly unusual given the COVID-19 crisis, it offered our team a chance to adapt to conditions outside of our control and persevere through an unprecedented situation. We can now say our team of seasoned MBA students got to work with a prestigious technology company and provide meaningful project insights.
Based on our team's research and hard work, we were able to present a creative solution that Intel can utilize in future business decisions. That made this unique IMPACT experience well worth the challenge, and it will give us lessons to remember well into our future career endeavors, especially if we ever engage in additional consulting projects.