Top Accounting Recruiters Visit Us: My Experience at UC Davis' "Meet the Firms" Event
How I prepared and strategically targeted employers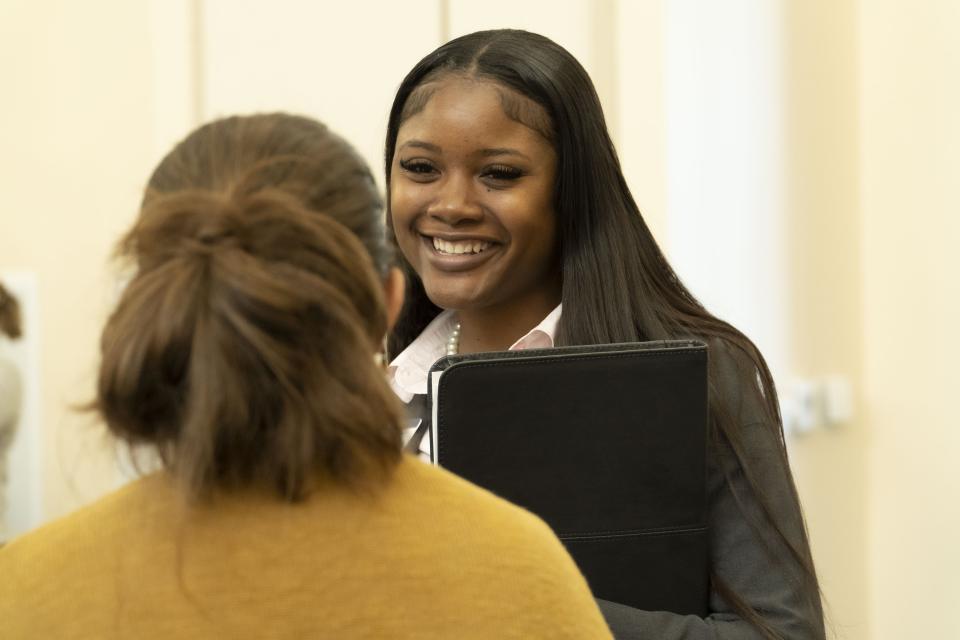 As students looking for career opportunities, we often spend a great deal of time clicking 'Apply' on a company's website with little or no interactions with the firms' recruiters or other employees to learn more about the culture.
Imagine company representatives from leading firms coming to meet with you, one-on-one, on your "turf," where you can learn more about the company, and possibly, receive an invitation to interview for your dream job.
Last month, that happened for our Master of Professional Accountancy cohort. We arrived to find 20 large- to mid-sized accounting firm recruiters eager to talk with us at the annual Meet the Firms event at Gallagher Hall, the home of the UC Davis Graduate School of Management.
The event was everything I had envisioned. From seeing how excited recruiters and partners became when sharing about their firms, to how I might fit into their cycle of continued success as an early career professional—in that nanosecond, I knew this was one of those moments where preparation met purpose.
My Path to UC Davis
I grew up in a rural community in Portland, Jamaica, with parents who were relentless in making sacrifices so I could pursue my love of accounting.
After graduating high school and being unable to attend university right away, I spent two years working as an accounting clerk to familiarize myself with the intricacies associated with the profession. That experience broadened my curiosity, and I wanted to learn more to do more. In 2017, I accepted a four-year scholarship to pursue my bachelor's in accounting in Washington D.C. as a first-generation college student.
Then, I transitioned into the pharmaceutical space as a financial analyst, spearheading data associated with the company's financial statement while assisting in preparing earnings releases and ensuring Sarbanes-Oxley Act compliance.
Having experienced first-hand what it takes to be successful in corporate finance, I knew a significant step was becoming CPA eligible. When I thought about my academic advancement, I wanted to be part of a program where the curriculum would prepare me to contribute insights that would shape strategy and implement business-critical solutions useful for individuals, institutions and investors.
I also sought a collaborative environment where my peers' collective strengths and experiences would spark thought-provoking discussions and incorporate diverse perspectives. My last criteria for a program were access to faculty and staff dedicated to offering support and prudent advice. With a month in the program under my belt, I can confidently say I've found all of this and more at UC Davis.
Trust me, I have immersed myself in the Aggies' dream, and I have not looked back since!
How Meet the Firms Event Shaped My Career
I knew the Meet the Firms event and opportunity would have a tremendous impact on my life and professional career, so I strategically targeted employers impacting the industry, the community, and those seeking diverse talents through student sponsorship.
I prepared beforehand to ensure that every conversation I had was insightful and I would come away with more clarity about the company and department that most interested me.
Here are my tips for any similar networking and recruiting fair you might attend:
Research the Firms
When the MPAc program's Associate Director Zoë Richardson first shared details about the event, I requested a complete list of the firms expected to attend. With so many firms and limited time to pitch and retrieve information, you must be clear about your intentions. For me, I wanted to know if they were offering full-time roles, scholarships or other developmental opportunities.
'Knowing before I go' made the room much easier to navigate. I knew from the start the companies that sponsor international students. When I approached recruiters, I had specific questions ready, so when I moved to the next booth, I had all my questions answered.
Get FIT: "Tell Me About Yourself." 
During our preparation workshop, Elizabeth Moon, the Graduate School of Management's associate director in career development, stressed the importance of answering this question and provided the FIT Framework as a guide, which stands for "Favorite," "Insights," and "Therefore."
In our case, the FIT Framework means you share your favorite part of studying accounting first, add any insights gained from your academic and professional experience, and end with what therefore led me to pursue an MPAc degree. This helped potential employers to outline how a job at their firm might complement my professional path. I recommend practicing this approach a few times before your big day.
Advice from Recruiters
To get to where I am today, I am so grateful to those who invested in my growth and success. I always try to pay it forward and help others. Here are six helpful tips I overheard from recruiters at our Meet the Firms event that may prove useful for you:
"Come prepared but also know how to make small talk leading up to one's elevator pitch." — Kaitlyn Koyama (PwC)
 
"Proactively get to know your team members, whether in the classroom or the office. You will spend a lot of time together over the next year(s) so get to know them beyond just the desk. Also, try not to miss too many office outings." — Chieri Oni (EY)
 
"Take initiative to reach out and hone your career…enter the workplace with an eager attitude to learn and do not shy away from asking questions." — Lauren Yu (Deloitte)
 
"When deciding between Tax and Audit, while it is important to do your research and talk to your trusted mentor, think about how you would like to introduce yourself in the next five years." — Christopher R. (Deloitte)
 
"If you want to stand out at an event with students who, chances are, asking the same question as you, learn to tailor your ask differently. Instead of what is the company's work-life balance like, ask: What do you do outside of work or what do you like about the firm?" — Youmna Assad (EisnerAmper)
 
"Be authentic! Let recruiters know who you are, and never be intimidated when conversing with people in power, especially at these events. They showed up to meet and recruit you. If you get scared or nervous, think in the back of your head, he is just human." — Roger Powers (Partner, KPMG)
The next nine months of my MPAc journey will be demanding yet rewarding. I'm excited to pursue my goals with a community invested in each other's successes inside and outside of UC Davis.
I plan to parlay the opportunities at the Meet the Firms event as a starting block towards meeting those goals, then combine my learned technical expertise in the classroom to make lasting, positive impacts throughout my career.
Scenes from the 2022 Meet the Firms
Image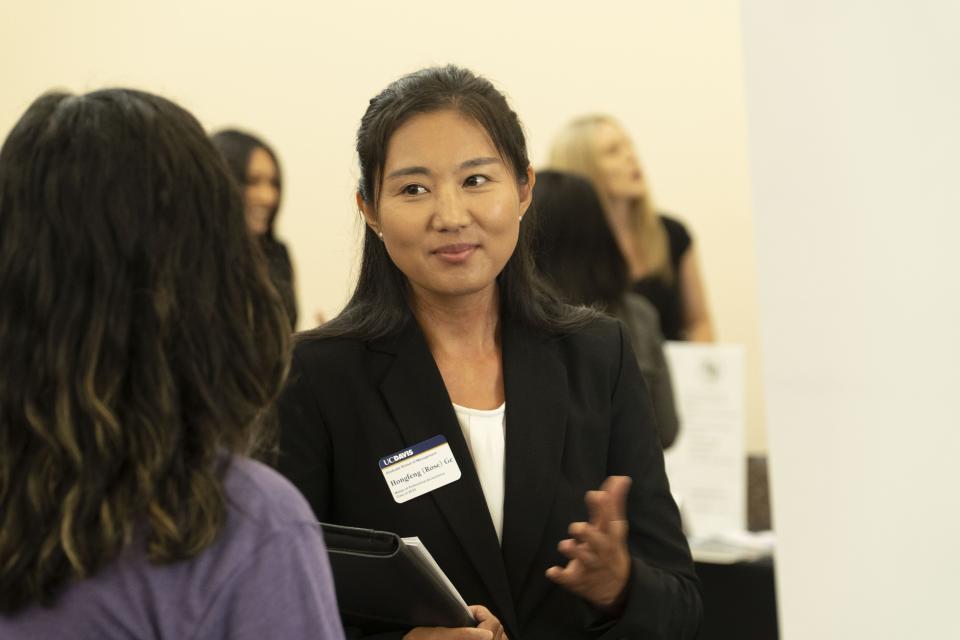 Image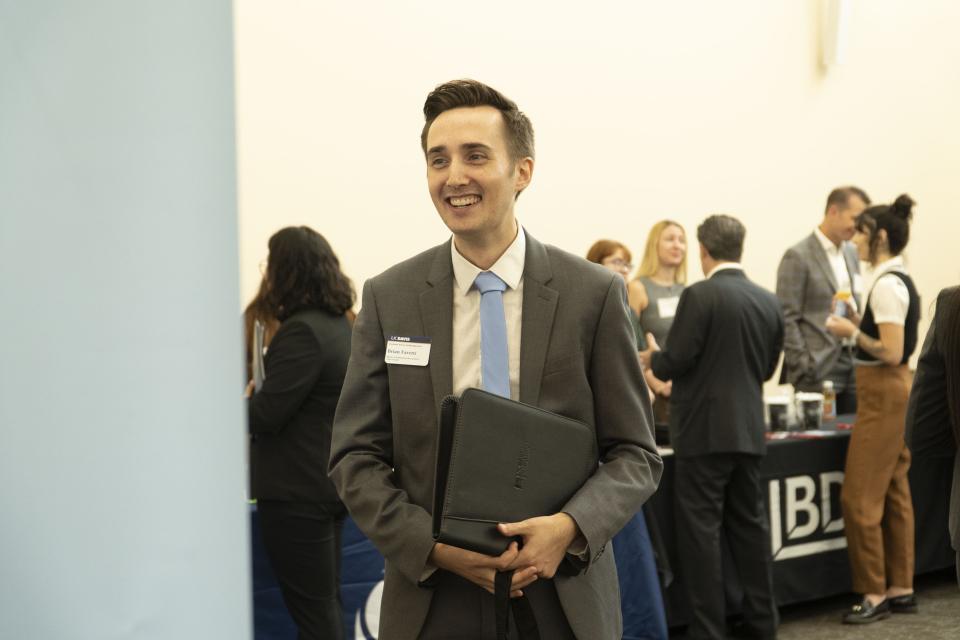 Image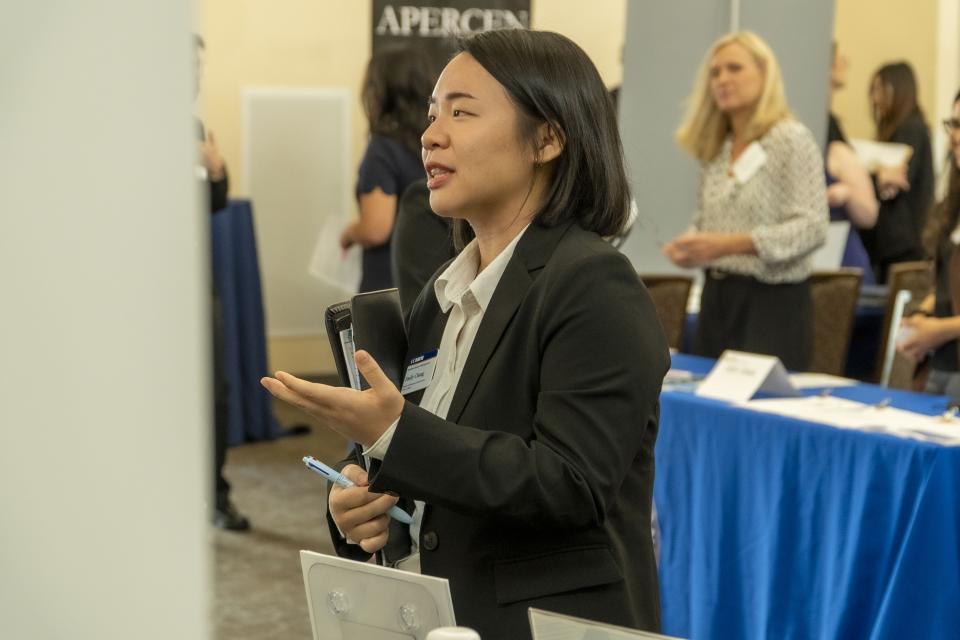 Image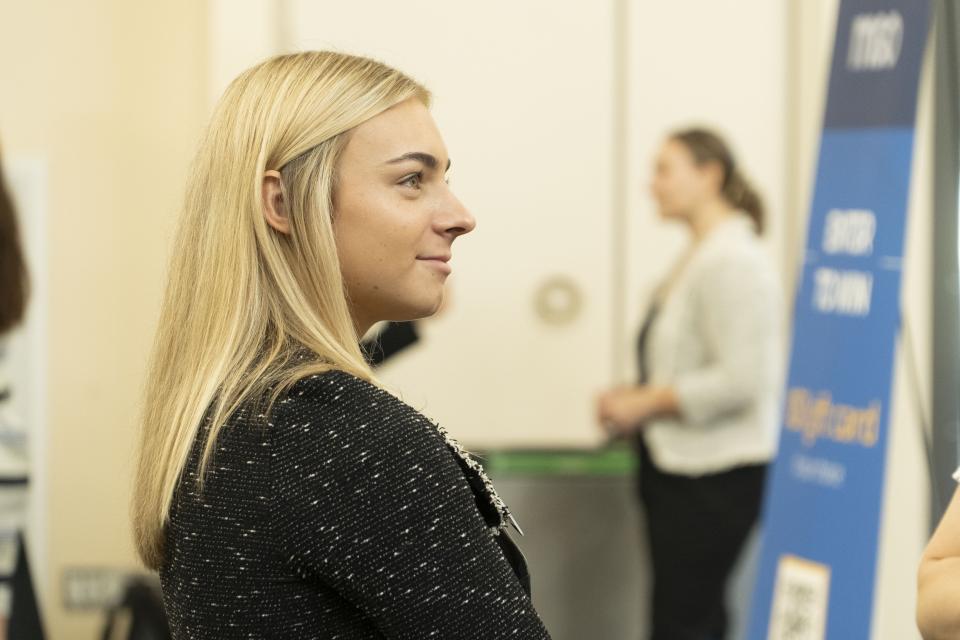 Image