UC Davis Aggie Hack 2023 Puts Business Analytics to Work
How our team combined creativity, expertise and curiosity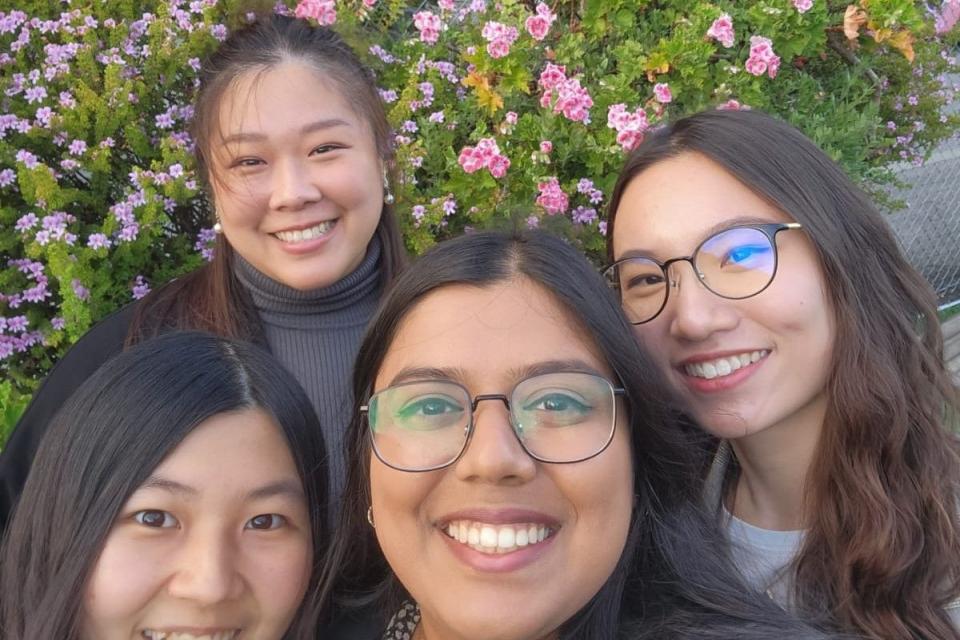 What do you get when you mix a woman who loves math, California sunsets and working with data? Yup, that's me living in San Francisco, pursuing a UC Davis Master of Science Business Analytics. 
As a curious explorer in the world of data analytics and business intelligence, I decided to expand my knowledge of statistics and machine learning and apply these concepts to drive business decisions. 
Not only did the MSBA at UC Davis help me with this goal, but it also provided me with many opportunities to experiment with my ideas in a sandbox environment. 
The 48-hour long hackathon, UC Davis Aggie Hack 2023, is one such event that helped me and my team enrich our skills while having fun!
Tech EmpowerHER: Our Team of Four Data Enthusiasts
For the hackathon, I partnered with MBA student Yilei Ge and fellow MSBA students Jenny Huang and Jessica Chen. We are a group of four graduate business school students with strong STEM backgrounds who like to combine our creativity, expertise, and curiosity to use data and drive business value. 
With our backgrounds in engineering, business and sociology—each of us brought a different perspective and skillset to the Hack, which helped us make our work better.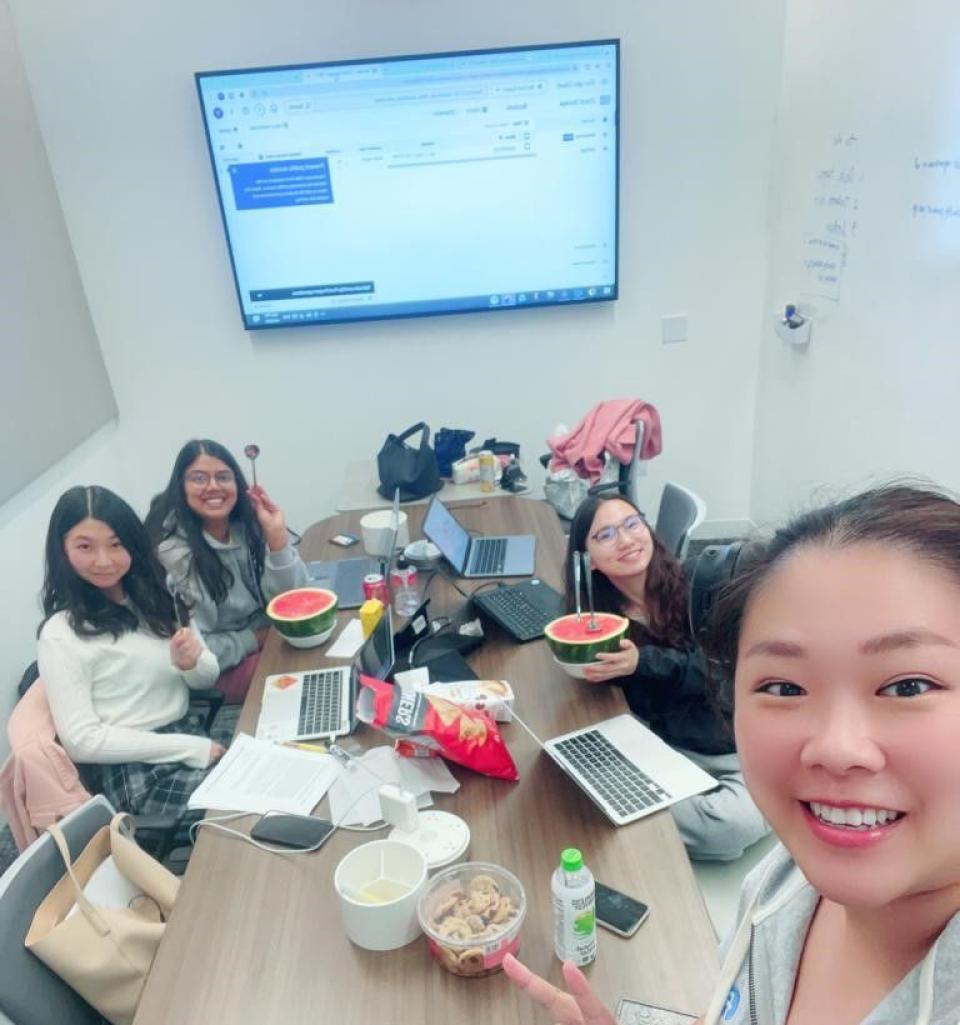 Day One: 24 Hours to Gain Intel and Strategize
The task of Aggie Hack was to provide marketing insights for Z by HP using data analytics and machine learning. 
Our goal was to provide Z by HP with valuable customer segments and predict retention based on data analysis, clustering, classification modeling and customer lifetime value (CLV). Before kickstarting the Hack, we also trained on Google Looker, Google's web-based platform for business intelligence and embedded analytics. 
Learning a new tool is a true testament to how this hackathon enriched us. It was amazing how we were learning something new every hour.
Day Two: Final Push to the Finish Line
During this time, Python, the general-purpose programming language, proved to be essential. We had never coded this much in two days. Many of us are novice coders and it was amazing to gain new confidence in our abilities. Within a day we created multiple machine learning models—DBSCAN, random forest, decision trees and logistic regression. 
Using Looker, we created dashboards to gain customer insights and compute customer lifetime value. This hackathon required us to gain an in-depth understanding of the data and utilize our creativity, and knowledge of business values to ensure we provide actionable insights for our stakeholders.
Presentation Day: Meeting Managers from Z by HP and Google Cloud
We quickly advanced to the next round with seven teams of the brightest and zealous students at the Graduate School of Management. Working together, my team successfully delivered a quick presentation within eight minutes! Following the guidance from Senior Assistant Dean for Student Affairs Amy Russell, we made it crisp and snappy, focusing on the insights and takeaways. 
Not only did we get to work on a complex business-use case, but we also met managers from HP—Brad Franko and Katherine Fernandez. We all enjoyed this short yet enlightening adventure, in which we built our technical expertise, presentation and communication skills. 
Taking Home an Award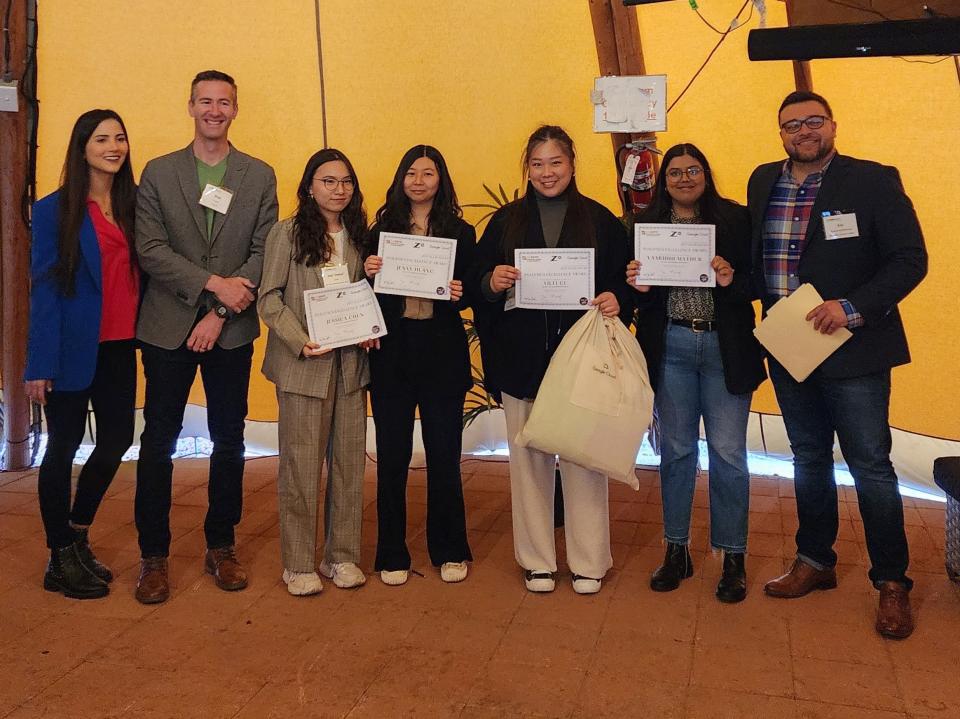 We had a great time participating in the hackathon. We had the opportunity to gain new knowledge, apply our classroom learning in a real-world setting and make new memories that we will cherish. 
My team was awarded the Analytics Excellence Award by Google Cloud for the best use of Looker Studio. We're exhilarated to have received this award and look forward to visiting the Google Cloud office and connecting with mentors from Google as well. 
Our cohort has many highly-capable and driven students. Each team put in their best effort and under deadline pressure, with some prize money and pride on the line. I'd like to give a shout-out to all my MSBA classmates and MBAs who participated, and congratulate all the winners:
Grand Champion: "The Insightful Trio" - Jyothika Mohan, Jacob Brophy and Pradeepthi Mallappa 
 
Steller Striving Silver Award: "Tri Data Wizards" - Vindhya Mandekar, Harshkriti Kaur and Tamalika Basu
 
Bronze Brilliance: "Spring Outing Group" - Shulang (Simon) Ning, Jiayi Jiang and Xinyu Liu
              
 
Other Categories:
 
Image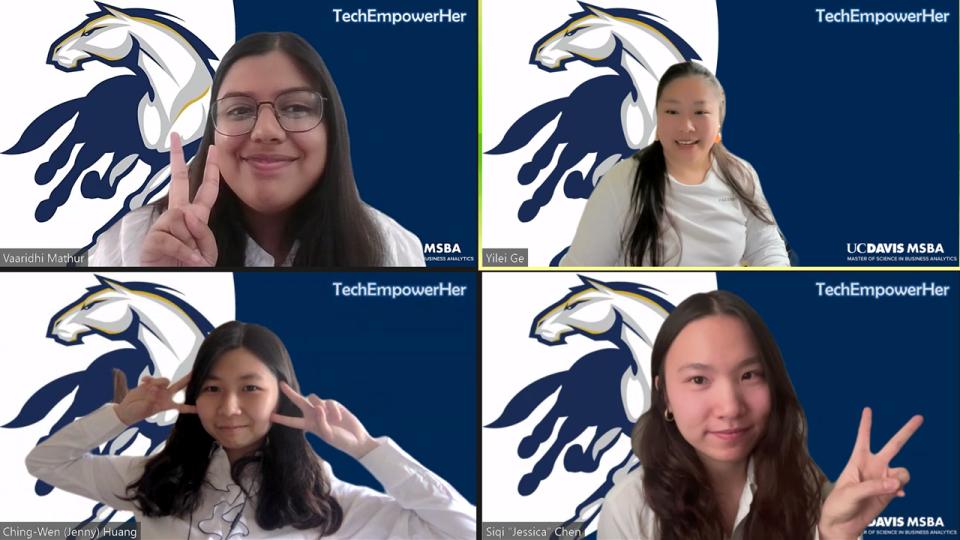 Analytics Excellence Award (Best Use of Looker Studio): "TechEmpowerHER"- Siqi (Jessica) Chen, Ching-Wen (Jenny) Huang, Vaaridhi Mathur and Yilei Ge MBA 23
 
Creative Story Spinner (Best deck): "Tri Data Wizards" - Vindhya Mandekar, Harshkriti Kaur and Tamalika Basu
 
Inter-Program Collaboration Award: "Mine Mind" - Aimee Hannaford MBA 22, Alba Valdivia, Murad Salamov and Ridwan Abdusalam