Data Analytics Executives Help Supercharge Our Job Search
Top tech leaders offer tips, dispel rumors and build our confidence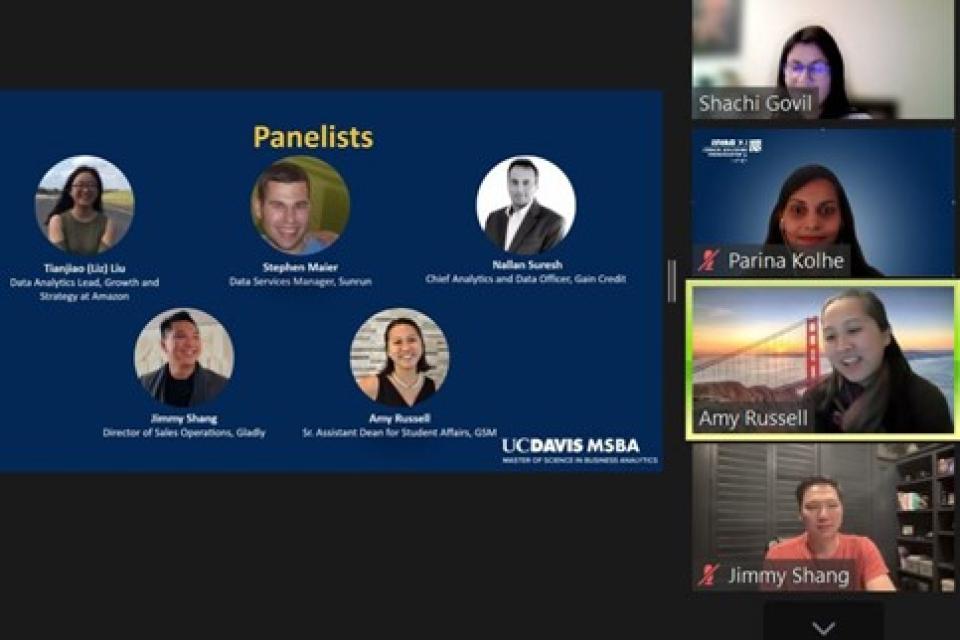 As a student in the UC Davis Master of Science in Business Analytics program, I had the privilege of attending and moderating the online career panel discussion on analytics insights. The panel was organized by the UC Davis MSBA industry relationship team as part of the program's career series.  
The virtual room was filled with excitement as attendees logged on to hear from a panel of distinguished industry experts who had generously agreed to share their insights with us before the upcoming job search season.  
Our panelists included: 
Jimmy Shang, Director of Sales Operations, Gladly 
Stephen Maier, Data Services Manager, Sunrun 
Nallan Suresh, Chief Analytics and Data Officer, Gain Credit 
Tianjiao (Liz) Liu, Data Analytics Lead for Growth and Strategy, Amazon 
Amy Russell, Sr. Assistant Dean of Student Affairs, UC Davis Graduate School of Management 
All were seasoned industry professionals with extensive experience in analytics and were familiar with recruitment practices in the field. 
Analytics Job Market Trends 
We asked about the impact of the fluctuating market on analytics hiring. In response, the panelists emphasized that analytics remains essential for most organizations, even in times of uncertainty. They suggested that job seekers consider looking for opportunities in stable industries like finance, healthcare and insurance. Additionally, the panelists mentioned that smaller analytics teams can often add more value than larger teams. 
"Despite the fluctuations in the market, analytics is still a critical function for most businesses." — Panelist 
When asked about growing industries in analytics, the panelists identified healthcare and insurance as areas with potential for growth.  
With the rise of hybrid and remote working styles, the panelists were also asked about what makes an ideal candidate. They stressed the importance of strong problem-solving skills and domain expertise, along with the ability to clearly communicate the impact of one's work.  
Storytelling in Analytics 
The panelists also noted that being a skilled storyteller is an advantageous trait for candidates to have.  
They shared that being able to communicate data insights effectively is crucial, and that candidates should be able to articulate how their work has led to specific improvements.  
They also emphasized the importance of having a strong online presence, including a well-maintained GitHub and LinkedIn profile, as well as endorsements from colleagues. 
How to Stand Out in a Competitive Marketplace 
As a moderator, I asked the panelists about their approach to candidate qualifications and what sets certain presentation materials apart.  
Stephen Maier of Sunrun advised candidates to focus on presenting essential materials—such as Github and Kaggle profiles and LinkedIn recommendations—to highlight their skills and experience beyond the resume. He emphasized the importance of honesty, both in the resume and interview, and suggested that candidates write their top five skills honestly, without exaggeration or falsehood. He advised candidates to be prepared to answer basic questions related to their skills.  
"In this ever-changing job market, it's essential to stay up to date with industry trends and hone the skills that will set you apart from the competition." — Panelist 
The panelists provided a high-level overview of the analytics interview process, highlighting the importance of preparation, thorough understanding of job requirements and showcasing past achievements. They also suggested that analytics candidates stand out by demonstrating their conflict management, adaptability, and effective communication skills while answering behavioral questions. 
Interviewing Tips 
The panelists provided a high-level overview of the analytics interview process, which typically involves multiple rounds of interviews.  
The first round often involves a phone or video screening to assess the candidate's fit for the role and the company.  
This is followed by a technical screening, where the candidate may be asked to complete a coding challenge or work on a real-world analytics problem.  
The next round may involve a case study, where the candidate is presented with a business problem and asked to present their approach and findings to a panel of interviewers.  
This is followed by a series of behavioral interviews to assess the candidate's soft skills, such as communication and problem-solving abilities. Finally, there may be a panel interview with senior executives to evaluate the candidate's fit for the company culture and values. 
"Behavioral questions give us a good sense of how a candidate would react in different scenarios. We're not just looking for technical skills, but also for the ability to communicate effectively, adapt to different situations, and manage conflicts. These are all crucial skills for a successful data analytics career."  

— Panelist 
Screening for Tech Skills 
On the technical side, the panelists shared that candidates should have a solid understanding of programming languages and the ability to apply those skills to real-world problems. They also shared that candidates should be able to navigate through a technical screen and handle themselves professionally even if they get stumped on a particular question.  
The panelists provided valuable insights into the technical screening process, best practices for Zoom interviews and tips for following up after the interview. For Zoom interviews, the panelists emphasized the importance of testing the technology beforehand, having a clean and professional background, and being mindful of body language and facial expressions. 
Launching Our Careers: Ready, Set, Go 
I am thrilled to say that not only was attending the career panel an enlightening experience for me, but for my entire MSBA cohort as well.  
The panelists' guidance on how to showcase our skills and stand out among other candidates has left us feeling more confident and motivated to pursue careers in analytics.  
We are grateful to have had the opportunity to learn from such experienced and knowledgeable professionals. We are excited to apply what we learned as we enter the spring quarter. We thank the panelists for their time and effort in organizing this insightful discussion.