2021 Commencement Student Speakers
Six new grads discuss inspiration, memories and what's next.
Students from each of the six degree programs at the UC Davis Graduate School of Management will share their inspirations, experiences, and journeys with their fellow graduates, their families, and friends in a virtual commencement on Saturday, June 12.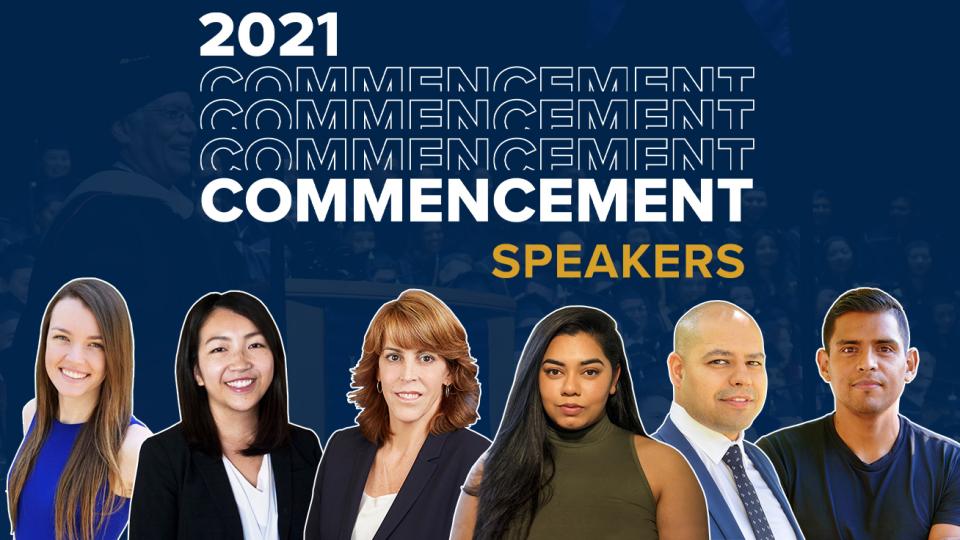 With 260 eligible graduates this year, the Class of 2021 includes:
40 Bay Area Part-Time MBA candidates
35 Full-Time MBA candidates
37 Sacramento Part-Time MBA candidates
42 Master of Professional Accountancy (MPAc) candidates
45 Master of Science in Business Analytics (MSBA) candidates
61 Online MBA candidates
The Six Student Speakers
Adrees Mukhtar, Sacramento Part-Time MBA
Angel Daniel Melchor, Online MBA
Christine Dillman, Bay Area Part-Time MBA
Kelsey McCabe, MPAc
Ayumi Tsurushita, Full-Time MBA
Yuthika Agarwalla, MSBA
Meet Our Speakers
We asked the speakers about what attracted them to UC Davis, their student experience, their inspirations and what's next after graduation.
---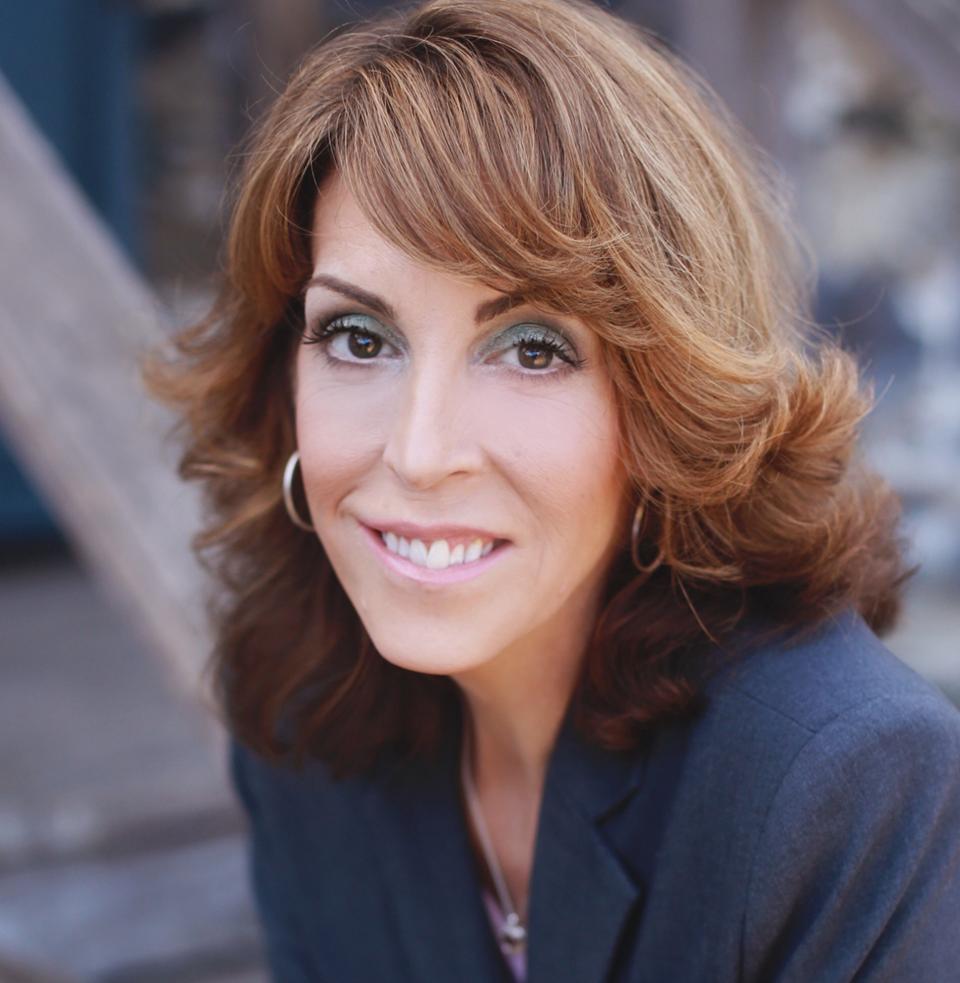 Christine Dillman, Bay Area Part-Time MBA
Hometown: I was born and raised in Lexington, Massachusetts, which is 20 minutes outside of the great city of Boston.
Why UC Davis? When I started at UC Davis, I had been out of school for over 20 years. My career had been in the nonprofit sector, striving to end domestic violence and sexual assault against women and children. I came to UC Davis to learn valuable management skills that I urgently needed as a nonprofit director to grow my organization. I picked the UC Davis Bay Area Part-Time MBA program because of the School's great reputation. I also liked that the in-person classes were located relatively close to my home and my workplace.
---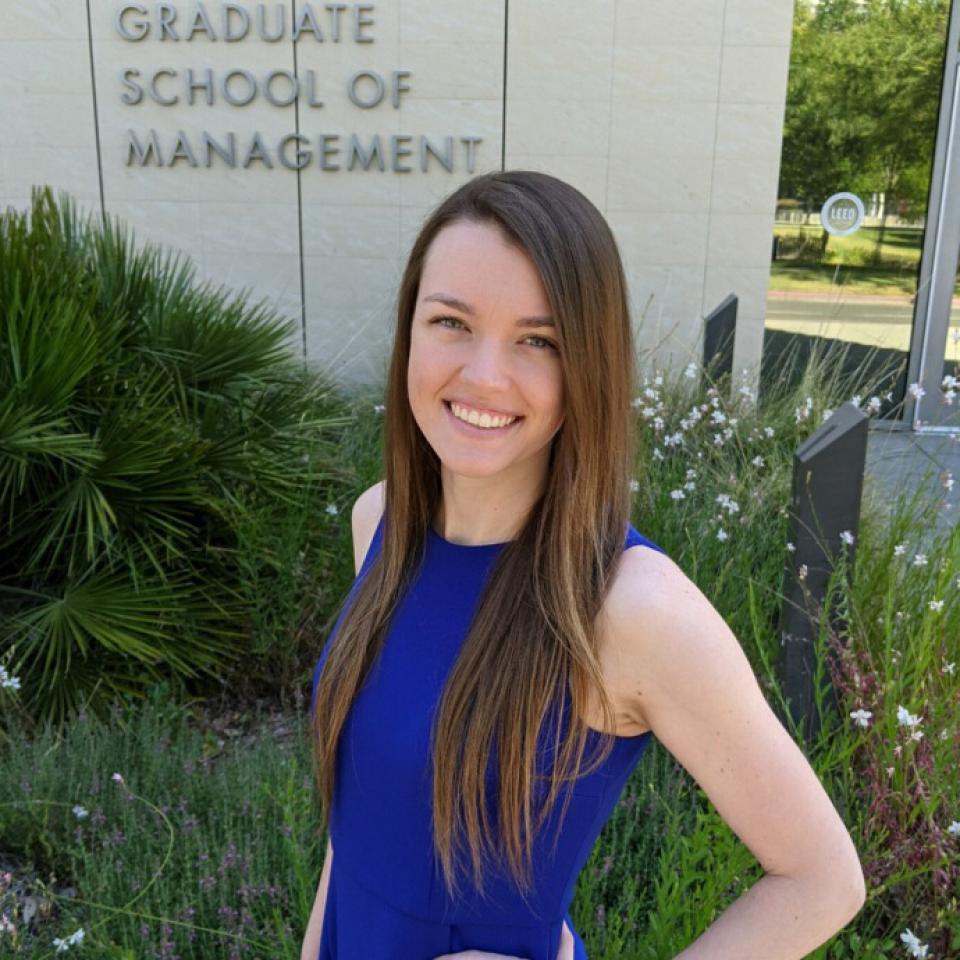 Kelsey McCabe, MPAc
Hometown: Merced, CA.
Why UC Davis? I grew up loving UC Davis, since I have multiple family members that are alum of the school. I was fortunate enough to get my bachelor's degree from Davis in psychology and while searching for master's programs I discovered the Masters of Professional Accountancy program at the GSM. I jumped at the opportunity especially since it meant more time at UC Davis.
---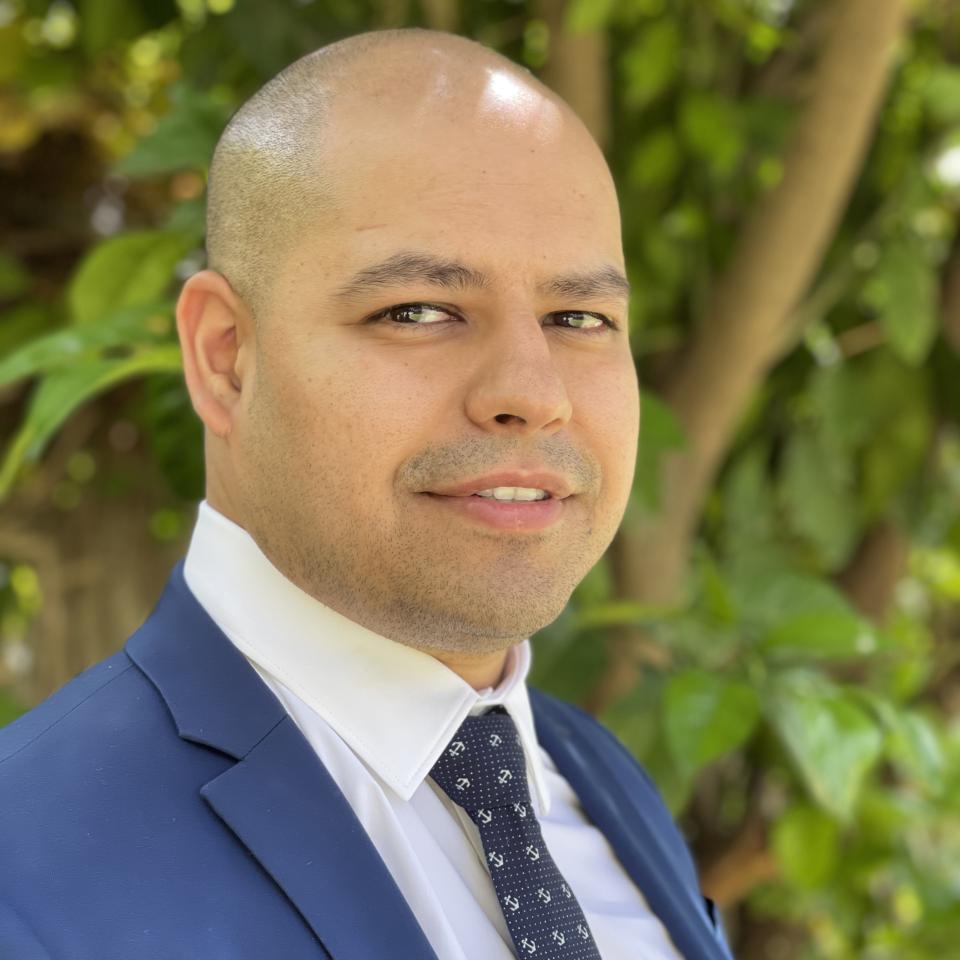 Adrees Mukhtar, Sacramento Part-Time MBA
Hometown: Born in Kabul, Afghanistan. Raised in Fair Oaks, CA.
Why UC Davis? I attended UC Davis for my undergrad so I decided to go for gold twice.
---
Ayumi Tsurushita, Full-Time MBA
Hometown: Palo Alto, CA.
Why UC Davis? I was drawn to the Graduate School of Management's connection to the food and agriculture industry. In particular, the School offers courses like the Food and Agriculture Industry Immersion where we get to learn about the many facets of the industry from experts.
I also fell in love with the School's collaborative culture. I remember everyone was very welcoming at our MBA Admit Day event—the associate director of admissions remembered my interest in the food industry and introduced me to our Industry Immersion instructor that day. I told myself I would pay it forward when I became an MBA student by contributing back to this collaborative culture.
---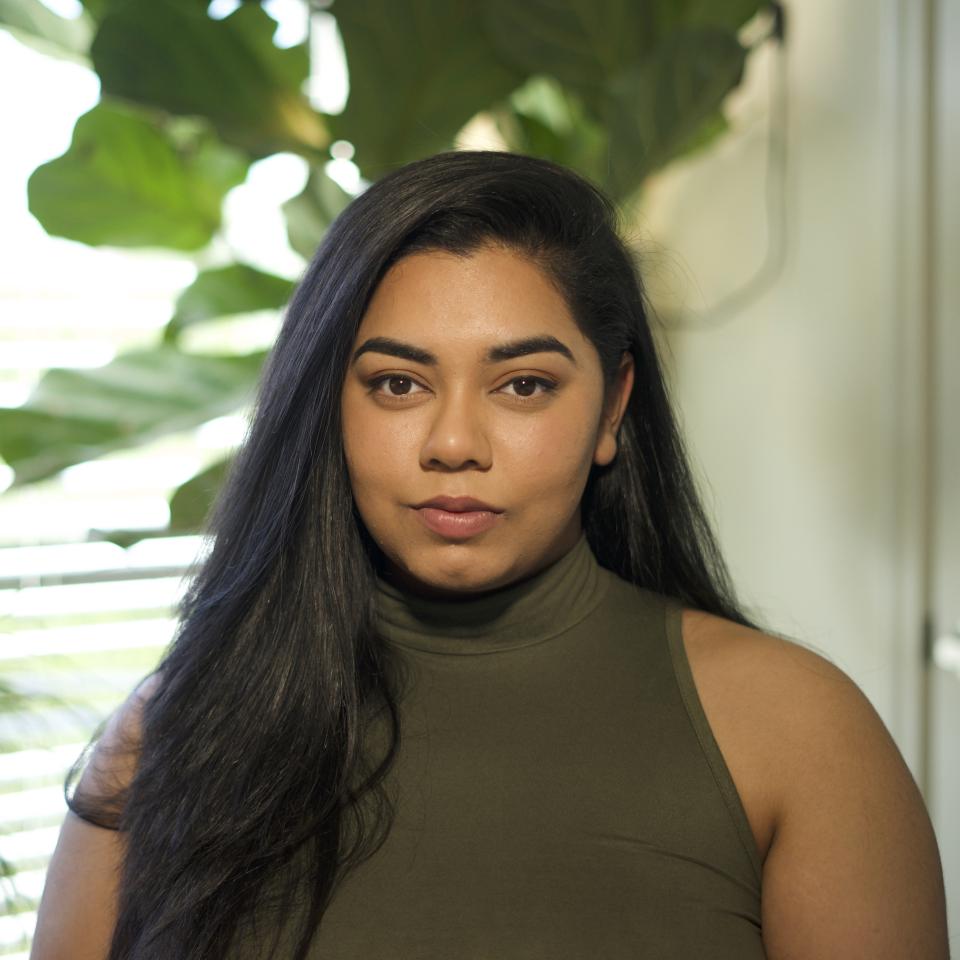 Yuthika Agarwalla, MSBA
Hometown: Cupertino, CA.
Why UC Davis? I applied to a lot of different schools for the same program and I remember the application process for UC Davis really stood out to me because it was especially challenging. I think I wrote the most essays out of any school for the MSBA program application. The interview was also not a "slam-dunk" because I remember being asked some difficult questions. Instead of deterring me, it drew me in even more because it alluded to a challenging program. That's what I wanted from a master's program—something that would force me out of my comfort zone. UC Davis is also very highly ranked for my program and the location (San Francisco) is a no-brainer for my field of study.  
---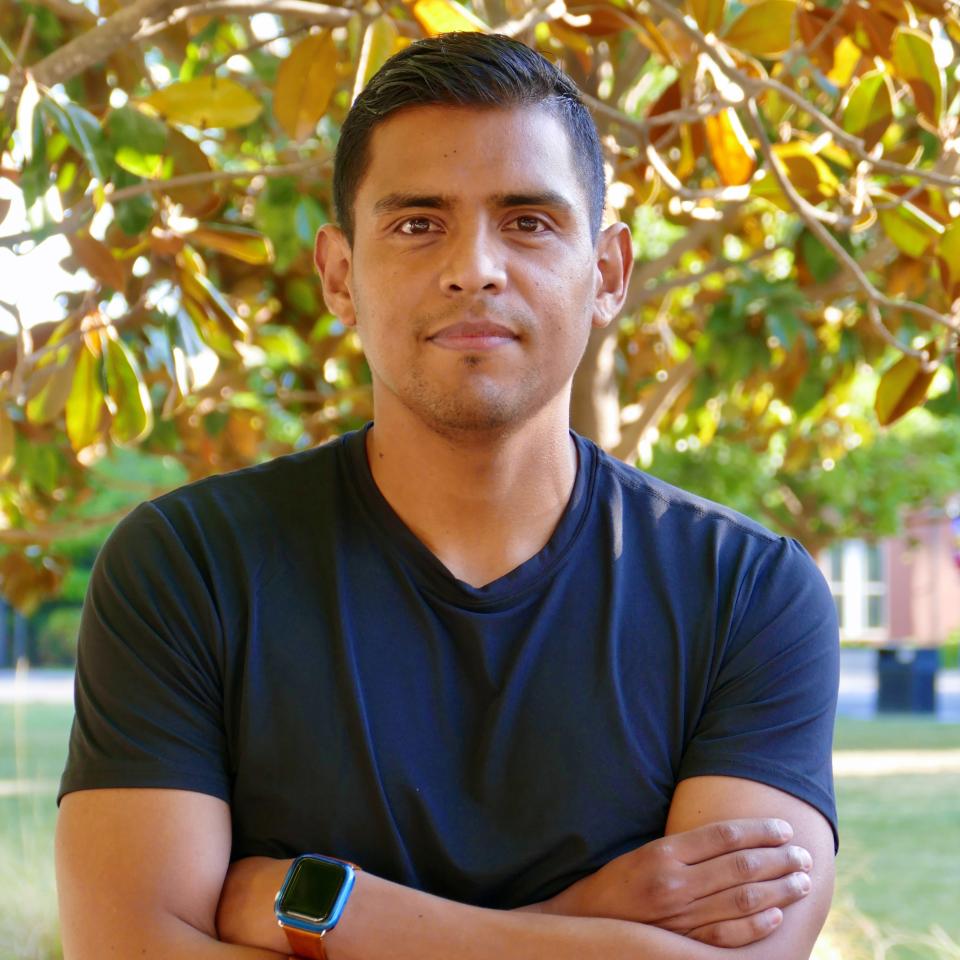 Angel Daniel Melchor, Online MBA
Hometown: I am from the great agricultural capital of the world: Salinas, CA.
Why UC Davis? Aside from the educational excellence UC Davis is reputed for, I decided to attend the Graduate School of Mangement because to its commitment to community and collaboration.
---
What are your favorite Graduate School of Management memories?
KM: The end of the quarter is usually a very stressful time for students, but Executive Director Will Snyder's final project always provided great entertainment. Our class came up with some very creative videos that were informational and funny.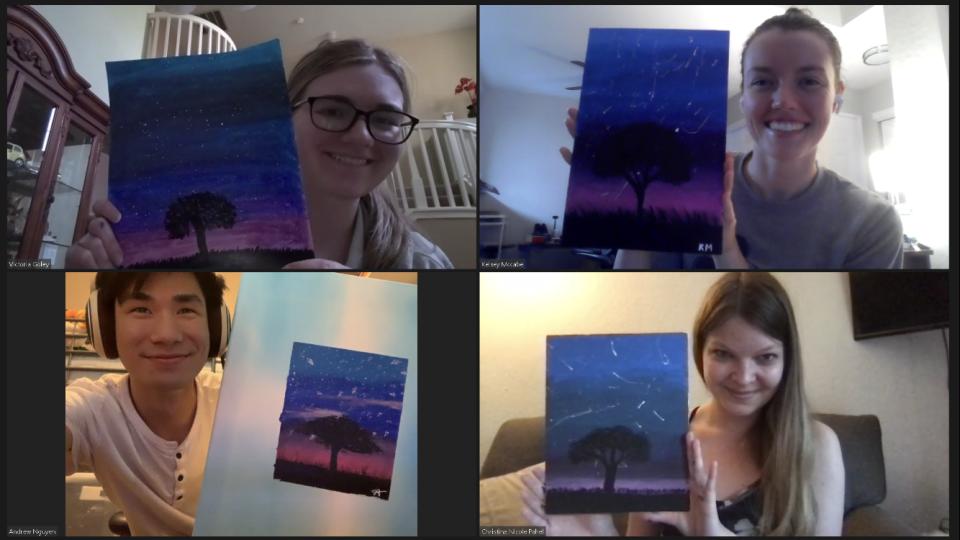 YA: Does winter break count? Just kidding. For our "thesis" about our practicum project, my team decided to do something completely out of the box. We were told to write papers but instead, we made a documentary-style video, which was very hands-on. We even got the project sponsors involved and they were in the video, too. It was a lot of extra hours, but our end product was well worth it! 
CD: I have had the honor of collaborating with amazing MBA students on projects both in and outside of the classroom over the last few years. As co-president of the Bay Area Women in Leadership at the Graduate School of Management, my fellow members and I advocated for equity and inclusion at UC Davis and within the corporate sector. After the killing of George Floyd, we organized an Unconscious Bias Training so that MBA students could understand and mitigate prejudice as leaders in their own companies—that moment stands out to me.
Which professor/instructor inspired you the most?
AM: I was inspired by numerous professors, but my favorite is Lecturer Sorin Maruster.  He is just as passionate about teaching as he is about his job (that Uber deal he was working on was thrilling). He's also a big fan of 90's action heroes such as Sly and Schwarzenegger.  He stayed after class discussing business with me and, overall, he is just a fun guy to be around.
ADM: I took away something valuable from each instructor. Yet, Jim Olson's negotiations class has made me consider each conversation as a negotiation—with the goal of achieving a win-win outcome.
AT: Something that I will always remember are Lecturer Doy Charnsupharindr's lessons on how to be an inspirational leader and storyteller. He emphasized empathy—to never assume that your teammates are doing fine. To always take a moment to check in with each other and support each other in any way possible. Having empathy was especially important in these last 15 months during these challenging and unprecedented times.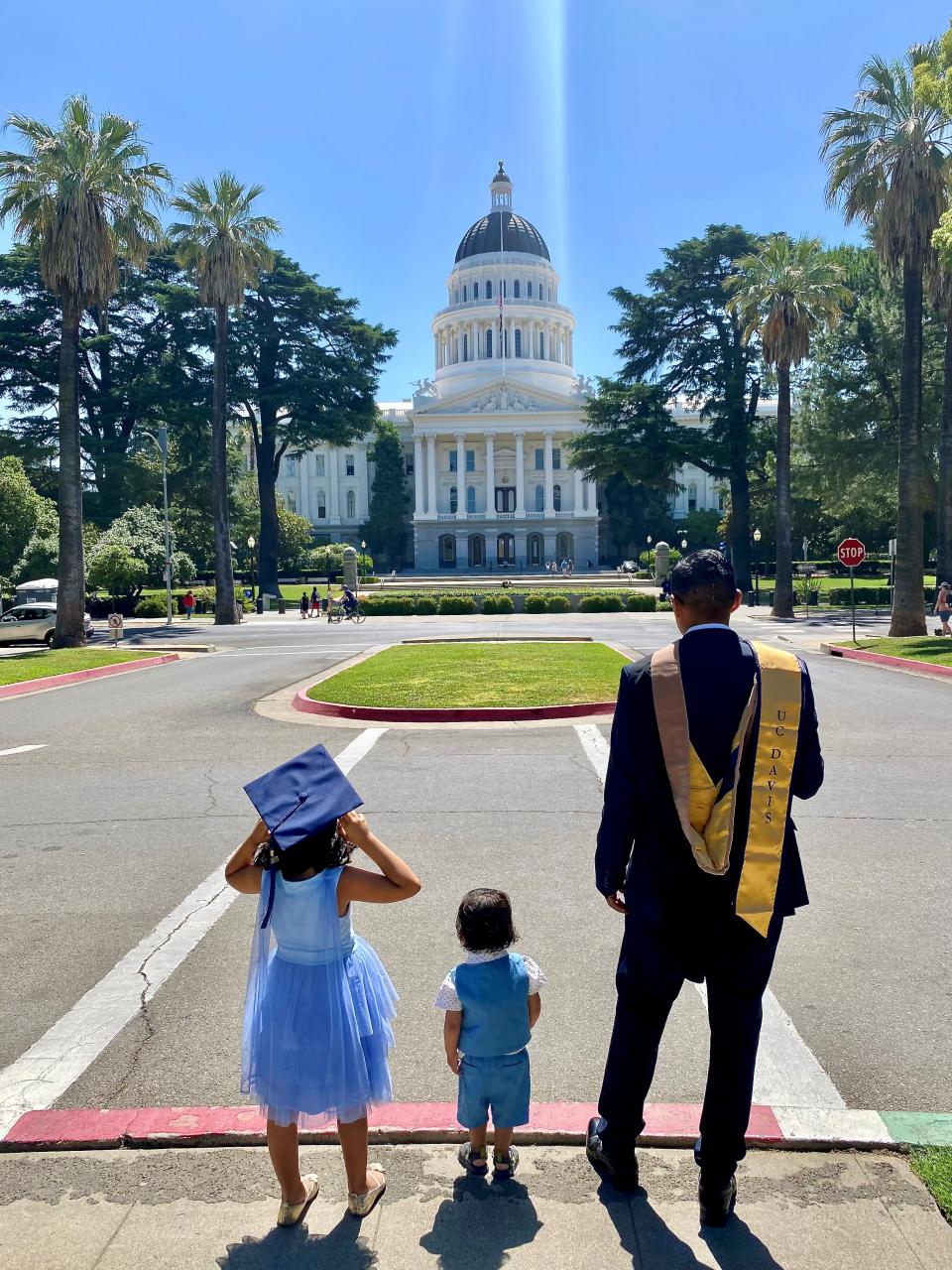 Who has had a big influence on your life?
ADM: My wife and two children have inspired me the most. My daughter is my biggest cheerleader and fan.
CD: My son Tristan. After he went away to college at the University of California, Berkeley to major in economics and physics, he encouraged me to get my MBA. I called him for help with my finance homework a couple of times!
AM: My father. He is the definition of a true man. My dad used his wit and tenacity to escape Afghanistan as the war with the USSR was ending and the subsequent Afghan civil war began. He founded his own automotive repair shop and worked hard labor during 85-hour weeks and, within a year of moving to Sacramento, he got us out of the ghetto. He worked hard and was smart with his business acumen to grow his little repair shop to the only triple-threat automotive facility on the Pacific Coast that specializes in automotive body repair and refinish, mechanical, and resale. Mukhtar is my father's name and it means leader. Every day, I strive to be the leader he has exemplified to me throughout my life.  
AT: My father has had the biggest influence in my life. When I was hesitating to fly to Japan for a job interview, he told me that money will come back, but opportunities will not. With that push, I was able to land my first job! Since then, I question if something is a one-time opportunity, and if I determine it is, I go for it.
What's next for you?
KM: I am excited to be starting my career in public accounting at Gilbert CPA as an associate auditor in Sacramento.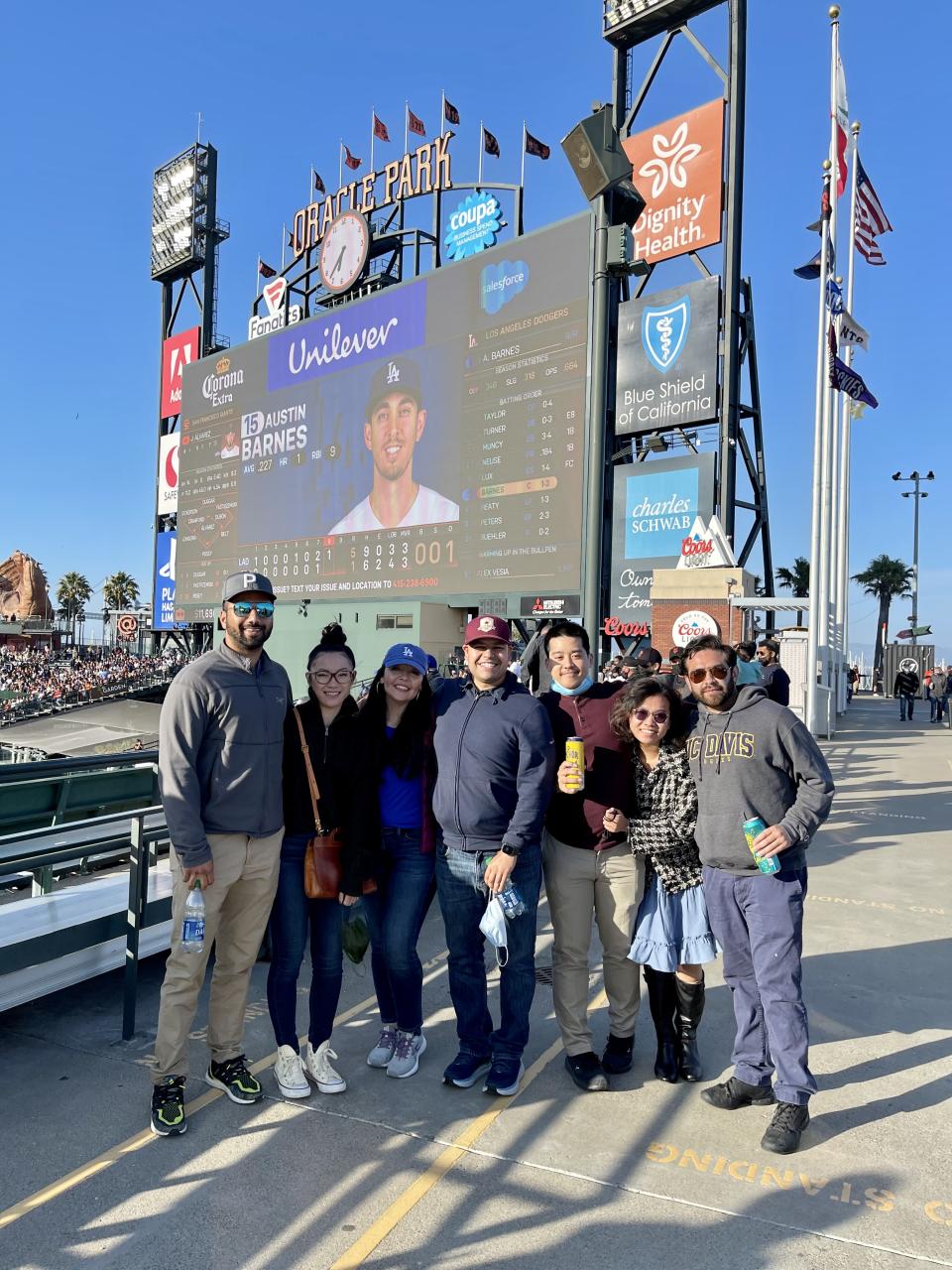 YA: I'll be working as a data analyst for Snowflake, a software company in the Bay Area.
AM: I have founded an addiction management clinic, Recovery & Resilience (R&R) Centers and will be continuing my work there after graduation. We established our first clinic in the city of San Francisco because that is the most concentrated area afflicted throughout the nation. The opioid epidemic got worse during the COVID-19 pandemic. In fact, more people died of opioid-related overdose deaths than deaths from COVID.
I am also helping to establish and grow our sports division, Science of Performance (SOP). That team will be headed to the Tokyo Olympics in July to support the Chinese national basketball team. I have a lot on my plate, but I couldn't be happier or more hopeful for the future.
CD: I continue to apply the management and finance skills that I have learned during my MBA to my nonprofit. I am being mentored to become the organization's Executive Director when my supervisor retires. 
ADM: I want to utilize my education, leadership, and business skills to make a difference in the world. As a recent winner in the 2021 Big Bang! Business Competition, I am working on getting my startup, INN>CHRG, funded.
AT: I will be a brand manager at a global consumer packaged goods (CPG) company. This was my dream role. I wrote in my admissions essay that I wanted to become a brand manager, so I am really excited! I'm ready to roll up my sleeves and start building the strategy for my brand.