Aggie Hacks x Google Cloud: The COVID-19 Path to Recovery
Winners and results of our MSBA program's first national hackathon.
Got Big Data?
We recently brought together virtually 115 graduate students from nine schools across the U.S. for our UC Davis M.S. in Business Analytics (MSBA) program annual data hackathon in partnership with Google Cloud.
Teams put their collective skills and analytical savvy to work on a wide range of data sets, vying against competitors during the two-week competition.
In step with last year's COVID-19-focused theme, competitors dove deep into a sector or domain of their choosing that was directly or indirectly affected by the pandemic. Student teams focused on the downstream effects and eventual recovery from the pandemic. This included impacts on housing, vaccine distribution/inoculation, combatting anti-Asian sentiment, professional sports and other topics.
Here's highlights from the competition: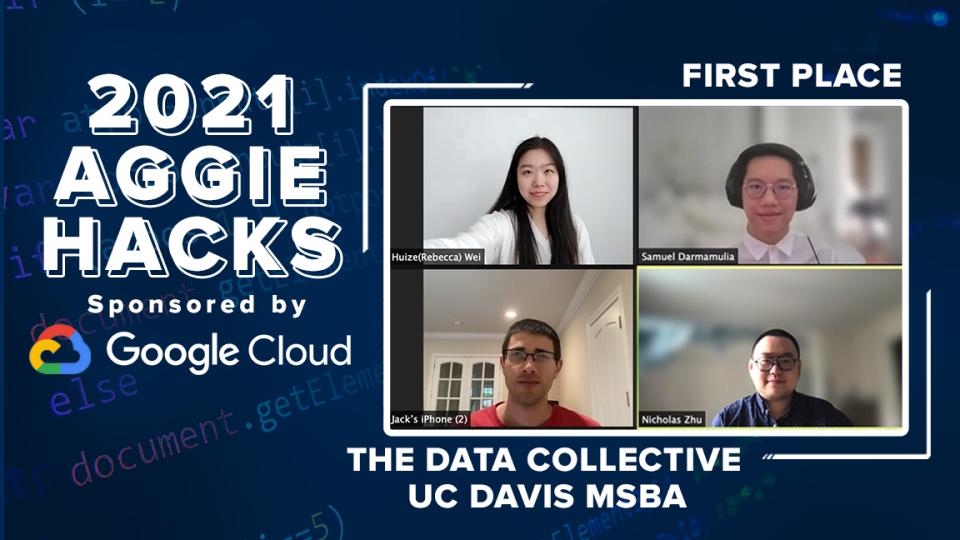 "The Data Collective" Team Wins First Place
Hailing from the UC Davis MSBA program, "The Data Collective" team of Nicholas Zhu, Rebecca Wei, Jack Maloon and Samuel Darmamulia, took home the grand prize.
This group of MSBA students used advanced analytics to tackle questions around the impact of fan attendance on professional sports team performance. Additionally, they created a predictive model leveraging vaccination thresholds to make recommendations by state as to when it might be safest to bring fans back into stadiums. 
They examined home-field advantage across multiple sports and saw that soccer took the biggest hit with teams winning about 6% fewer home games during the pandemic.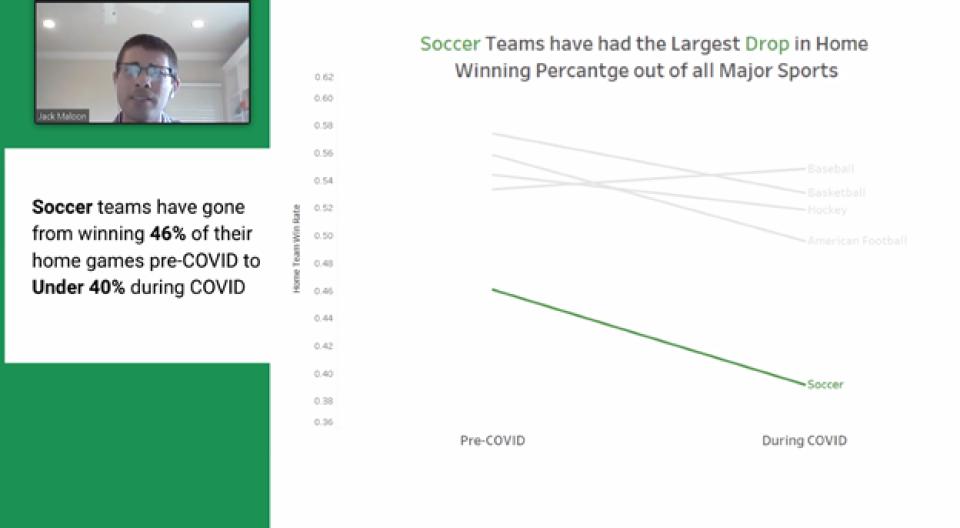 Using Google Data Studio, they modeled different dates at which states were projected to reach 60% vaccination thresholds and noted that while fans have a strong positive effect on team performances, allowing too many fans too soon could put them at risk of worsening the pandemic.
Interestingly, Zhu was also a member of the UC Davis team that placed in the top 50 in last year's Adobe Analytics Challenge that included 1,600 global teams. 
"The Mavericks" Take Second
"The Mavericks" team of UC Davis MSBA students Dhwani Mehta, David Arno, Michael Harris and Niaoniao Ma worked together to identify areas and root causes of vaccine sentiment from the U.S. Census Bureau. Arno was also a part of that UC Davis team with Zhu that finished in the top 50 in the Adobe Analytics Challenge.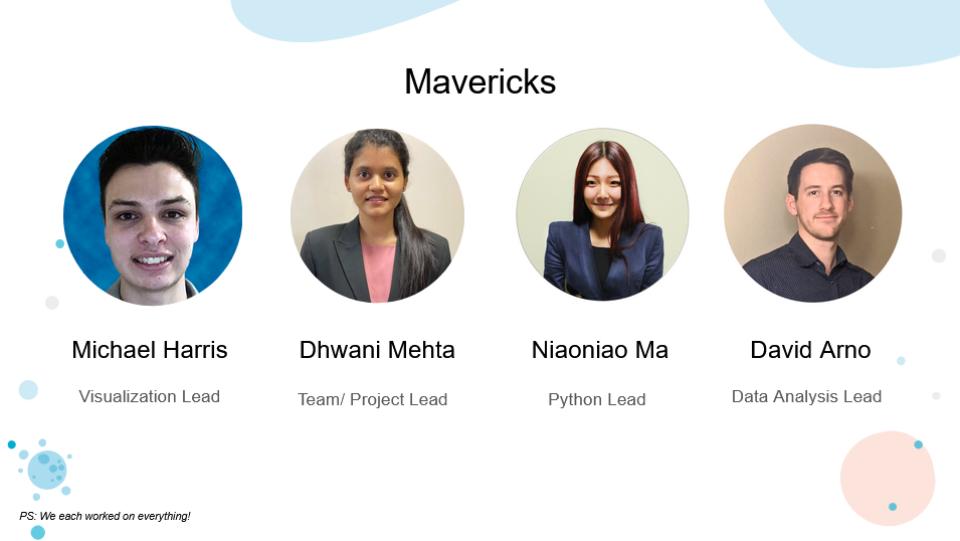 "The Mavericks" observed that for those who were reluctant to be vaccinated, "The major reason, apart from corresponding side effects, is that people believed they didn't need to get the vaccine or didn't trust the government to give the vaccine."
The team's analysis showed a greater openness to vaccinations over time. They recommended focusing outreach efforts on the subgroup who believed they did not need to get the vaccine, as they might be the easiest to reach.
"The Best QuaranTeam" Takes Third Place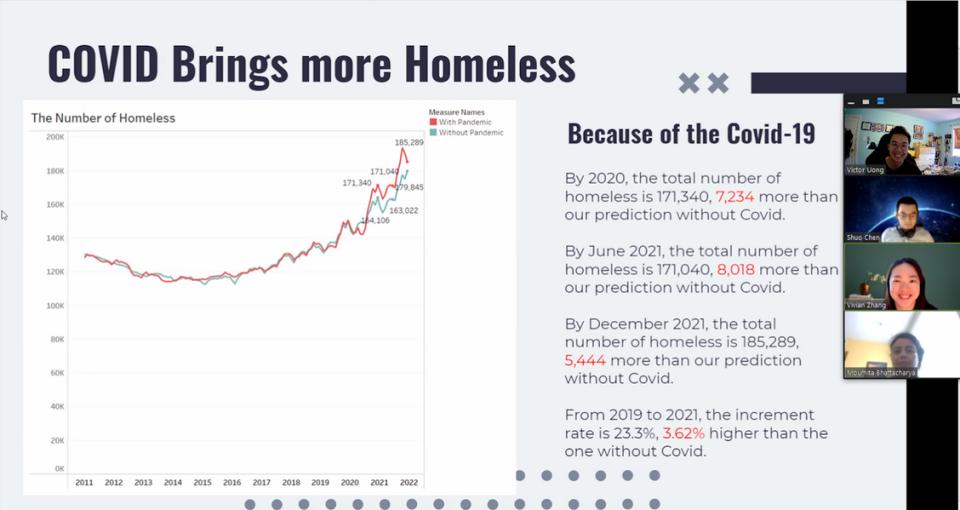 With students from three universities, our third-place winning team was aptly named "The Best QuaranTeam." They explored the underlying causes of homelessness in California to predict trends and make recommendations. Team members were UC Davis MSBA students Shuo Chen and Vivian Zhang, San Francisco State University MSBA student Victor Uong and Cal State East Bay MSBA student Moumita Bhattacharya.
"AYG" Recognized for Best Visualization
Yuxin "Grace" Guo, Xuran "Angela" Wang, and Yumeng Zou joined together on a UC Davis MSBA team, dubbed "AYG," and created the best visualization.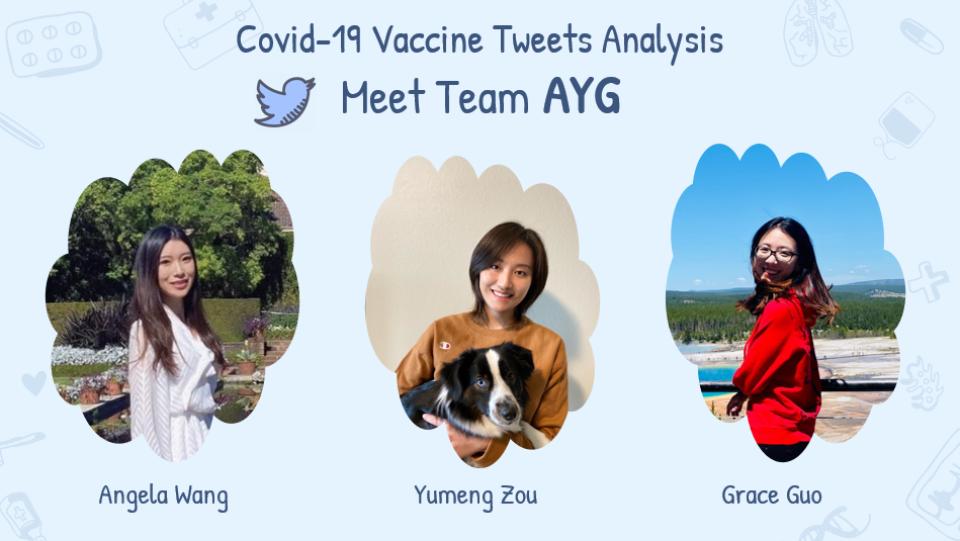 The team conducted overall text analysis on COVID-19 vaccine related tweets, then dove deeper into vaccine brand analysis. They also implemented machine learning models to predict users' sentiment on vaccinations, which drove recommendations to the public based on their analysis. 
Rounding out the leader board:
"Random Jungle" from the UC Davis MSBA
Zhitao Zheng
Kexin Wang
Qihan Guan
"4Horsemen" from the University of Cincinnati MSBA
Ashish Saxena
Lohit Borah
Lavanya T
Tanmay Shrivastava
"Xianghenaicha" from Wake Forest MSBA
"Three Shoes Maker" from Case Western Reserve University Master of Business Analytics
Yuanfang Ping
Hongyang Zhou who teamed up with another Case Western classmate
For a student insider's view into the lead-up to the competition, read Jessica Padolina's blog here.
(Student Chanel Diggs MSBA 21 contributed to this article.)