UC Davis Welcomes Back Google Cloud Hero Competition
Google partnership paves way for practitioner certification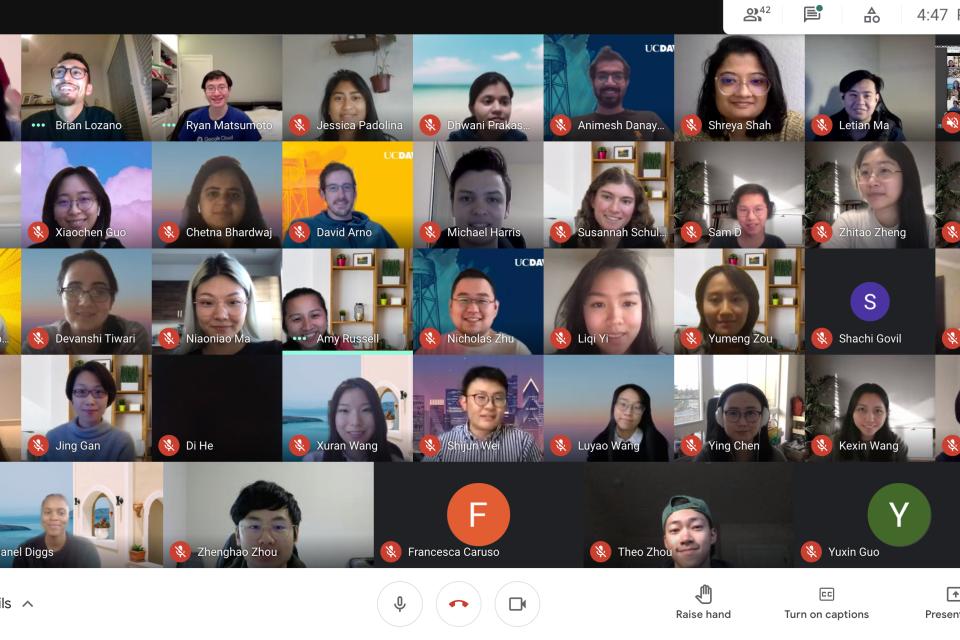 For the second consecutive year, the UC Davis Graduate School of Management was delighted to host a Google Cloud Hero event. This ongoing partnership between UC Davis and Google introduces students to analytics on the Google Cloud ecosystem. It also brings us a step closer toward earning a Google Cloud Practitioner Certification.
Due to the pandemic, UC Davis MSBA and MBA students jumped onto Google Meet to connect with the Google leads from Silicon Valley. Though at first glance the competition may have seemed daunting for someone from a non-technical background, we had the help of experts.
Google Cloud's Education Outreach Manager, Aaron Yeats, Program Coordinator, Brian Lozano and Developer Advocate, Ryan Matsumoto, were there to help us navigate every step of the labs and get us familiar with the various functions of the platform.  Following this, the school set up opportunities for us to connect with lecturer Noah Gift, via weekly workshops to continue our path to getting both Google Cloud as well as Amazon Web Services Cloud Practitioner certified.
"What we've seen is that these certifications, combined with our distinctive practicum where students work with clients to solve real-world issues, gives our students a tremendous edge in their future career search," says MSBA Executive Director Amy Russell. "These skills signal to employers a level of knowledge, expertise and commitment to analytics."
On Cloud Nine
One of the distinctive aspects of the Google Cloud Hero event was the gamification of the labs. It added a dimension of competition and fun. By gamifying our data sets and hands-on lab work, I noticed it added extra motivation and an intense focus as we strived to complete all of the hands-on labs by the end of the event.
And when we got stuck, we worked through our problems with experts and kept moving.
"If everything seems too new or complex for comfort, take baby steps," MSBA student Emily Teng said. "Each hands-on lab is a bite-sized tutorial, and each one comes with detailed, step-by-step instructions. Complete one lab at a time, one Google Cloud certification at a time, and soon you'll build up your skillset without even realizing it."
These certifications won't just pay off in our career search. They will open new career paths for students interested in cloud analytics. Coupling that with the strong corporate connections our network has with the Silicon Valley, it is truly a recipe for professional success.
Build Google Cloud Skills: Classroom Not Required
Interested in undertaking your own Google Cloud Hero journey at home?  You can join the skills challenge for 30 days of free access to the Google Cloud platform.  You can choose tracks in Data Analytics,  Hybrid and Multi-Cloud and MI and AI. You'll also receive Skill Badges which are real Google credentials you can use on you LinkedIn profiles and resumes to show your skills and expertise. Learn more