MSBA Teams Claim Top Finishes at Pair of Analytics Challenges
Two tight weeks lead to strong lessons for student teams
The separate MSBA teams had strong finishes in both competitions.
Adobe Analytics Challenge
Due to the pandemic, all teams were bound by our geographic location. But that doesn't mean we didn't have stiff competition. Over 1,600 global teams entered the Adobe competition—almost seven times more than last year's total.
Collaborating on such a challenging team project remotely while balancing our newly online graduate school schedule, our team did not back down but felt more motivated to do our best and show our MSBA excellence.
Our challenge was timely: In the age of COVID-19, retail businesses face unprecedented challenges. Adobe partnered with Nike to provide datasets to all 1,600 teams as they aimed to bring the ultimate online experience to Nike's athletes and transition the well-known corporation to a direct-to-consumer business model.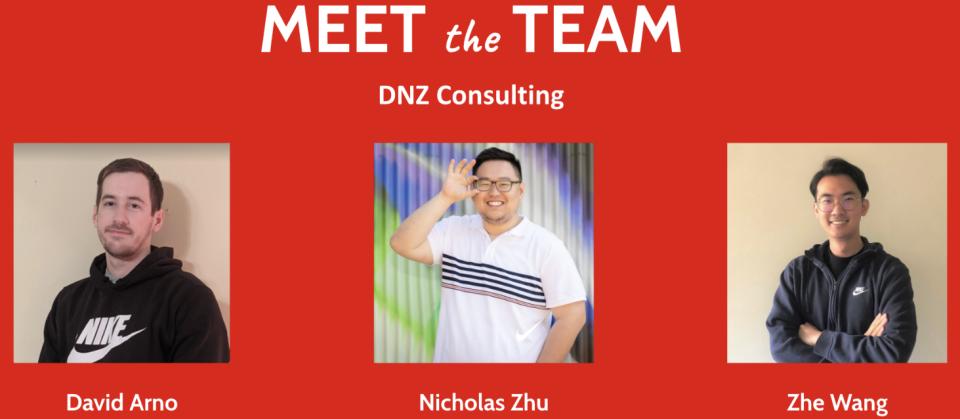 Our team, DNZ consulting, featured David Arno, Zhe Wong, and myself, Nicholas Zhu, and we finished in the top 20. Our esteemed coach was MSBA Co-Founder Professor Prasad Naik, who has led past MSBA teams to second-place finishes in each of the past two years.
In typical 2020 fashion, we were under many constraints to team up on our presentation. Having just started graduate school less than a month ago, we entered the competition as relatively new teammates. We even lived in different cities, under shelter in place.
We put in many hours on our project, sometimes burning the midnight oil until the sun rose.
We quickly realized how messy real-life data can be. So we divided the exploration process among the three of us and drew as many insights as we could individually.
Under the guidance of Professor Naik, we identified core objectives and built a narrative that was easy to understand for any audience, but also fundamentally data-driven. In the end, we were proud of our work and grateful for a top-20 finish.
We also want to acknowledge the help and support we received from MSBA Executive Director Amy Russell, and lecturers Doy Charnsupharindr, and Brian Kennedy. They gave us invaluable insights and shared their personal experiences from entering the competition, sharing tips on how to best deliver a business presentation.
Humana-Mays Healthcare Analytics Case Competition
The 2020 Humana-Mays challenge included a new outlook on medicine.
The competition focused on social determinants of health care affecting a wide range of quality-of-life outcomes and risks. Students were asked to create a model to predict which Medicare members will most likely struggle with one of the determinants, and our group selected the transportation challenge.
The goal was to propose solutions for overcoming this barrier to accessing care and achieving members' best health.
Over 700 masters-level students, representing 70 major universities in the U.S., participated in the competition. About 310 teams started the competition with a virtual information session on September 9. We received our first dataset on September 20 and teams were given until October 11 for final submission.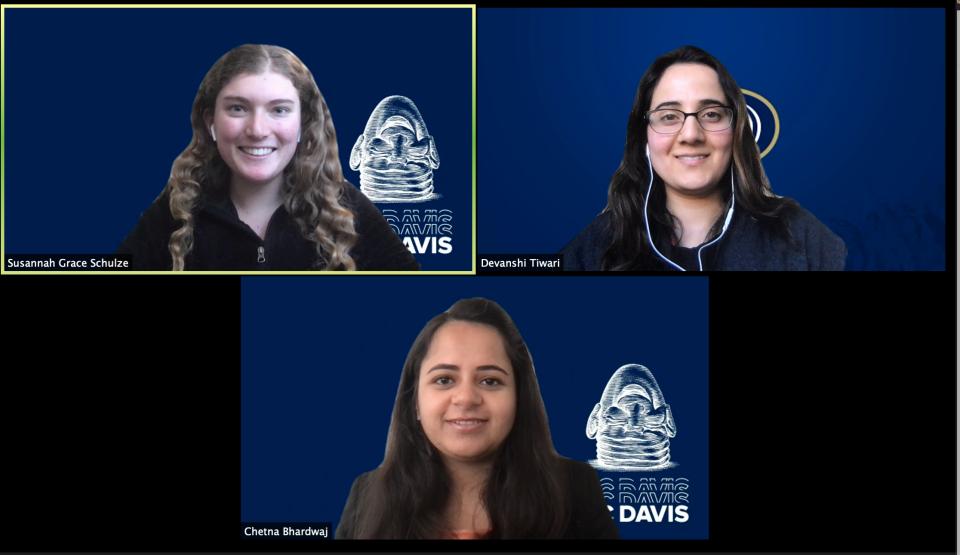 Team De-Su-Ch consisted of Susannah Schulze, Chetna Bhardwaj and myself, Devanshi Tiwari. Our team made it to the semifinals of the competition.
Our final submission included results of our analysis that indicated which members are most likely to face transportation challenges, ranked by highest to lowest probability. Teams were also required to submit a presentation report of their analysis, findings, and recommendations.
Based on each team's prediction accuracy, the top 50 submissions advanced to the semifinals. The written submissions were evaluated on the entirety of the solution: approach, analytics, insights, recommendations, and actionability.
Our MSBA team implemented six models, each using distinct algorithms, and we trained the models using the datasets provided. The model that gave us the highest accuracy was a neural network using Google's TensorFlow library.
Thanks to Associate Professor Ashwin Aravindaskhan we learned how to cross-validate our results before we submitted our final project. We'd also like to thank Assistant Professor Jörn Boehnke for his guidance throughout this process. We were very happy with our results.
Two Tight Weeks
In a short span of two weeks, team De-Su-Ch powered through the data provided and learned a lot about implementing and evaluating different machine learning algorithms.
Though it's still early in the program, we understood how an algorithm functioned behind the scenes. Now, as we dive deeper into our courses in the MSBA program, we are learning what pitfalls we hit and how we can tackle similar cases better, in the future.
For team DNZ Consulting, we walked away from this competition with better analytical and business skills. From data-mining to business strategy, we were able to apply what we learned in class to real-world problems. Now, we're able to bring what we learned from the competition to the rest of the MSBA program--and our future careers.