Speed Networking: 4 Lessons Learned from Alumni
Business analytics alums share advice with students
It's one of the most anticipated events of the year—speed networking with recent M.S. in Business Analytics (MSBA) graduates. Despite our virtual connection limitations, the opportunity did not disappoint.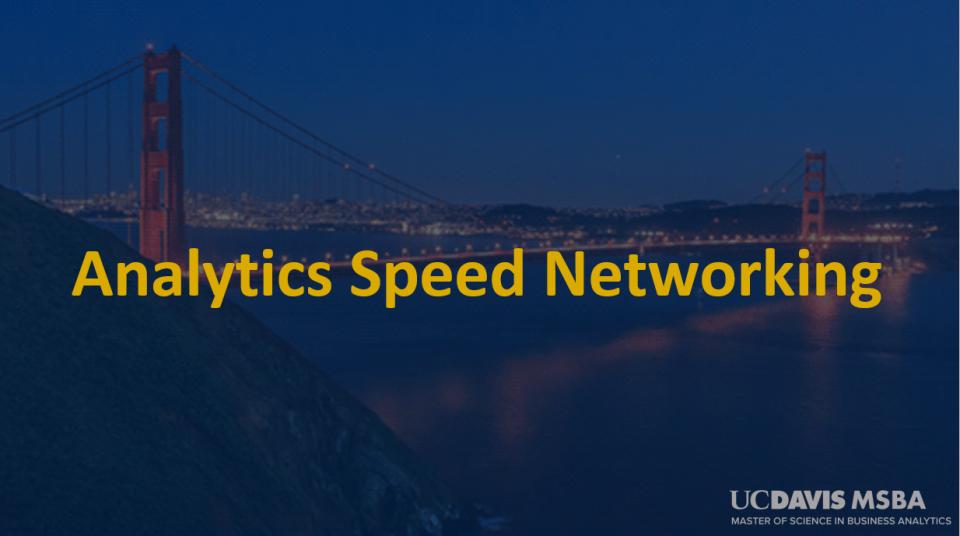 Like many weekday nights during this unpredictable year—I was at home on my laptop, logging on to Zoom. But this Wednesday night was different. After practicing my introduction in the mirror, reviewing alumni LinkedIn profiles, and dressing in formal clothes for the first time in the last six months, I was ready for the MSBA program's highly-anticipated speed networking event.
My path to UC Davis was non-traditional. I was a data science manager at Mu Sigma, one of the largest pure-play analytics firms in India. Due to COVID-19, I started the MSBA program while I was in India and later arrived in the U.S. after classes started.
One of the main reasons I chose UC Davis is its gateway and connections to the U.S. tech industry. Logically, I was excited to meet and learn from those who already are a part of the Aggie network and thriving in their analytics careers.
Following a warm-hearted welcome from MSBA Executive Director Amy Russell and Associate Director Shachi Govil, alumni introduced themselves, and then we had the opportunity to meet them in Zoom breakout rooms.  We connected with:
Liz Liu MSBA 20 – Data Analyst, Amazon
Shalini Mishra MSBA 20 – Business Analyst, Amazon
Ana Pinaya MBA 17 – Finance Manager, Amazon
Sharad Gupta MBA – Director of Health Innovation Technology, Blue Shield of California
Krithika Sankaranarayanan MSBA 19 – Software Engineer, Highspot
Khaled Khaled MSBA 20 – Senior Business Operations Analyst, Kasa Living Inc.
Frank He MSBA 20 – Supply Chain Data Analyst, Maxim Integrated
Tiffany Chen – Business Intelligence Engineer, PG&E
Paridhi Agal MSBA 20 – Data Scientist, Sumo Logic
Ana Parra Vera MSBA 20 – Data Scientist, Sumo Logic
Steve Maier – Staff Analyst, Strategy and Business Intelligence, Sunrun
Lin Zhu MSBA 20 – Business Analyst at Tesla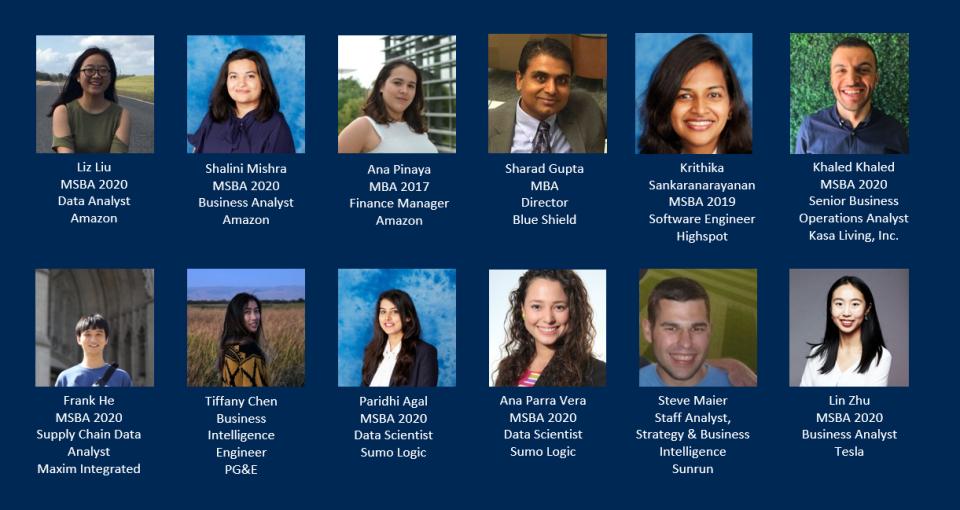 With alumni and industry professionals working in fields such as business, finance, and healthcare, I learned many lessons that are applicable across industries. 
MSBA program prepares you to enter any industry
Whether we're working in supply chain logistics, computing, machine learning, or specializing in tech, I'm convinced the MSBA program can prepare students with the skills to enter any company that uses data to make decisions.
For me, I was curious about entering a finance department. When asked how to best prepare for an analyst role in finance, recent MSBA alumna Shalini Mishra, who just started as a business analyst at Amazon, explained that I will always have to learn and develop the domain knowledge specific to your work over time. This was one of the many tips that I noted during the panel.
I'd like to share the top five tips I received:
Start early
"Get as uncomfortable as you can right now so that you can (learn and) get comfortable later," said Paridhi Agal MSBA 20, who is one of the first set of data scientists at Sumo Logic.
Most of the alumni panelists emphasized that the build-up to the interviews is crucial. They said you need to invest heavily in your preparation phase, and you need to start early. This helps with reducing stress, especially when you get to the latter part of your school year when you might be applying to many companies.
Let LinkedIn and Github do the talking for your work
Alumni shared an industry tip: building strong profiles on LinkedIn and Github are crucial in highlighting your individual strengths as you apply for positions. Both of these platforms are designed to showcase the projects you've worked on, and what roles you played. Panelists also noted that in their interviews, questions were based on the project that they mentioned on their LinkedIn and Github profiles. They cautioned though, not to try and include everything you have worked on, but highlight the projects you're most comfortable talking about.
Always consider the bottom line
The goal for any data analysis project is ultimately to solve a business problem. We also got to hear from Sharad Gupta, an MSBA lecturer and director of health innovation technology at Blue Shield of California.  Whether it's scalability, customer retention, or product innovation, his advice is to always keep one notion in mind: "How can this help move the business forward?"
Understanding the business problem, developing a solution, and anticipating the impact on the business should help drive your analysis.  
Make time to enjoy the journey
It is not the destination so much as the journey, the panelists said. They agreed that students should strive to make it memorable. For me, as a student and part of the MSBA leadership groups, it is often difficult to find time between meetings, assignments, and classes. Not to mention, the shelter-in-place restrictions. However, as this is my first time living in San Francisco, I am determined to explore and soak in my surroundings. So far, I have hiked around Baker's Beach, visited the Palace of Fine Arts, and enjoyed driving my electric scooter to Golden Gate Park.
While I haven't been able to share my explorations with my classmates in person yet, I look forward to more events like our speed networking panel as we embrace the new year. Thanks to the advice of alumni and professors, I'm confident I'll be able to apply their advice to my career search.