Career Q&A with Upwork's Director of Trust and Safety Analytics
Exec shares interview mistakes to avoid and career tips with MSBA students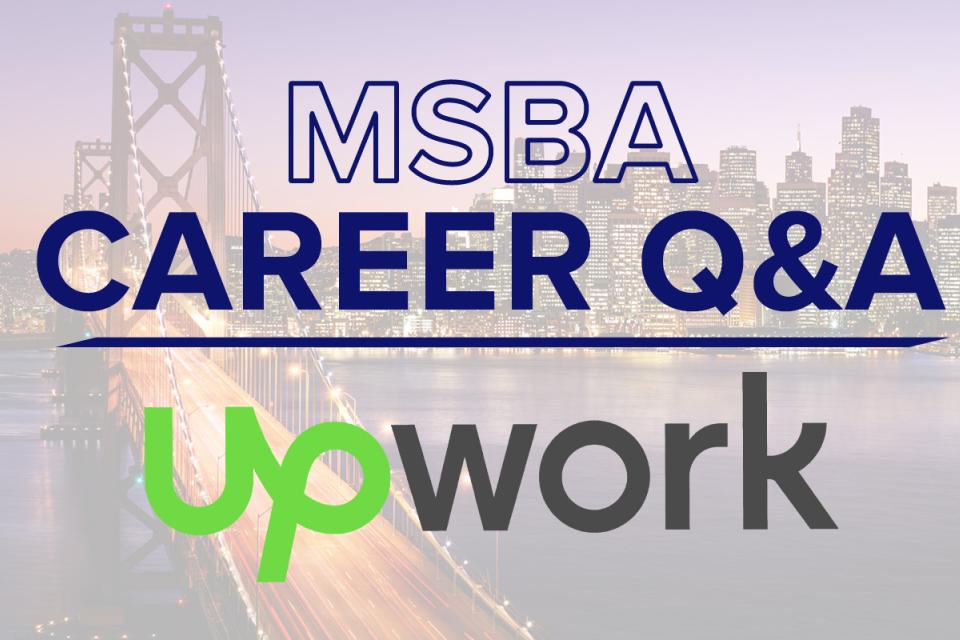 One advantage for students in the UC Davis M.S. in Business Analytics (MSBA) program is our constant exposure to industry executives and experts.
In tandem with the year-long industry practicum project, and often integrated into the curriculum, we have many opportunities to meet with industry professionals during guest lectures, spotlight sessions, career guidance sessions and more. We benefit from their advice, insights and experience to help in our career search and interviews.
Recently, our class was treated to an exclusive session with Pubudu Wariyapola, director of trust and safety analytics at Upwork. He holds a graduate degree from MIT with an MBA from UCLA, and has extensive experience spanning more than 20 years across analytics and product roles in different multi-national firms.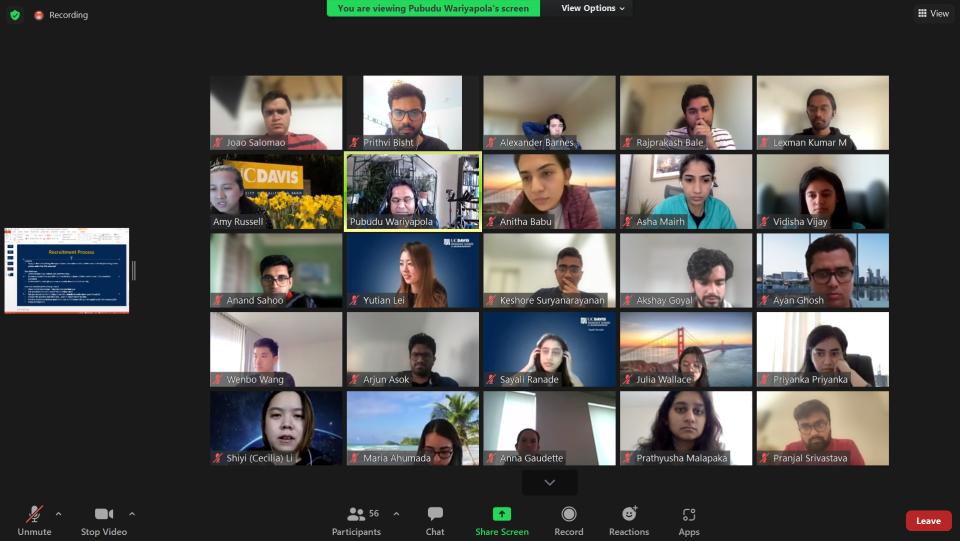 Finding Safety on Digital Platforms
Our hour-long interactive session with Wariyapola started with a brief overview of the company and his team. Upwork is building the world's work marketplace, empowering people to work from wherever and whenever they want.
Wariyapola's team helps keep the Upwork platform safe by building, deploying and maintaining detection models that identify fraud. He explained that his fraud prevention tactics as an analytical sub-domain. He said the value for analytics professionals in this field is staying ahead of the curve and making sure that any user-facing technology platforms are strong enough to not become a target of web fraudsters.
After his brief overview, he shared about the typical hiring processes for analytics roles. He highlighted three important skills for any analytical professional to bring to the table:
Technology: SQL, Python (another similar language), and a visualization tool are valuable tools, and a solid technical foundation is necessary for any analyst. However, he noted that generally, aspirants focus too much on these skillsets. While it is a good habit, it should not come at the expense of the other two skills mentioned below.
Business acumen: The ability to understand a business problem and convert it into an analytics question is often a key trait that many aspirants tend to undervalue, focusing only on technical skills, Wariyapola said. Noteworthy analytics professionals ensure the analysis performed aligns with the business objectives at hand.
Intellectual curiosity: This is again an important attribute for aspiring analysts as there should be an innate desire to find out and reach to the root cause of any problem, rather than just doing the task at hand, and running unnecessary analyses. Wariyapola says this curiosity often leads to inferences and findings, which can become pivotal to a business's success.
Interview Mistakes to Avoid
Later in his session, Wariyapola talked about typical interview mistakes that candidates often make and highlighted some of his interview tips based on his years of experience interviewing candidates:
Listen to the interviewer: Do not assume that you know the question before it is completed. The interviewer is there to help and make the candidate comfortable, hence it's important to have good listening skills and understand the interviewer.
Ask questions, but don't repeat the asked question: Repeating the question that the interviewer asks might be fine for a couple of questions, but doing it for every question is not the right approach, Wariyapola says. Often candidates do this to buy some time for their answers, but it is better to directly ask for a minute or a few seconds to collect your thoughts, rather than wasting time by repeating the question.
Set up structure first: As analysts, it is very important to structure your answer. Use frameworks if necessary and takes pauses if required. Wariyapola says explaining your process to break down a problem and arriving at the subsequent solution must be presented in a well-defined, easy-to-understand format. Problem structuring, after all, is a key on-the-job skill for analysts and data scientists.
Practice answering the obvious questions: Often, candidates miss out on nailing some of the common questions like, "Why did you apply for this role?" Or "Why apply with our company?" It is important to have solid answers for some of these questions, as it displays clarity and certainty.
Relax and have fun: It is important to enjoy the process and take the interview as a discussion, as it creates a positive interview vibe and leaves a good lasting impression on the interviewer.
Finally, we had the chance to ask questions on fraud analytics and shaping our careers.
After answering all of the questions, Wariyapola noted one important caveat. He said it took him years and a couple of different graduate degrees to gain the right blend of analytical and business skills for his career. Though he noted that UC Davis MSBA students enjoy the perfect sweet spot combining statistical, programming and business knowledge to prepare us well to be changemakers in the industry.