Takeaways from Deloitte's HBCU Accelerate Summit for Aspiring Accountants
Four tips for new accounting graduates hitting the job market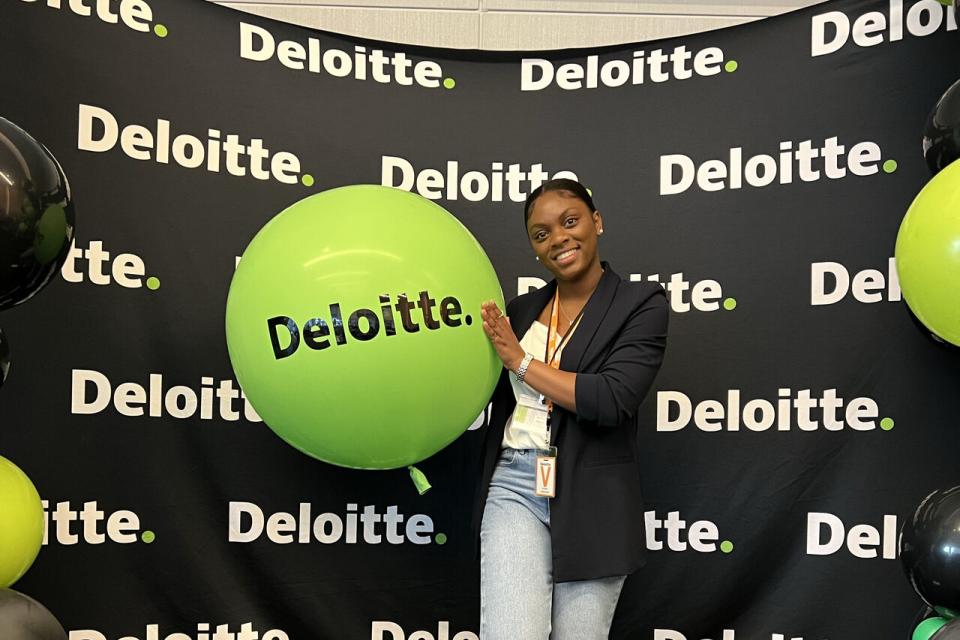 A few years ago, I had the chance to apply for a prestigious accounting scholarship sponsored by one of the Big 4 firms, Deloitte. I took a chance and submitted my application for the Historically Black Colleges and Universities (HBCU) Emerging Leaders Scholarship Program, and to my surprise, I won.
The $10,000 educational scholarship has paid big dividends, and created opportunities I couldn't have imagined. In the summer of 2020, I participated in an internship with Deloitte in the Audit and Assurance department, and through that opportunity, I was invited back this month to participate in Deloitte's 2022 HBCU Accelerate Summit in Chicago, Illinois.
This experience was nothing short of amazing.
Advice, Advocacy, Action
For three days, I had the opportunity to meet incoming and experienced professionals at the firm, learn more about the company's culture and received tremendous advice on how to be successful when starting your career as a new graduate.
The program was made in an effort to increase diversity, equity and inclusion within the firm and this year was the first rollout for the program. It was a privilege to be invited, and the exclusivity made it extra special.
Although I was the only student there from the UC Davis Master of Professional Accountancy (MPAc) program, I heard from numerous leaders, managers and young professionals, and I'd like to share that advice:
Always ask why. When you are assigned to a project within your team, you will be given work that you might not know how to approach. But make sure you are asking questions to ensure you understand why you are doing this work. That knowledge and understanding from one project can be applied to other projects you work on down the road.
Over-communicate. Your ability to communicate and let your manager know what is going on with your work will be very important. If you are not able to complete the work, ask for help. This means if you are spending 20-30 minutes on a workpaper, and you are still stuck, just ask your colleagues or your boss for solutions. Your managers are not expecting you to come in as an expert and you are there to learn, so be sure to ask the right questions. However, make sure you are also taking notes to reduce asking the same questions twice.

Image

Participants in this year's HBCU Accelerate Summit at Deloitte in Chicago gather for a group photo. The three-day conference creates opportunities for students to earn internships with the company and hear advice from executives in the accounting industry.

Organize your email inbox. One thing to know about working in the corporate landscape is that you will get tons of emails daily, some more important than others. As a result, it is important to learn how to set up folders within your inbox, so you don't miss important emails. It might be a good idea to keep them color coordinated and use folders for easy access. If you are working on different teams with numerous clients, it will also be helpful to set up folders for each of those email threads. Also, remember to check your inbox at the end of the day for an unread email, you might miss something important.
Don't burn yourself out, and learn to set boundaries. As new hires, we may feel the need to overwork to prove ourselves, but it is important to set the right boundaries. Setting appropriate work-life boundaries will help protect your mental health. Work has to be done, but it can only be done if you are feeling good and mentally fit. You won't get your best work done if you are not healthy. More people are turning to healthy boundaries to ensure they're putting their best foot forward at work.
As the conference concluded and I boarded a plane back to California, I was encouraged. As a student on the verge of graduating from the MPAc program, I found that much of the technical and academic information I received I already knew.
My coursework and faculty discussions have prepared me for a rewarding accounting career, and I am looking forward to joining Deloitte this upcoming fall as a full-time audit and assurance staff member in Charlotte, North Carolina.
For those considering an MPAc degree, I want to encourage you all to leverage the benefits of this program. The knowledge and information you have received from our classes will set you up for success, and I know the professors have really prepared us well and given us the right tools for success.