Your Questions from My MPAc "Ask Me Anything" on Instagram
Get the inside scoop on placement, eligibility, MPAc vs. MBA, UC Davis community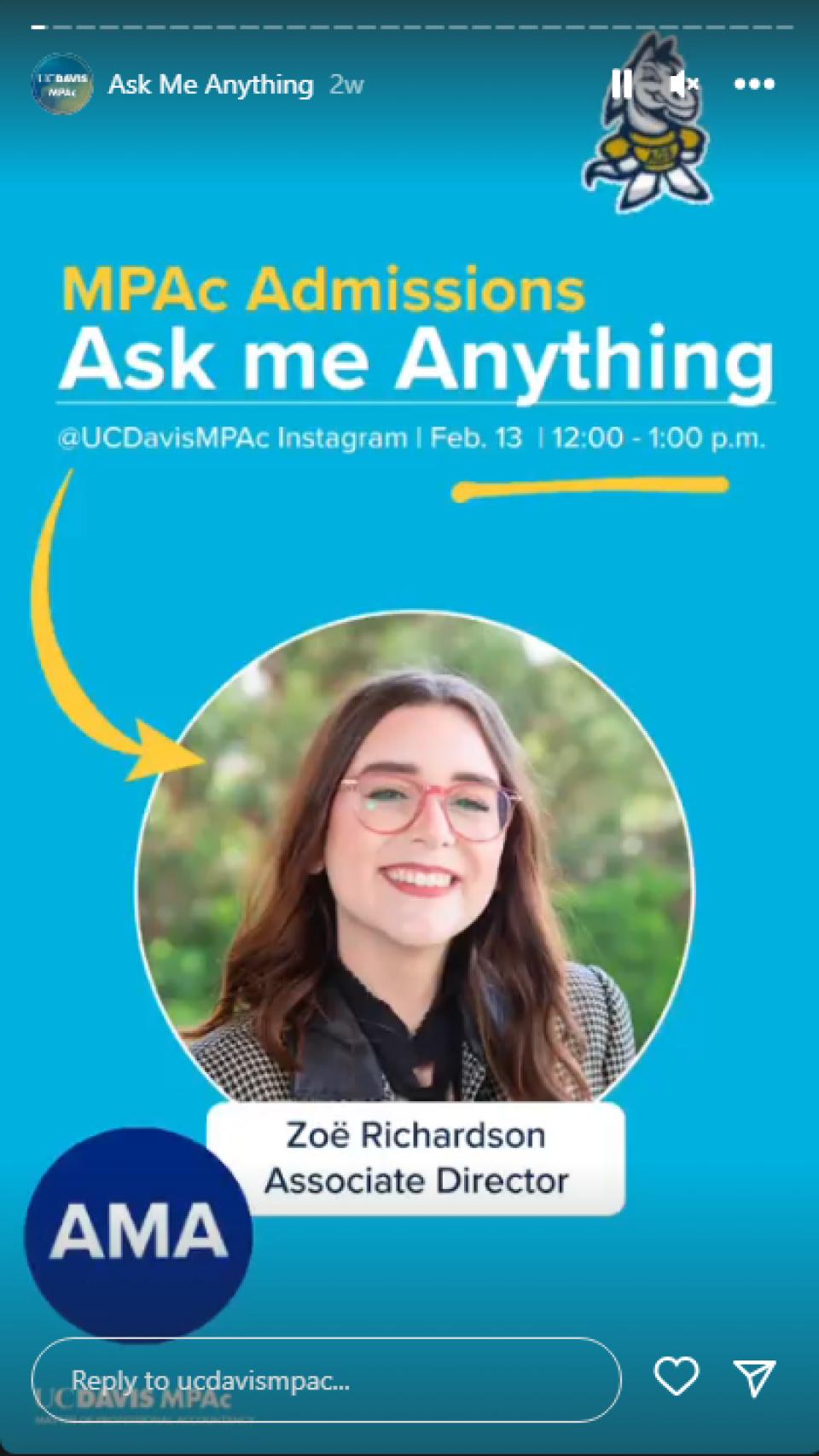 In February, I hosted an "Ask Me Anything" session on the UC Davis MPAc Instagram (@ucdavismpac), which was a great experience to field and answer questions from prospective students about our 9-month UC Davis Master of Professional Accountancy program. Watch the session highlights on Instagram.
I'd like to share a recap here of many of the key questions asked about hiring and careers, eligibility and prerequisites, the differences between MPAc and other degrees or programs, and the UC Davis community.
Let's dive in:
Hiring and Careers
1. Who hires MPAc students?
Our program will provide exposure from a variety of accounting firms, from The Big Four (Deloitte, EY, KPMG and PwC) to boutique, regional firms. Our current cohort [that graduates in 2023] already has 100% career placement among job-seeking students.
2. What does 100% placement mean?
When I say 100% placement, I mean that all of our students that were seeking a job, have a job. Signed, sealed, delivered. It's a great feeling for our students and because our students are so in-demand, many of our students received multiple job offers.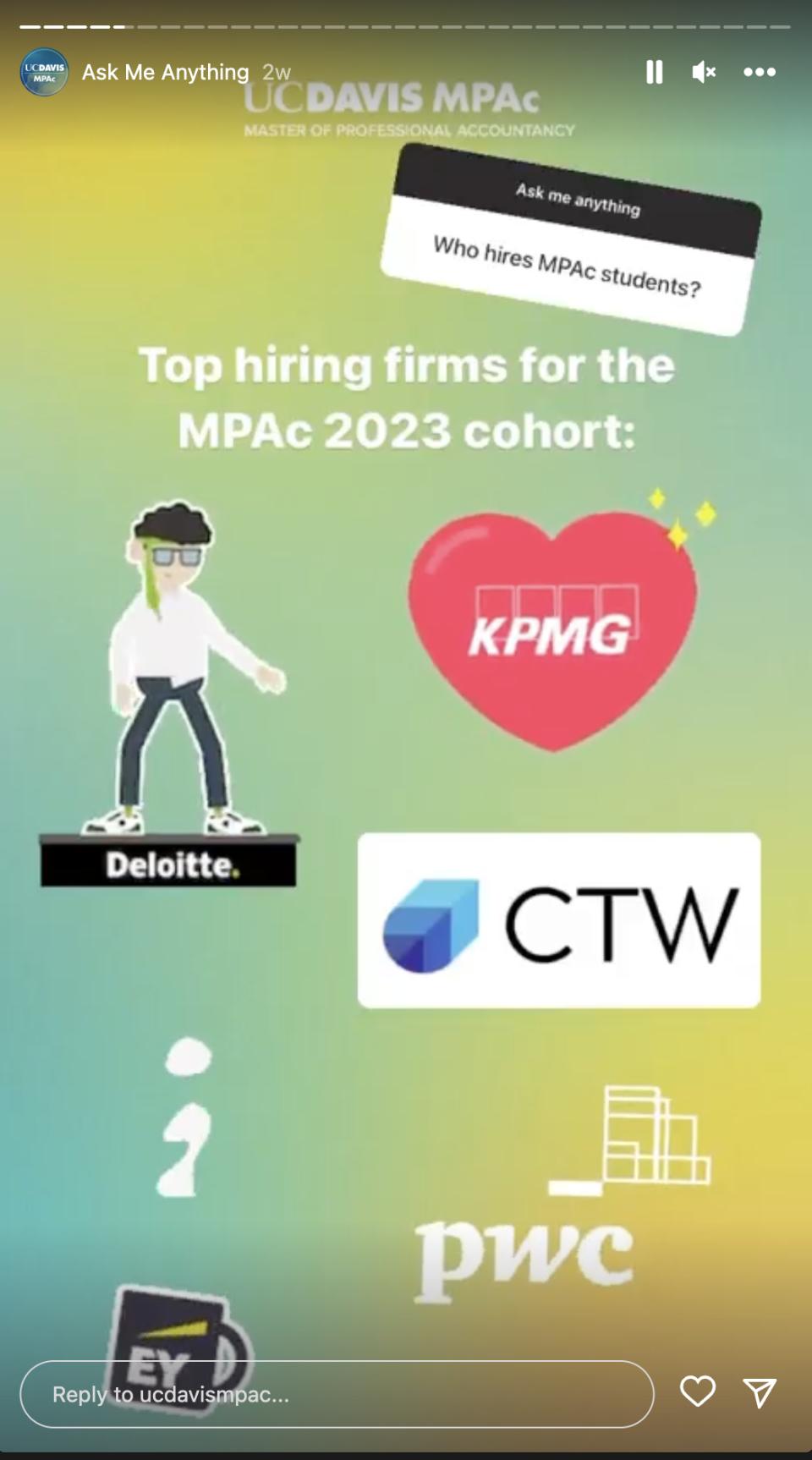 3. What career support do you offer?
We have a lot of career services that we offer our students. We have a staff member specifically dedicated to supporting our students during their entire process; but, as a quick overview what that looks like is, before we even start the program, you will be engaging with our staff regarding your resume, cover letter, all your materials getting you thoroughly prepared.
Once you start your orientation, we continue to do workshops and mock interviews. And we also have a Meet the Firms event, which is a private event where our students will get to meet the [accounting] firms. From there, students will begin to apply for jobs, and they will be receiving guidance and support during the entire process. Of our current cohort we have, yet again, 100% placement before our students have graduated.
Eligibility and Prerequisites
1.  I am interested in this program but don't know if I am eligible. What do I need?
To be eligible for MPAc you must:
Have a bachelor's degree from an accredited institution (any subject of study is OK!)
Complete our four prerequisite courses before starting our program.
2. What are the prerequisite courses?
Introduction to Financial Accounting, Introduction to Managerial Accounting, Business Law, and Statistics. These courses can be "in progress" at the time you apply to MPAc. Learn more about the prerequisites.
3. I have a bachelor's degree in linguistics. Can I still apply?
Yes! ANY undergraduate degree is accepted.
4. What classes should I take in undergrad?
At a minimum take the four prerequisite courses. We recommend taking intermediate accounting courses at your university as it is helpful to be very comfortable with the content covered in those courses. For UC Davis undergraduate students you may want to consider the accounting minor!
5. How do I know what courses are accepted for the prerequisite courses?
Assist.com is a helpful website where you can compare UC Davis courses to the equivalent course at all other participating California colleges. If you are still unsure, send us an email! We are here to help you.
MPAc Versus Other Programs
1. What is the difference between MPAc and MBA?
The MPAc degree is tailored and focused on accounting. All our coursework is specifically related to the accounting field and is going to echo the California CPA education requirements. In addition, our career support and events are all going to be centered around accounting.
The MBA program is a great option for anyone who is looking to get into a variety of career settings. An MBA degree can be leveraged to help you move into an area like HR, strategy, product management or program management, etc. The MBA is a great opportunity to go from an individual contributor to leadership.
And here at the MPAc program, we love our MBA friends. We all share Gallagher Hall with them and do a lot of crossover events. Compare our degree programs.
2. I'm deciding between taking units at community college vs. a master's degree. What does a master's provide?
I love this question because basically, you're asking the big question: What is the value of an MPAc degree? Now there is nothing wrong with going to your local junior college or community college after you graduate to hit the additional units that you need for your CPA licensure, but it will be a piecemeal option. You're basically going to be trying to catch the courses that you need when they are available, doing that while also normally juggling life and a job. It can become a really long experience trying to get all the courses when they are being offered. What I present to you in MPAc is an efficient, student-centric way that you can achieve the additional units that you need in nine fast months.
In the MPAc program, you are part of a cohort, you are not just a random person in an advanced accounting class.  You have the faculty and staff that are there to support you during your entire experience. Everyone will know you because it's such a small group and we have a close-knit community. In addition, an MPAc degree gives you just that, an additional degree, which is an amazing calling card that's going to help launch your career and it's very exciting and inviting to potential employers.
Last, but not least, probably the biggest value that MPAc provides is a network. You, again, are part of a cohort. It's a close-knit experience, the faculty will know you by your first name, and you are instantly gaining a group of people that are there to support you and all of their connections as well, from our MPAc alumni to our MBA friends.
3. Are classes online?
All of our classes are in person. Everything is based out of Gallagher Hall, our home on campus. Classes are held Monday-Thursday, MPAc students will have one class a day and each class is typically four hours long. It is super convenient that all classes are in Gallagher Hall because the space also features a student lounge, study rooms students can book for either independent space or groups, and a relaxing great room/lobby. Students can come in early, study and eat lunch in the lounge, go to class, and then go work on a team project in a break-out room—all under one roof at Gallagher Hall.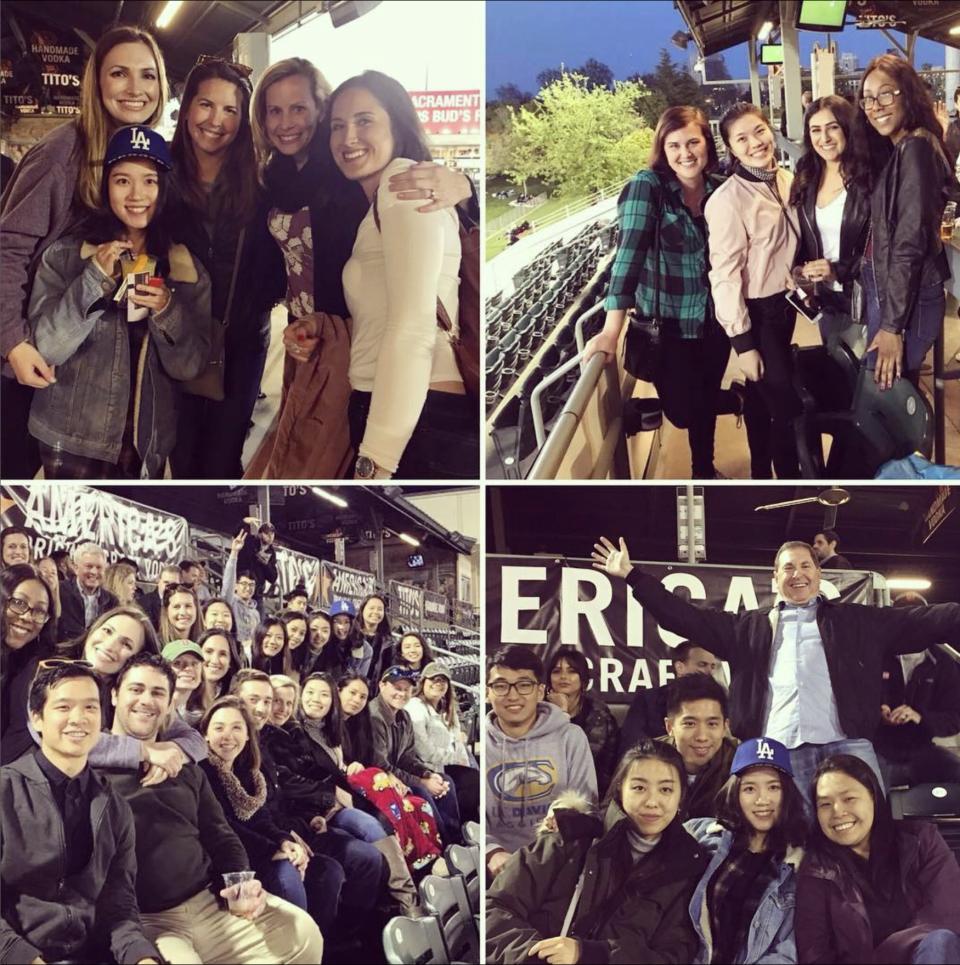 Our Community
1. What does a "cohort" program mean?
When I say that MPAc is a cohort-based program, what I mean is that all our students are starting and ending the program together at the same time. It is amazing because it instantly creates a bond and allows our students to have really strong relationships with each other during the time they are in the program.
The MPAc program is also lockstep, meaning that everyone is going to be taking the same predetermined classes together each quarter. So again, having a great study group, making great relationships, and networking are instantly easier given the format of our program.
2.  I've never been to UC Davis but interested in the program. Do you offer tours?
If you've never been to UC Davis, we have a couple of events I am going to recommend.
If you can, join us for a class visit. It's awesome and allows you to hang out for about two hours in an actual class with actual students and faculty. Really get a vibe of what it will be like to be an MPAc student.
Secondarily, I often host small group tours and information sessions here on campus at Gallagher Hall. It's a great way to get used to the UC Davis campus and learn more about the program.
If neither of these works for your schedule, you can send me an email I want to allow you to get used to this space before you make that final decision. I am always happy to provide a private tour.