MPAc Admissions Answers Top Questions from Recent Ask-Me-Anything
Learn about scholarships, student life, start dates and more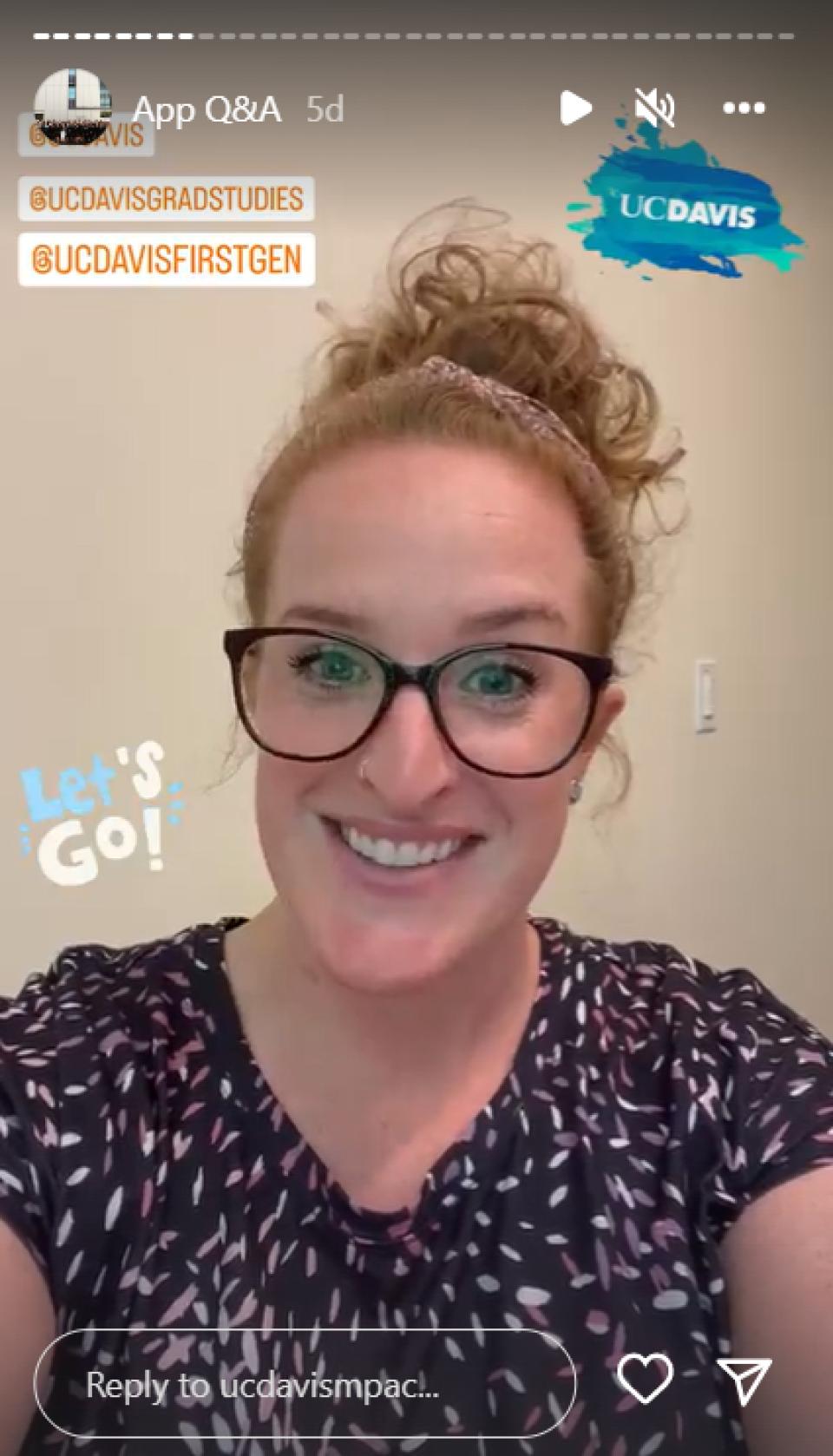 Do I need an accounting degree in undergrad to apply? How long is the program? Will I land with a Big 4 firm after I graduate?
We answered these questions and more during my recent "Ask-Me-Anything" session on our Master of Professional Accountancy program Instagram channel.
Let's dive in.
1) What's considered a"good" undergrad GPA?
We recommend a 3.0 or above. That said, we look at applications holistically. Don't worry if you're on the bubble—it's not a threshold.
2) How long is the program?
The MPAc program is nine months.
3) Can I apply without a business or accounting degree?
Yes, you can absolutely apply to our program in that instance. Generally, over 60% of our classes have non-accounting or business degrees.
For our application all that matters is that you're going to be completing your bachelor's degree and you've completed our four pre-requisite courses:
Introduction to Financial Accounting
Introduction to Managerial Accounting
Statistics
Business Law
4) Is financial aid available?
Yes, we offer scholarships as well as other opportunities for students, such as becoming a teaching assistant. TA-ships provide both quarterly stipends, as well as a tuition discount.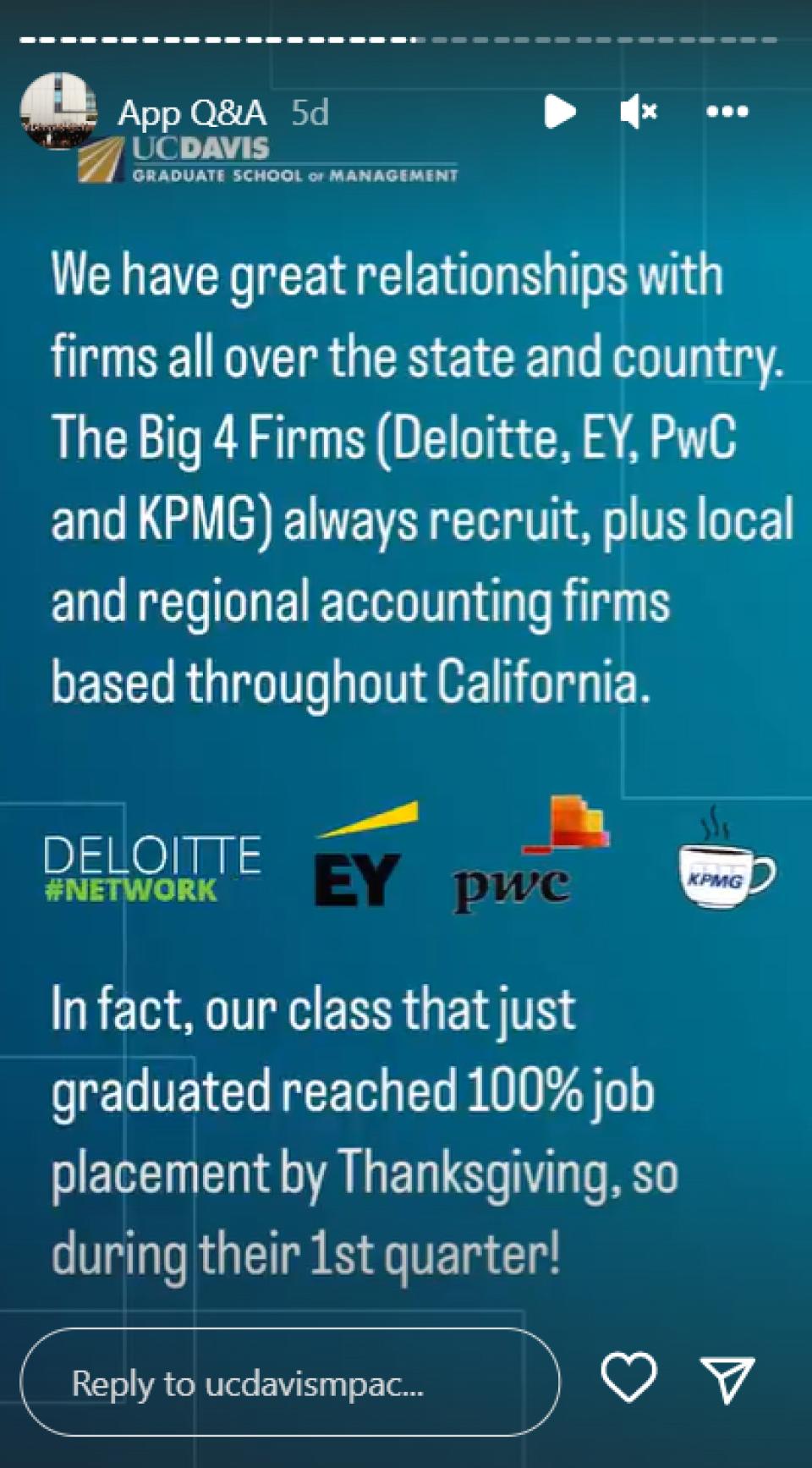 5) What companies come to UC Davis to recruit?
We have great relationships with firms throughout California and the U.S. The Big 4 Firms (Deloitte, KPMG, EY and PwC) always recruit from UC Davis, plus local and regional accounting firms based in our backyard of Northern California, and Southern California.
In fact, our class that just graduated reached 100% job placement by Thanksgiving—that's actually in their 1st quarter of the program!
6) What do I need to apply?
You'll need to fill out our application, submit your transcript, write a personal statement and submit two letters of recommendation. If you have below a 3.2 GPA, you'll also need to complete the GMAT or GRE test prior to entry.
7) Are classes offered online or on weekends?
We feature an in-person program with all of our classes offered on-site in Davis, California, and classes are held Mondays to Thursdays.
8) Are there rolling admissions?
There's actually still time to apply for our next class, starting this fall. Our final application deadline is July 16.
We conduct rolling admissions throughout the year, with several rounds of applications opening in early fall for the next fall entering class.
9) Will I be a CPA at the end of the program?
With the way our classes are set up, most students are eligible to take the CPA exams upon graduation.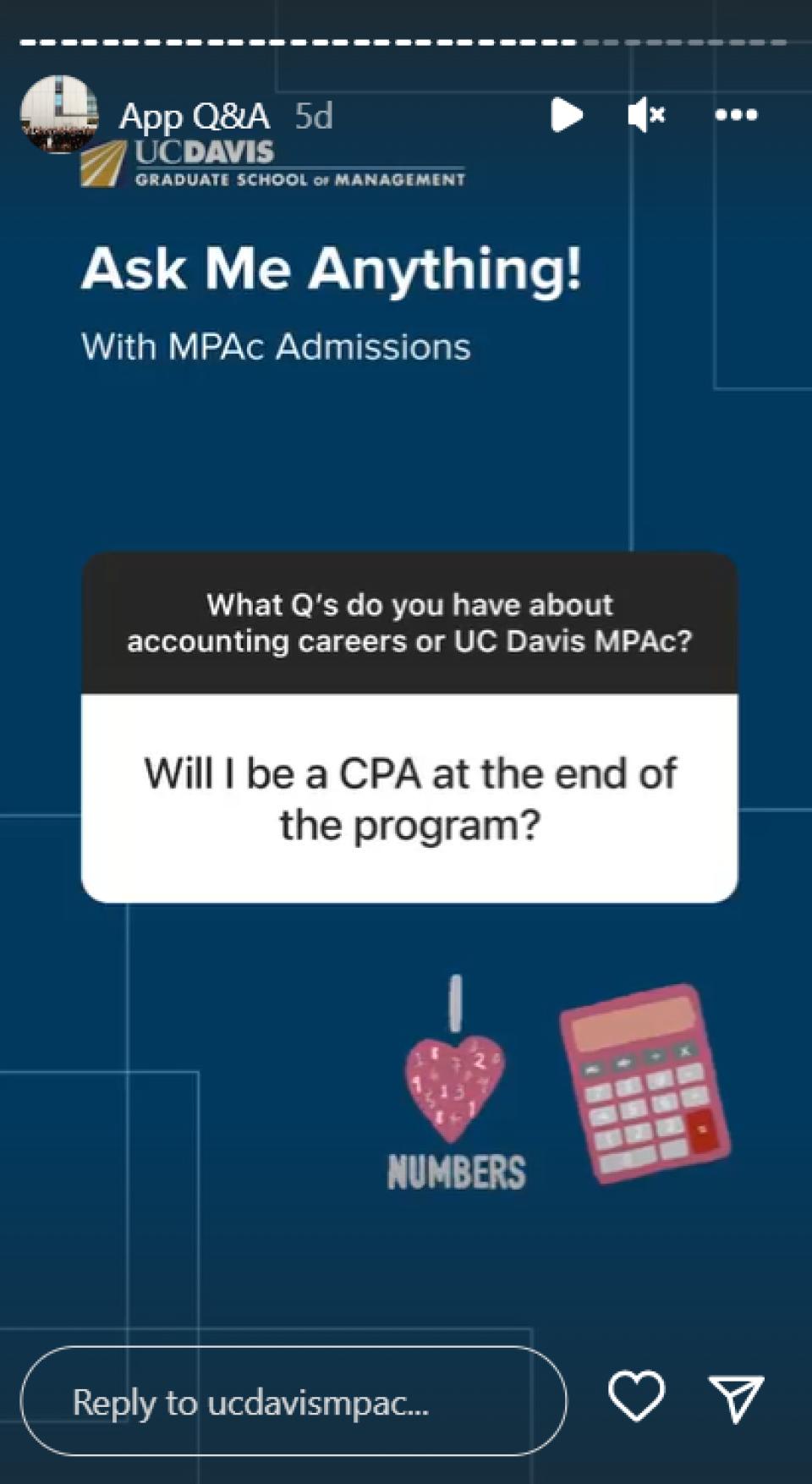 10) What is student life like? Are there clubs or leadership opportunities?
Student life includes many extra curriculars—you can run for the MPAc student leadership roles and create opportunities and events for your cohort.
We are also have representatives on the schoolwide leadership board. There are all sorts of fun activities planned throughout the year including Diwali, a Super Bowl party, Lunar New Year celebrations and end of the year celebrations!
11) What job placement assistance do you offer?
We place a huge focus on career services. We work with you even before you come into the program to help with resume and cover letter reviews, and conduct mock interviews during our program orientation.
We wrap up our week-long orientation with an event called Meet the Firms, a job fair where students can interview and begin the negotiations process with top firms. This year, 100% of our students received job offers by Thanksgiving, just weeks into the program and seven months before they graduate!
12) Who do I call for application help?
There are a few ways to contact our team for help with your application.
You can sign up to receive emails from us, like tips on your application, free coaching sessions and more, by clicking here.
Or you can email us.
View more highlights from our MPAc Instagram AMA in our highlights section.