Tips & Tricks for Your MPAc Application
July 28, 2023 Webinar Recap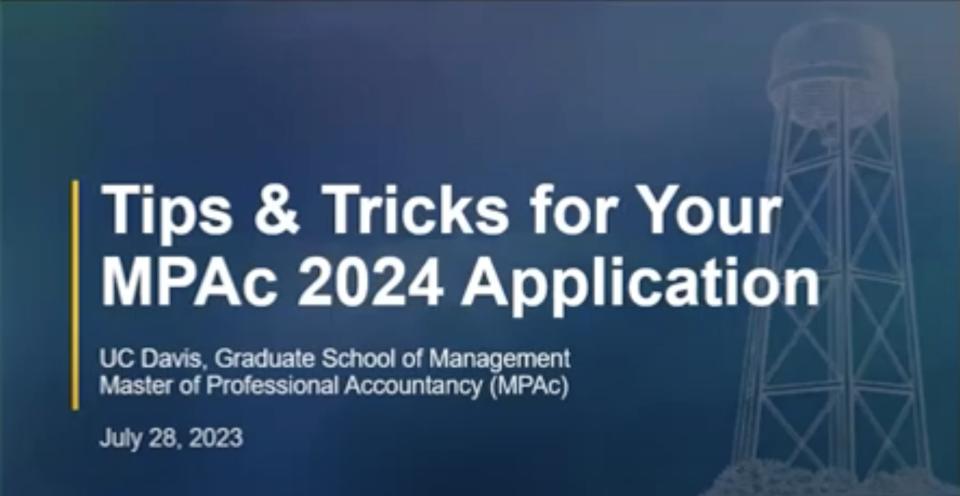 Learn how to strengthen your application for the UC Davis Master of Professional Accountancy program. MPAc Associate Director of Admissions Zoë Richardson leads an insightful conversation about the program and the application process.
Earn your MPAc in 9 Months
Interested in learning more about the program? We strongly encourage you to book a consultation. Connect with Zoë to review the application process, scholarship opportunities and learn why MPAc could be a great fit for you and launch a rewarding career.
Prerequisites to be eligible for the MPAc program include:
Bachelor's degree from an accredited institution
Successful completion of the following four courses or their equivalents:

Introduction to Financial Accounting
Introduction to Managerial Accounting
Business Law
Statistics
The prerequisite courses may be "in progress" at the time of applying but must be completed before beginning the MPAc program in the fall.
Webinar Transcript
Hello everyone, thank you so much for joining me today. I'll be going over some of the tips and tricks for your UC Davis MPAC application for 2024.
Today we are going to go over the UC Davis MPAc Program, eligibility for the program, review some key dates for the program, the application process, and a suggested game plan. Before I get started, just a couple of things to know. If you have any questions, please use the raise hand feature or type into the chat. I'll be taking questions as I go through the webinar, but I also have time reserved at the end. Please do make sure that you are respectful of others. And please do note that this webinar is being recorded and will be posted publicly.
Alright, so is the UC Davis MPAc program the right program for you? There are a few key distinctions that make MPAc at UC Davis special. The first is that we are exclusively offered as a nine-month accelerated program. All our instruction is offered in person at UC Davis in Davis, California. We are very much focused on collaboration and teamwork, both in and outside of the classroom. This is a cohort-based program, which means that you will go through the program and the entire experience with the same set of individuals. So, the way that the program is set up, as well as the intention behind the curriculum and the way that we place a lot of emphasis on collaboration and teamwork, really creates an environment that's very close-knit.
We have a set curriculum that is for full-time study only, so this program is not offered as part-time. Each quarter that you are with us you will have set courses that are given to you. So, you already have a set curriculum, a set game plan of what you will be doing to make sure that you can graduate in nine months. And this is a rigorous program. Again, nine month accelerated program. It is rigorous. It is not something that should be completed alongside full-time work expectations. And really the thought process behind the program is that students are dedicating themselves for the nine months.
MPAc is ideal for building a Northern California network. Our program has 100% placement before graduation. The average starting salary along my latest cohort student was an average of $76,000. Our average student body is going to be individuals who are more on entry-level type roles. Most of my students have zero to three years of professional experience. So that average starting salary is just that starting salary. Moving upwards is what we see in a lot of our alumni, which is great.
The program provides exposure to all the way from big four to mid-size to boutique size firms. We are actually the first program of this kind within the UC system. We've been around for 10 years, so that is 10 years of alumni and fine-tuning our network that our students can benefit from. And we are the only MPAc program that is offered within the UC system in Northern California. Again, in terms of the recruiting and network, we are the only location in Northern California, which is a wonderful benefit to our students.
As you already know, and it's synonymous with UC Davis, our curriculum promotes premier faculty, it's technology enabled, and it has that application-based curriculum. You'll get exposure to faculty both in and outside of the classroom. The classroom is not only extremely engaging because it is a smaller cohort size, but we as a program build in avenues to connect with faculty outside of class, whether it's at networking events, orientation, faculty panels, or just having fun. On campus, the faculty are intertwined into that experience.
Our faculty have a mix of backgrounds. You will have faculty teaching you that are professor at level outside of teaching courses; they do research in the accounting industry. And you will also have faculty teaching you that are directly from industry, so they have a nine to five job, owning their own firm or maybe being a partner in a firm, but they also teach in the program. You have a variety of different touch points and different possible mentors in different spaces, depending on what you are interested in.
Our curriculum will give you the exposure to the tools and technology that are expected now in the public accounting profession. Accounting is no longer just crunching numbers, being able to really understand the Excel spreadsheets, but more and more so it's focused on collaboration, having the understanding of data visualizations, whether that's Power BI or Tableau, we try our best to make sure that our graduates are ready for what's gonna be expected of them when they graduate. And our curriculum is not just about the accounting fundamentals, but we emphasize application of those fundamentals to be able to solve real-world problems.
Now you may be wondering, are you eligible for this program? To be eligible for the MPAc program at UC Davis, you must have any bachelor's degree from an accredited institution. We do not require business or accounting specific bachelor's degree. You must have successfully completed the following four prerequisite courses or their equivalents, which are introduction to financial, introduction to managerial accounting, business law and statistics. Now your prerequisite courses may be in progress when you apply, but they must be complete before you would start the program in September. We do not allow individuals to concurrently take prerequisite courses along with the MPAc curriculum.
Here's my first trick for you all. If you are wondering, wait, how do I know if I'm taking an equivalent course to Introduction to Financial Accounting? If you are in California taking a junior college or community college course, you can search transferable courses that are directly equivalent using the assist.org website. It's a great resource, really easy to use and you can make sure you're taking the exact courses you need.
Another great trick is if you're looking for a prerequisite course and you don't know where to start and you want to take an online course through a California community or junior college. You can look up on California Virtual Campus or CVC.edu which is a really great website that allows you to type in a course, for example, business law and the term or quarter that you are looking to take the course. This will generate a list of every single online community college offering within the state of California. It's really easy. It's a snap to find your missing prerequisite courses.
Another thing to keep in mind is that the MPAc program allows deferrals. So, if you're in your junior year of college and you know you want to do the MPAc program, you're welcome to apply a year in advance, which is a really great option for people. I've had many students that have done this and they say that it really helps relieve stress in their senior year. And they know they already have graduate school basically scheduled away for them once they graduate. Now, if you are going to apply and your prerequisite courses are in progress, my number one tip is to make sure that you have a game plan. If you are putting your application together and when you get to the section that asks about these prerequisite courses, if you just write, "Oh, I've not taken these," from an admissions standpoint, that's concerning because how am I going to know that you're going to be able to meet the prerequisites of having these complete? It's much better to have the application and then say, "I'm missing statistics, but I am planning to enroll in such and such course at such and such school this quarter to complete it." Having a game plan, demonstrating the game plan, it's a really positive indicator you are communicating to the admissions staff and committee
My other tip is if you are already taking these prerequisite courses, I recommend at their junior college or community college of your choice, also taking the intermediate, sometimes called Intermediate Financial Accounting, but Intermediate Accounting 1 and 2, and achieve a B or higher in 1 and 2.
The reason I recommend this is because our curriculum allows individuals that have already completed these courses to waive two of the core MPAc courses and take two really awesome elective-type courses that we offer. You'll be able to take a machine learning with Python course and you'll be able to take an additional advanced tax course. And so, I highly recommend individuals take advantage of that opportunity and set yourself up for success by taking these courses at a junior college or local college to you.
Alright, we're going to go over some key dates next. For our Fall 2024 application, our application will be opening this September. Our first application round will close in October, round two in December, round three in February, and then our final and last application deadline is going to close in May. Classes will be starting in September. Now you may be wondering what the heck are all these rounds? What do they mean? I don't understand this. So let me pause here.
Application rounds are basically milestones to work around. If I submit my application on or before October 1st, normally within four weeks from October 1st, I will have an admissions decision posted to me. This is very helpful in allowing you to do your own personal planning in terms of what you need to know in order to make a decision about graduate school, whether it's you're applying to other schools as well, or maybe you have to determine if you want to do a graduate school or continue in your current job. These are just milestones to work around. Applying in one round versus a different round does not mean you are any more or less likely to be admitted. We use the same holistic admissions criteria in all rounds to make decisions.
Another thing to keep in mind is these are all part of the Fall 2024 application cycle. So, if you apply in one round, that is your application for the year. We do not allow someone to apply in round one, round two, round three. You can only apply once per application here. Now, I normally recommend applying to the earliest round possible to you. There are some benefits. The first is if for some reason you are unable to complete your application by that deadline, that deadline for that round, your application will just roll over and we'll continue rolling over until that final May 1st date. Once you get to the May 1st, your application will close as it is because there is no other round to roll into next. But in the earlier rounds, that is helpful because sometimes things happen in our life and it's nice to have that flexibility. The other great thing about our rounds is if you're interested in being considered for merit-based scholarships or merit-based teaching assistantship positions, both of which we give out as part of our admissions process, it makes sense to apply in the earlier rounds when our TA positions, when our scholarship funds are completely full. So, if that's something that you are very much so interested in, apply for the earlier rounds, apply when the pot of money is full.
Now, you may also be thinking, hold on, I'm an international applicant, I don't see an international applicant deadline, do I have the same deadlines? And the answer is yes. Whether you're domestic or international, you can apply through all these deadlines. There is no international-specific deadline for the UC Davis MPAc program.
Alright, so you're ready to apply. Now what? Step one, create your application. And I have a screenshot here of our UC Davis Graduate School of Management website. You will find all and every single page of our website, button or a link that will say apply here. You want to hit on apply or apply here to be taken to our system to create your application. Once you've started application, step two, review our requirements. For example, make sure you have all four of those prerequisite courses. And then begin reviewing the application materials and if you need to take any examinations.
Now my tip around this is when you create your application, make sure you opt in for email and text reminders. If you opt in for email and text reminders, you'll be one, given reminders, and two, for events and other important information, you will get that straight to your inbox or via text. And while you're on our website, you can also check out our calendar feature to see when the next MPAC MPAc Week is or what other type of events we're offering. In particular, the MPAc MPAc Week is basically a week where we allow external people, i.e. non-students, to come in and sit in class for the week. It's a great opportunity to be able to experience firsthand what it would be like to be a student.
Now, what does MPAC application consist of? So, you have the application itself. As part of that, you will be asked about your prerequisite course information. You will have each of the four courses where you will be asked to say, what grade, when did you take it? And again, if you have not taken it yet, that's where you'll want to put, I plan on taking this with all that information to demonstrate that you have a game plan. You're going to also submit your resume, a personal statement, or also sometimes called a statement of purpose.
You're going to provide your unofficial transcripts from all institutions you have attended and earned credit. GMAT GRE scores, TOEFL or IELTS scores, recommendations, and then we have two optional components. You can provide additional insights into activities, awards, and honors you have received, which is optional. And then we have an optional essay regarding your background or additional personal experiences you feel like the admissions committee should know, and again that's optional. We do have an application fee, but for attending this webinar, you will get that fee waived.
Alright, so let's break this down a little bit into the various application materials. I'm going to start with some of the written components. So, your resume. This should be a current and tailored resume, a resume that the admissions committee is going to read. Many people will have their eyeballs on it. So make sure that your resume makes sense in conjunction with this application. We do not require work experience, but I do recommend highlighting other indicators of success in your resume if you don't have work experience.
The statement of purpose, they can keep in mind that all successful applicants should have an impressive record of achievement and the promise to accomplish so much more. And then again, we have the two optional components, which are the activities, awards, and honors, and the optional essay. The optional essay will include important aspects of your application or experience that you feel the admissions committee will need to know. It's also a place where you can address prior academic performance.
In regard to just the essays and the resume, a few tips and tricks. For your resume, include all relevant indicators of success. You want to demonstrate professional promise. You are welcomed to include volunteer work, perhaps group projects that you've done, maybe interesting things that you've done in your coursework. I also get this question a lot of people saying, well, I plan on having this internship over summer break at this really great firm.
Can I include it? Yes, you can include future internships. Just make sure that you're indicating on the timeline that this is something that's up and coming. It's a future internship. In your statement of purpose, I always like to recommend this tip when people are wondering how to approach this. The statement of purpose should really focus on your "why." So, you are making sure that you are communicating effectively why you are interested in the UC Davis MPAc program, why are you pursuing this, why, why.
Ask yourself five times what is your why here and by going through the exercise of asking yourself why multiple times you will find that you begin really crystallizing what these major messages that you want to ensure you are providing in your statement of purpose are. And I also find through, you know, going through this process of reading a lot of applications, when you are communicating effectively, your passion, your why, your statement of purpose is going to be significantly more MPAcful to the committee because they are clearly able to resonate and understand what you are communicating. For the statement of purpose, I recommend as a tip, keep it around half a page.
The statement of purpose should not be extremely long in length. Again, communicate effectively, crystallize your whys, indicate that you have an impressive record, but you promise to accomplish so much more. Keep it short. Make sure you're checking grammar and spelling across everything that you submit, and particularly for your resume and your statement of purpose. Have others read it and provide feedback. Do not be in a single silo. Use your peers. Use your friends. If you're in school still, go to your career center review these materials and provide feedback.
Another tip that I have is, as you're thinking about your application, make sure you are focusing on that resume and statement of purpose, because these are required. Awards, activity, honors, optional essay, those are optional. So the weight will be on your resume and statement of purpose. I do not want anyone to be in a situation where they have provided a statement of purpose that's just, "I'm really interested in this program. I think UC Davis is a great fit for me. And I really like accounting," you know, just super short, two, three, maybe four sentences. But then they provide this beautiful optional essay that really crystallizes their personal experiences and their journey and how they got to wanting to do MPAc. Those are the key pieces of your why that you want to integrate into your statement of purpose to make it really compelling. So, make sure that you are focusing on your statement of purpose and your resume.
And my last tip about these materials is if you have a GPA of 3.0 or less, or if you've ever had any academic discipline issues in the past, address them in the optional essay. Address them in the optional essay so that you are able to clearly indicate to the admissions committee, "hey, you know, maybe when I was a freshman in college, I just, you know, wasn't understanding the MPAc that a low GPA would have on me in the future," or perhaps you had some personal things that happened when you were in your undergrad, you know, whatever it is. Life happens, but make sure that you are getting ahead of it and saying to the admissions committee, "I recognize that I may have a low GPA" or recognize that "I may have a discipline in the past, but this is not who I am now. Who I am now is this person." Let me tell you about them. So, I recommend using that optional essay to make sure that you're addressing those things.
Alright, now moving on to required exams. We have two required exams. The first is the GMAT or the GRE. The second is the English language proficiency, which is TOEFL or ILTS. For the GMAT, GRE, waivers can be provided to both domestic and international students who have completed their undergraduate degree all four years at a US institution with a cumulative GPA of 3.2 or higher. And I say cumulative because I often have people who may have some transfer credits from a different college that are being counted towards their degree and they are not including that in their GPA. So again, it should be a cumulative GPA.
Under the TOEFL, this is also required, however, waivers can be provided for anyone who has earned or will be earning a bachelor's, master's, or doctoral degree from either one, a regionally accredited U.S. college or university where English is the sole language of instruction, or two, a foreign college or university which provides instruction solely in English. And for the foreign colleges, these must be listed in the IAU World Higher Education Database. And we have links to IAU on our website. But basically, you just would find your school and verify there that it has English listed as the full language of instruction.
Now, some tips and tricks around exams. GMAT and GRE exams are valid for five years. If you have taken those within five years, you can reuse them for your MPAC application. For the GMAT/GRE, we accept both in-person and at-home exams, but I want to warn everyone that the at-home exams have sometimes flagged people for potential cheating. They have that camera on you, and they really are looking at your head movement, eyes, looking for devices. So, something as innocent as pulling out of my pocket a piece of gum to chew on because I like to have that mental stimulation when I'm doing an exam. The camera may say, hold on, they just pulled something out of their pocket, cheating. So keep in mind, if you want to do that at home, there's nothing wrong with that, but build in a little buffer in case there is some issue and your video needs to be reviewed or you need to talk to the organization that provides the exam because that has happened in the past and I just recommend building a little buffer for yourself. For the GMAT/GRE exams, we do not have a minimum score or average score for students. Our last cohort was 600. For the TOEFL and IELTS, we do have minimum scores.
TOEFL is 105, IELTS is 7.5. And a trick about both is when you are completing your MPAC application, you will self-identify as meeting the waivers or not. In the application, you will select in the portal if you are requesting the waiver or not. There is no upfront process that you have to do in order to get the waiver. Again, you are self-identifying as meeting the requirements for this waiver.
Check that in the portal. But once you check that, make sure you go back in the portal to ensure that your waiver is approved, because the process is you and the portal will say, yep, I meet this. I'm requesting the waiver. Then the admission staff, once your application is submitted, we'll go in and verify that on our end. But if you, for some reason, have, for example, said you meet the waiver requirement for the GRE/GMAT, but you only graduated with a GPA of 3.0, then in our check, we will say, wait a minute, this requirement does apply to you, and we will put that in your application that you need to complete this still. You as the applicant should be making sure that you're going in and double checking whether that waiver has been approved or if it got bounced back to you.
Alright, now moving on to transcripts and recommenders. When you are in the application, you will submit unofficial transcripts for all institutions where you have earned credits, i.e. previously attended. You only need to provide unofficial transcripts. Take a screenshot, upload a photo. Unofficial is all we're looking for at this point. we will only request official transcripts once you would be made offer admissions to the program.
For this application process, unofficial is all you need to keep in mind. For my international candidates, do note that official transcripts or the unofficial transcripts should have the original language. And if it's not in English, it should be accompanied by English translation, prepared by an issuing institution. If you, for example, completed your undergrad in India and your school was not provided as English as a sole mode of instruction and all your transcripts are not written in English, you will want to provide the Indian official transcripts as well as accompanying the English translation services..
The way that the system will work is you will provide information for two people who will be your recommenders. It is required that the online letters recommendation or recommender form is completed by both of your recommenders. There is no required combination for recommender, so you do not have to have a certain person as your recommender. But I would say we commonly see one recommender being a faculty and the other recommender being a supervisor of some capacity. That's the most typical combination. It's not required, though. You can have whomever you want. Recommendations are considered as part of your application and therefore must be submitted by the application round deadline. If you want to submit your application at the October 1st deadline, your recommenders must complete their online letter recommendation form, have it be complete on your checklist, complete in order to make that deadline.
Now, I have a lot of tips and tricks around this. Let's start with the transcripts. When you are in the application, you will be prompted to list all the institutions that you have previously attended. When you do that, if you do not attach the unofficial transcripts for each of the institution that you have listed, it will show as incomplete. Now you may be thinking, okay, what does that mean for me? There have been instances and more commonly we see where a lot of junior colleges or community colleges are part of these conglomerate groups.
Let's say you went to them, like for example, the American River College, it's actually multiple colleges under that umbrella, right? So, let's say you attended two different colleges under that community college umbrella. But when you get your unofficial transcripts, everything is listed under that umbrella. It would say American River College, Institution 1, these are the courses you took. Institution 2, these are the courses you took. And so, you may say, "Okay, here's my unofficial transcript that clearly shows both of these institutions."
When you're listing it out, you attach it for one of those institutions, but the second one, you don't attach any unofficial transcript with it because you already had that information in the prior transcript, which is true, but the system is not that smart. So, make sure that even if you are uploading the same exact document, make sure that you are doing it so that it shows as complete in the checklist. Now, if you submitted your application and then you realize you totally submitted the wrong transcript or missing this really important transcript material or anything like that, you can always email our admissions team and we can add missing components on your behalf. You can always send us an email with your name and say, "Hey, this is the situation, can you please add this?" And we are happy to assist in that way.
Now, going to your recommenders. I get this question a lot, which is at what point in time are the recommenders communicated about the fact that I've listed them for my recommendation? So as soon as you input their information and save it into the system, that is when the email notification goes out. The notification does not wait for you to submit your application. It is related to that data field being completed.
Make sure you ask your recommenders and verify that they will be your recommenders before you save their information because they will get an email from us prompting them to complete that field potentially before you may have talked to them. So, make sure from a timeline perspective, you are communicating with your recommenders before you input them to the system. I get a lot of questions about who should be my recommender. Particularly, for example, let's say I took an accounting course and I did good. I didn't really know the faculty that well. But then I also took this business course and I was really great, top of my class, and the faculty is now my mentor and we have a really great relationship. What do I do? The answer is always select the recommenders who know you best. Because the accounting professor, sure it's accounting and we're an accounting program, but they are not going to be able to speak to you and your character and your ability to excel within graduate school as well as the business professor who maybe their course isn't as directly applicable, but they know you best. So that is the person that you want to ask to be your recommender.
My other tip is to provide recommenders with the tool for success. So normally you are going to have some type of conversation whether in person, phone or email with a recommender asking them to write the letter on your behalf until you do the recommendation process. They'll say yes.
And then at this point, I recommend sending them a resume or providing some content as a refresher as to who you are. And very, very clearly give them the deadline that they have to submit everything in. For example, If I were to be doing this, and let's say I'm going to pick on Janey Chang, who is our faculty here for the MPAc program, I would give her a copy of my resume and say, "Hi Janey, would you. Thank you so much for offering to be my recommender. I'm just providing here my resume so that you can reference it. Also, since we have spoken last I want to give you a refresher to some of the things I've been up to. Since I took your information to accounting course, which I took in this quarter, I have really expanded on these skill sets. And, you know, just provide some content to them. Refresh them on who you are.
Refresh them on what your interests are, what your aspirations and skill sets are. Because faculty or even supervisors provide lots of letters of recommendations. People have lots of things going on in their life. And so, by providing these tools for success on a silver platter to them, the recommendation that you're going to get is likely much more successful than if you had just kind of left it after they said they were willing to do it. And again, make sure you're communicating the deadline, keeping in touch with your recommender. If you want to hit that 10-1 deadline, make sure you are very clearly telling your recommenders that is the deadline for them to provide all information by.
Another trick is if you have a recommender and all of a sudden they just are totally not responsive, which that happens sometimes. You can always go into the system and add an alternative recommender. So don't feel stuck with the two recommenders you have listed originally. You can always go in and add additional person. And if your recommender has experienced issues with the recommendation platform, communicate this to the admissions team. We are happy to talk to the recommenders about walking them through the system, making sure that everything is going through. They should be getting confirmation emails and pieces along the way to make sure that they know that what they're providing is going through.
But hey, technology mishaps happen. It's better to tag in the admissions team to make sure that everything is being captured correctly, then just saying, "I wonder why I have incomplete listed with my recommender. I guess I'll see what that means later." Just communicate with the admissions team in advance of the deadline if you're having any issues. All right, there is an application fee of $125. Again, if you've attended this webinar, thank you. Check your email in the next couple of days and you'll get the waiver code. And a tip around this, attending events allows you to get these application fee waivers. If that's something you're interested in, join an event, either in person or online, doesn't matter, we will give out the code.
The other thing to keep in mind that I have copied here is, the three components that we look for in our holistic admissions process, that is your academic potential. So, transcripts, your ability to perform well in this accelerated nine month program, professional promise, going back to your resume, your personal statement, who are you as a person? What will you do with the MPAc to create? Are you going to be professional? This is graduate school. We will put you in front of the big four partners.
We want to make sure that you are going to be a positive representation, strong professional promise, and personal qualities. We are a close-knit small group, cohort-based. Everyone will know your name. All the faculty will have strong relations with you. There is no place to hide in MPAc. You are immediately part of the family. So, we need to make sure you understand, you're gonna be ready to dive in. You're going to want to engage, collaborate, teamwork, fully lean into the experience, get to know the faculty, go to our events. We have so much that we offer as part of this program. And so, we want to make sure the cohort is going to have the type of personal qualifications, qualities that we are looking for in a student body.
Alright, so here are some potential game plans that I have provided in terms of how do I go through this process. We're going to start at the top. We're making the assumption here that you can waive the GRE and TOEFL. Again, GRE, you must have attended a domestic institution for all four years in the US with a GPA of 3.2 or higher. English language proficiently is waivers are based off having completed your degree at an institution in which English is the sole mode of instruction for international institutions. They must also be listed as English as the mode of instruction with the database. Okay, so first what I would recommend, update your resume because you're going to want to send that to your recommenders, create that initial application and identify who your recommenders are going to be. I would recommend, let's say, getting this done by the 15th of next month. Between then, you're gonna be working on your statement of purpose. Make sure you're having others review it and your resume, get that feedback from others, and put your recommenders' information into the application so that they get that email and they have a longer timeline to complete it. I'd also recommend at that time, doing that refresher with your recommenders. This is my resume. Here's what I've been doing. This is a refresher to who I am.
These are the deadlines. Reiterate that. I provided in this game plan to aim to get that done by the 10th. Then you want to finalize your statement of purpose or SOP. Your resume is already done. Your recommenders hopefully are already done. Obtain all your unofficial transcripts at this time. Also check in with your recommenders. You can see in the application that there's a checklist, you will know if they've done it, and if they've not, send them a follow-up email. Or if they're having issues, this is when you want to communicate that to the admissions team, flag them in to come in and help support that situation. I'd recommend getting that done by the 24th. And that will give you enough time to submit for our round one, which is closing on October 1st or earlier. And again, by submitting by round one, October 1st, you're going to know within four weeks from then whether you've been admitted to the program or not. So that's the first game plan.
I'm now gonna walk you through what it would look like if you had to take both exams. Step one, this weekend, take a practice GRE or GMAT exam and also take a practice TOEFL or IELTS exam to determine, okay, between GMAT and GRE, which exam do you want to take? And based off your TOEFL or IELTS practice exam, how are you doing with that? Do you need to create a study plan for your TOEFL? Those are important pieces of information. So, complete the free practice exams for both of these types of exams this weekend so that you can get an immediate pulse check as to where you are. Based off how you do, you will know whether you are going to take the GMAT or GRE and then create a study plan from that. I normally recommend for the GMAT or GRE an eight-to-ten-week study plan. That way you are not gonna be rushed to complete all your studying. And then depending on how you do for the TOEFL or IELTS practice exam, you will know, okay, I'm definitely within that minimum score. I'm fine. Or maybe I do need to practice. So anywhere from zero to 13 weeks of study time for that exam. After that, similar as to the first one.
So, updating your resume, create the application, identify who's going to be your recommenders. I put down as a same date of doing it by the 15th or earlier. Again, after that, working on your statement of purpose, having others review it, and putting your recommenders into the application so they get that email, sending that follow-up email, refreshing with the recommenders, doing that by the 10th. And again, just like the first one, by the 24th, finalizing your statement of purpose, obtain your unofficial transcripts, check in with your recommenders.
Now, based off this eight to ten week, which is a very non-stressful study plan for the GMAT/GRE, by October 1st, you're ready to take either the GMAT or GRE. And in this game plan, I assumed that you want to have at least 12 weeks of studying for the TOEFL or IELTS. So, after that, in November, you will want to take the TOEFL or IELTS exam, which will allow you to, without stress, apply for the application in round two, which will be closing in December, or before. Again, keep in mind that if you submit it before, after October 1st, but before the round two, which is going to be closing in December, it's after that December deadline. That's your milestone. You'll know within four weeks what you've been admitted or not into the program. So, here's two example game plans that I've provided as to how you can work towards completing your MPAc application.
At this point in time, if we have any questions in the chat, raise hand feature, let me know if there's additional questions I can support with. Otherwise follow us on Instagram @ucdavismpac. We do have a couple upcoming MPAc events. We will have reoccurring office hours that will be happening twice a month, the first and last Monday of each month going forward, now that we're entering this Fall 2024 application cycle. The admissions office hours are just an opportunity to hop in a Zoom meeting. There's no slide deck or planned content.
You can just come in, talk to an admissions officer, ask questions. It's very informal. This August we have an on-campus tour. September we will have a different webinar focusing on the program experience and curriculum. October there's another campus tour as well as the MPAc Week. So, if you want to come and sit in class for the week or just come and sit in a class that's of interest for you, you can register for that. And then in October we will also have a different webinar. This one will be featuring a student panel of our current students. A lot of great events coming on the horizon. Again, make sure that you have opted in for email and text message reminders so these are put on your radar. But with that, I will go ahead and end my share screen and this recording if there's no questions. Thank you so much. Alright, have a great rest of your day.